The Best 'Hanami' Spots in Each Prefecture
Japanese site Weathernews has just unveiled some of the most popular cherry blossom viewing spots, according to site rankings, which reveal the most-searched-for locations out of its 700 sakura listings nationwide. So if you're looking for a scenic spot to enjoy the blossoms, come with us as we take you on a whirlwind tour around the country.
Hokkaido Area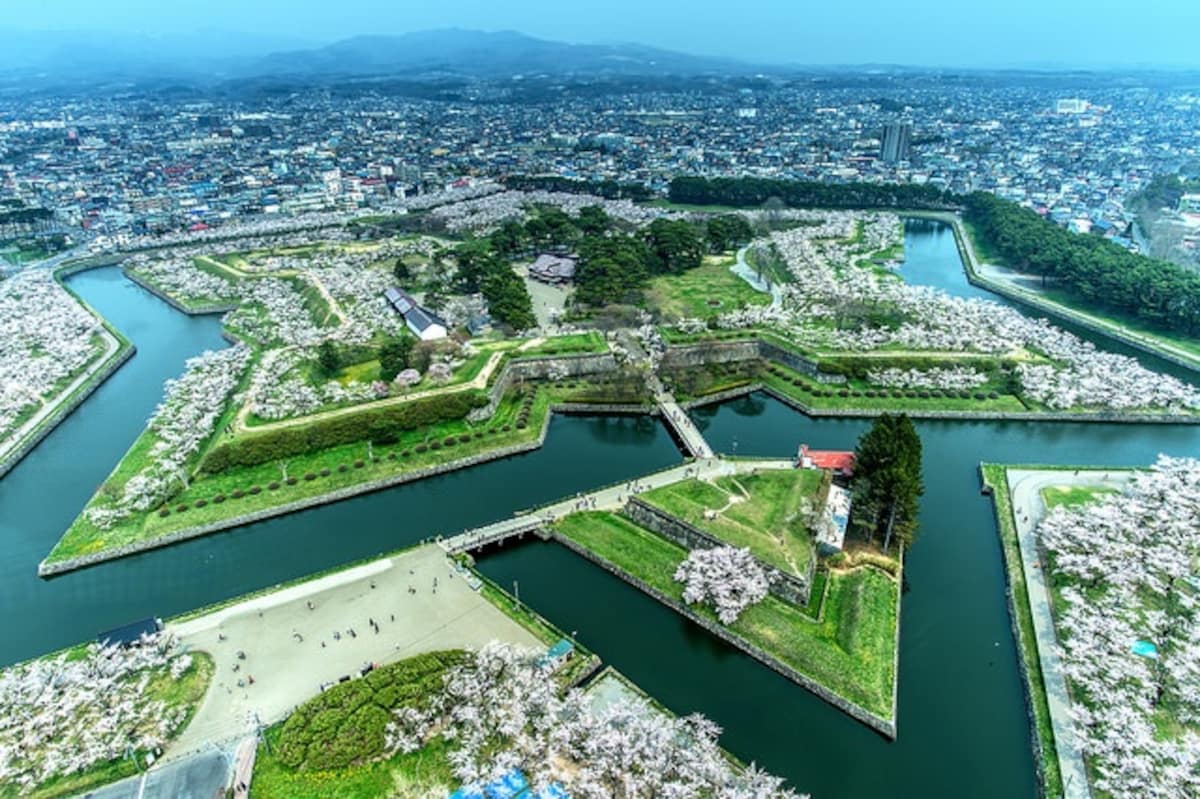 Hakodate City – Goryokaku Park
Goryokaku Park turns into a stunning pink wonderland in spring, with its star-shaped fort and surrounding parkland covered in blossoming cherry trees.
Tohoku Area
Aomori Prefecture – Hirosaki Park
Here you can enjoy the sakura with a castle backdrop, and a river of pink petals at the ends of the viewing season.

Iwate Prefecture – Kitakami Tenshochi
Visitors here can enjoy pleasure boat cruising, horse-driven carriage rides, and a vivid display of carp-shaped streamers in the air alongside the cherry blossoms above the Kitakami River.

Miyagi Prefecture – One Thousand Cherry Trees at a Glance of Shiroishi River
This stunning site lives up to its beautifully poetic-sounding name with a tunnel of sakura lining the embankment for a distance of 8 kilometres (5 miles).

Akita Prefecture – Kakunodate Weeping Cherry
Go back in time in the old samurai district, where you can walk beneath beautiful rows of weeping cherry blossom trees.

Yamagata Prefecture – Kajo Park
Approximately 1,500 cherry blossom trees bloom here on the former site of Yamagata Castle.

Fukushima Prefecture – Miharu Takizakura
The Miharu Takizakura, a weeping higan cherry that's over 1,000 years old, becomes a popular site in spring, drawing thousands of visitors every year.
Kanto Area
Ibaraki Prefecture – Fukuoka Dam Row of Sakura Trees
This row of 600 trees is known for the beautiful reflection it creates on the surface of the water.

Tochigi Prefecture – Ohirasan Prefectural Nature Park
Approximately 4,000 cherry blossom trees bloom here, creating a stunning tunnel of pink for visitors to walk through.

Gunma Prefecture – Akagi Nanmen Senbonzakura
Located at the foot of the south face of Mount Akagi, this collection of senbonzakura ("1,000 sakura") can be enjoyed alongside fields of shibazakura (also known as moss phlox).

Saitama Prefecture – Gongendo Park
The Satte Sakura Festival is held here every year, with visitors enjoying the spectacle of pink cherry blossom trees against fields of bright yellow rapeseed.

Chiba Prefecture – Chiba Park
A convenient spot to enjoy the blossoms, a stroll around the pond here is best enjoyed with a sakura ice cream during the flower-viewing season.

Tokyo Prefecture – Ueno Park
As one of the city's most well-known sakura spots, this park is absolutely crowded with people enjoying hanami picnics here year after year.

Kanagawa Prefecture – Odawara Castle Park
The combination of sakura trees, castle buildings, and a surrounding moat that catches the falling blossoms makes this a truly memorable spot for flower viewing.
Chubu Area
Yamanashi Prefecture – Yamataka Jindai Sakura
At 2,000 years old, The Yamataka Jindai Sakura is Japan's oldest cherry tree.

Niigata Prefecture – Takada Park
4,000 cherry blossom trees bloom here, on grounds that feature a castle turret and a stunning backdrop of snow-capped mountain scenery.

Toyama Prefecture – Matsukawaberi
The Matsukawaberi garden area is located along the Matsukawa river, which flows behind a castle, creating a beautiful spot to enjoy the cherry blossom season.

Ishikawa Prefecture – Kenrokuen
As one of Japan's "three most beautiful landscape gardens," the sakura here can be enjoyed in a manicured yet traditional setting.

Fukui Prefecture – Asuwa River
The cherry blossom trees along the riverbank here form a beautiful tunnel of pink for visitors to walk under, with pathways lit by paper lanterns.

Nagano Prefecture – Takato Castle Park
Often cited as one of the three best locations to see cherry blossoms in Japan (along with Hirosaki Park and Mount Yoshino), this is a great place to view more than 1,500 trees in bloom.

Gifu Prefecture – Usuzumi Sakura
As one of Japan's oldest cherry blossom trees, the Usuzumi Sakura is said to be over 1,500 years old. Its name translates to "pale black ink sakura," which refers to the pale ashen color of the trees' flowers when they fall.

Shizuoka Prefecture – Izu Kogen Sakura
The Izu Kogen Plateau features roads lined with more than 3,000 gorgeous cherry blossom trees.

Aichi Prefecture – Nagoya Castle
Lovers of Japanese history and tradition can enjoy viewing the blossoms here alongside stunning castle architecture.

Mie Prefecture – Miyagawa Tsutsumi Park
In spring, this park becomes filled with more than 1,000 blossoming sakura, drawing crowds of people who come to enjoy hanami picnics at the riverside location.