20 Best Places to Enjoy Sapporo's Local Foods
20. Donburi Chaya: Taste a wide variety of seafood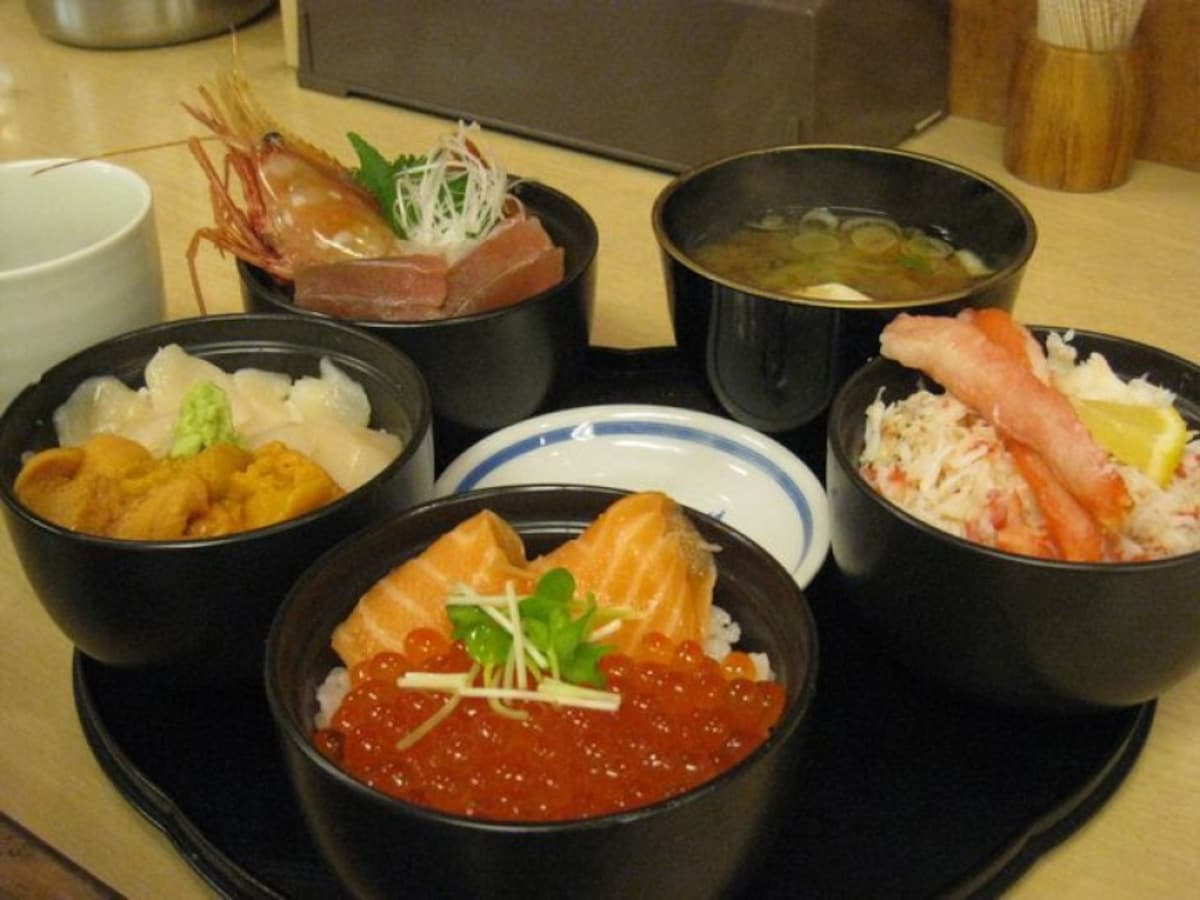 Donburi Chaya is found in the Nijo Market area and is best-known for its seafood donburi. The most famous dish there is the marusendon. It's served with four mini donburi and miso soup. Each of the donburi have varying ingredients placed on top, including red caviar, salmon, crab, shrimp and even sea urchin! Not only can you enjoy various types of seafood, but the quantity will definitely keep your stomach filled as you continue to explore the Sapporo area. It's great for those with children as well, as the kids can have a little bit of everything.
19. Splendid oyster all year round: Dai Akkeshi
Hug Eat is a food street found in the Susukino region, and there are various restaurants that can be enjoyed there.

Dai Akkeshi is one of the stores located in Hug Eat and it is best-known for its delicious oyster cuisine that can be enjoyed all year round. Cooked from oysters caught in the Akkeshi region (Hokkaido), the special brand of oysters can also be enjoyed raw even during summer!
18. High-quality sushi-go-round of Sushi Hanamaru
Sushi Hanamaru is a popular sushi-go-round store found in JR Tower Stellar Place. With its reasonable prices, great quality, and convenience, there are occasions where queueing times can be up to 120 minutes, so make sure you plan your time well!

Apart from the usual sushi ingredients, fresh Hokkaido seafood is also served, so do try out Sushi Hanamaru if you lack the time to stop by Sapporo Wholesale Market!
17. Drown yourself in red caviar at Hachikyou
Hachikyou is found near Susukino Station and is a place where you can enjoy Raus cuisine (Raus is a place in Hokkaido).

Raus cuisine is characterised by seafood, and Hachikyou is best-known for its extremely luxurious red caviar dish. When you order the "Tsukko Meshi", the staff will first bring you a donburi with rice only. A huge bowl filled with red caviar will then be served and the staff will start filling your bowl with red caviar until you tell them to stop. All you need to do is stay quiet for about a minute and you will be treated to an amazing amount of fantastic red caviar, just like in the photo!
16. Sakanaya no Daidokoro: kitchen of the fishmonger
Sakanaya no Daidokoro is found in the Sapporo Wholesale Market, and its name literally translates to "Kitchen of the Fishmonger". As its name suggests, fantastic seafood cuisine can be enjoyed at Sakaya no Daidokoro and all dishes are made from freshly-caught ingredients.

It is best that you try the uniiri omakase kaisendon, a donburi served with sea urchin and other seafood that will fill the bowl fully. The other ingredients will be served differently according to the seasons so that you can enjoy the best choices available during the period you visit!