The 5 Most Beautiful Night Views in Hokkaido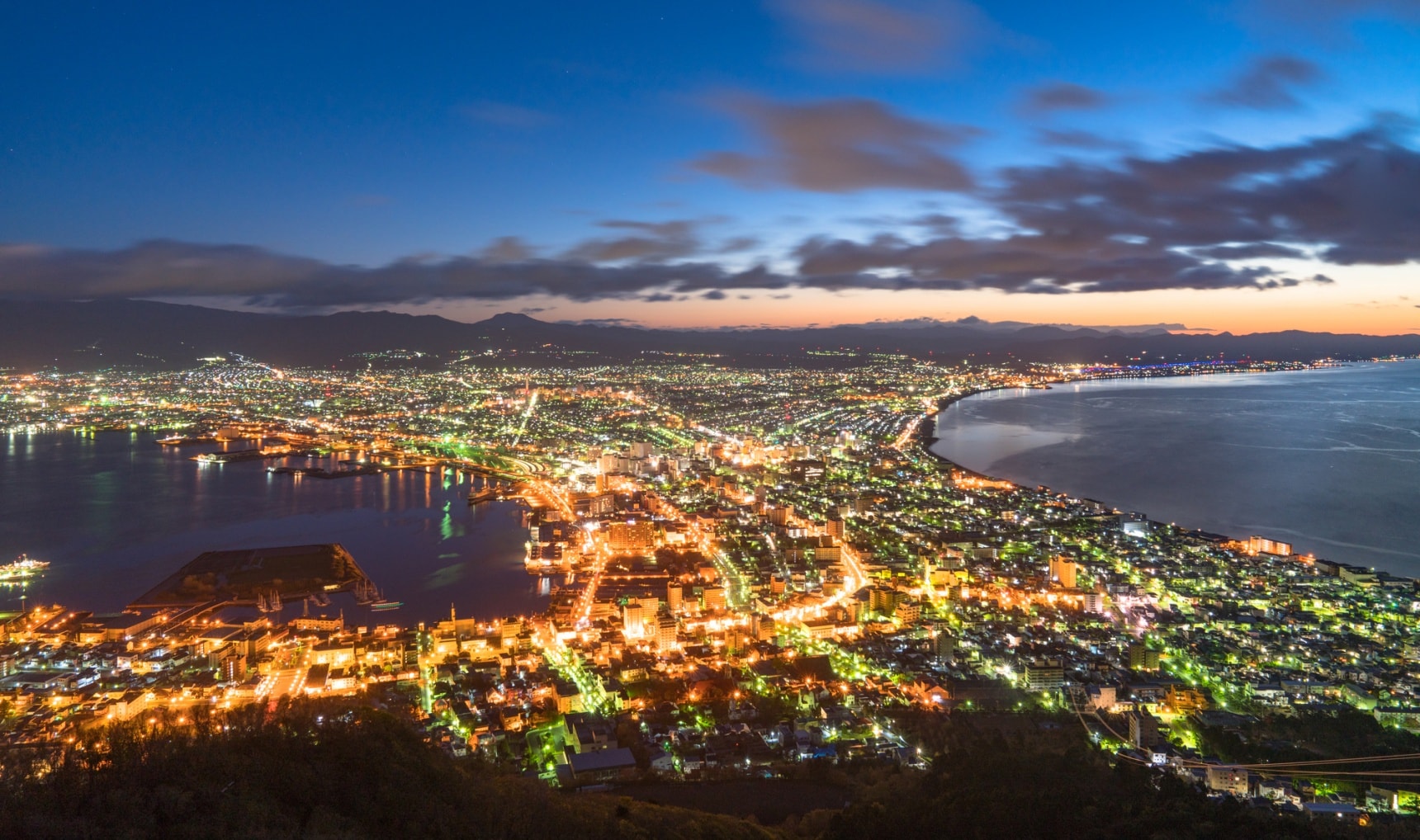 Hokkaido is a major tourist destination for both Japanese and international visitors for many different reasons. The location makes it extremely popular for winter sports and for beating the heat and humidity in summer. It also offers some of the greatest night views in Japan. Here are our five favorite nighttime views in Hokkaido.
5. Teine Bridge
Open since 2007, Teine Bridge is the second bridge (the first one was built in 1971 and was later removed in 2008) that was constructed over the Karugawa River in Teine-honcho, providing passersby with a beautiful night view of Sapporo City far below. There isn't much traffic at night, so it's a good rest stop for drivers who want to take a brief break while enjoying the tranquility of the city lights from a distance. The bridge is on the road that leads to Mount Teine, a ski and snowboard resort about 40 minutes by car from Sapporo.
4. Mount Moiwa
Known as one of the three greatest night views in Hokkaido, Mount Moiwa is a popular destination for tourists. Reached by a ropeway and cable car, a 360-degree panoramic view of Sapporo City awaits at the top of this 531 meter (1,742 ft) mountain to bathe visitors in an orange glow from the street lights below.

In 2012, its observation deck was named a "Lover's Sanctuary," one of a number of romantic locations across Japan as a place recommended for marriage proposals.
3. JR Tower Observation Deck T38
Directly connected to Sapporo Station, JR Tower offers the most intimate view of the bustling city of Sapporo. The observation deck is on the 38th floor of the tower—160 meters (525 ft) above the ground. The deck boasts works of art on the walls, a souvenir shop and a cafe that turns into a bar at night. Visitors can even enjoy beautiful night views from the glassed-in restrooms!
2. Sapporo TV Tower
Sapporo TV Tower stands roughly 147 meters tall (about 483 ft) and gives a 360-degree panorama view of the city. From its observation platform at a height of approximately 90 meters (295 ft) above the ground, visitors are given a magnificent view of the entire city, including Odori Park, the park that divides Sapporo into north and south and is home to the annual Sapporo Snow Festival. On a clear day, you might even be able to see the Ishikari plain as well as the Sea of Japan.
1. Mount Hakodate
Mount Hakodate not only boasts the title of one of the three greatest night views in Japan, but it's also known as one of the three greatest night views in the world, alongside Hong Kong and Naples. And it surely deserves both titles!

From the top of this 334 meter (1,095 ft) mountain, visitors are offered a mesmerizing view of the Hakodate Bay area with mountain ridges in the far background. Considering that Hakodate has far fewer buildings than other major cities in Japan, it might come as a surprise that the city offers such beautiful scenery of nature combined with city lights.