Japan's 8 Most Awesome Hotels
With its longstanding cultural focus on detailed perfectionism, Japan's most luxurious hotels provide stellar services while sinking effortlessly into the surrounding landscape. For business or leisure, Japan offers a set of stunning premium accommodations all the way from the sands of Okinawa to the snows of Hokkaido.
8. The Windsor Hotel Toya Resort & Spa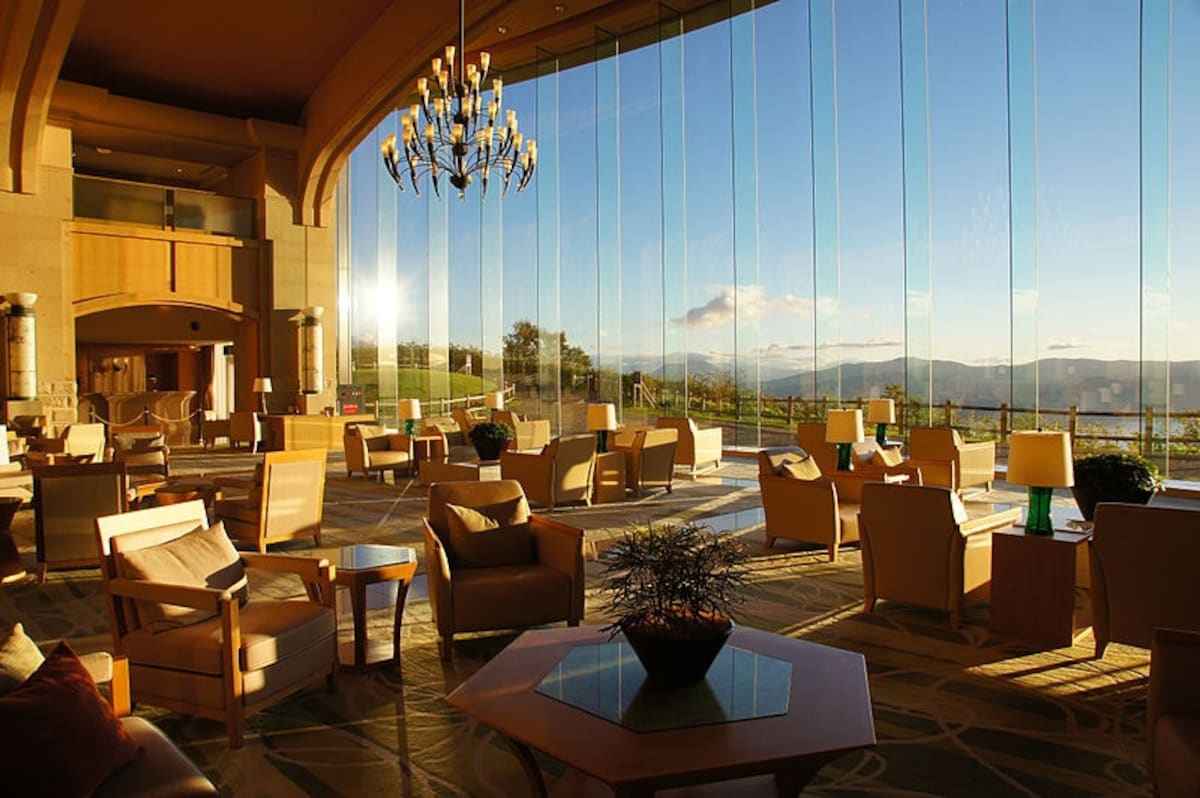 The site of the 34th G8 summit in 2012, The Windsor Hotel Toya Resort & Spa can accommodate even world leaders in comfort. Guests can explore the stunning natural landscapes surrounding the resort, polish their skills in golf and tennis, and engage in outdoor activities such as mountain biking and fly fishing.

The hotel also invites guests to learn about regional Hokkaido art and culture through glassblowing and traditional Ainu medicinal therapy, and comes fully equipped with a pool, hot springs and athletic facilities for unwinding after a full day.

The primary healing spa facility, Bloom Spa Toya, offers massages, aroma therapy and thalassotherapy, complete with healthy and delicious cuisine that brings out the seasonal flavors of Hokkaido. The resort is also home to an impressive array of dining options from around the world that will satisfy any craving. A must for guests who desire quality care amid beautiful natural scenery.
7. The Peninsula Tokyo
Situated across from the Imperial Palace, The Peninsula Tokyo commands a particularly Japanese flavor of luxury. Guests can be escorted by a page on tours of traditional Japanese craftsmanship such as intricately crafted washi (Japanese crafted paper), smooth and delicious sake, and kimono fittings to find the perfect design to accentuate your own elegance.

An appealing selection of rooms and suites overlooks Hibiya Park, and with the hotel's proximity to the shopping capital of Ginza, guests will be able to splurge on the best Tokyo has to offer.

The Peninsula's spa, fitness and pool facilities maintain the air of luxury while offering a calming rest from Tokyo's metropolitan bustle, and each of the expansive dining facilities boasts a stunning design that will impress your eyes as much as your taste buds. An ideal choice for an elegantly glamorous Tokyo experience.
6. Hotel Orion Motobu Resort & Spa
Situated on the beautiful Japanese island of Okinawa, Hotel Orion Motobu Resort & Spa brings the tropical to luxury.

With pools and hot springs overlooking the water, even the guest rooms don't let you forget your proximity to one of the most beautiful oceanic landscapes in Japan. Furnished with restaurants that indulge guests' tastes in traditional Okinawan cuisines and facilities specially created for an unforgettable seaside wedding experience, the hotel offers fun in its karaoke rooms and soothing relaxation in its ocean water therapy program, all in a facility that accentuates the distinct harmony Okinawa has achieved with its stunning natural environs.
5. St. Regis Osaka
Located in the heart of Japan's second-largest metropolitan area, the St. Regis Osaka offers the pleasures of modern luxury in a cityscape rich with history. Chronicles of the ancient city can be explored through museums within walking distance of the hotel, and guests can take an easy trip to the stunning Osaka Castle on its perch among towering skyscrapers, or enjoy Osaka's luxurious and exclusive shopping avenue, Midosuji Boulevard.

The St. Regis Osaka is more than its enticing locale, featuring a fully equipped business center, a state-of-the-art 24-hour exercise room, and a quality spa utilizing the techniques and products of L'Institut Sothys of Paris. With classy French and Italian dining in the hotel and countless other culinary options for those who venture to sample Osaka's distinct food scene, the St. Regis Osaka is the right choice to experience the luxuries of modernity in the rich history and tradition of Osaka.