Top 6 'Hanami' Spots in Shikoku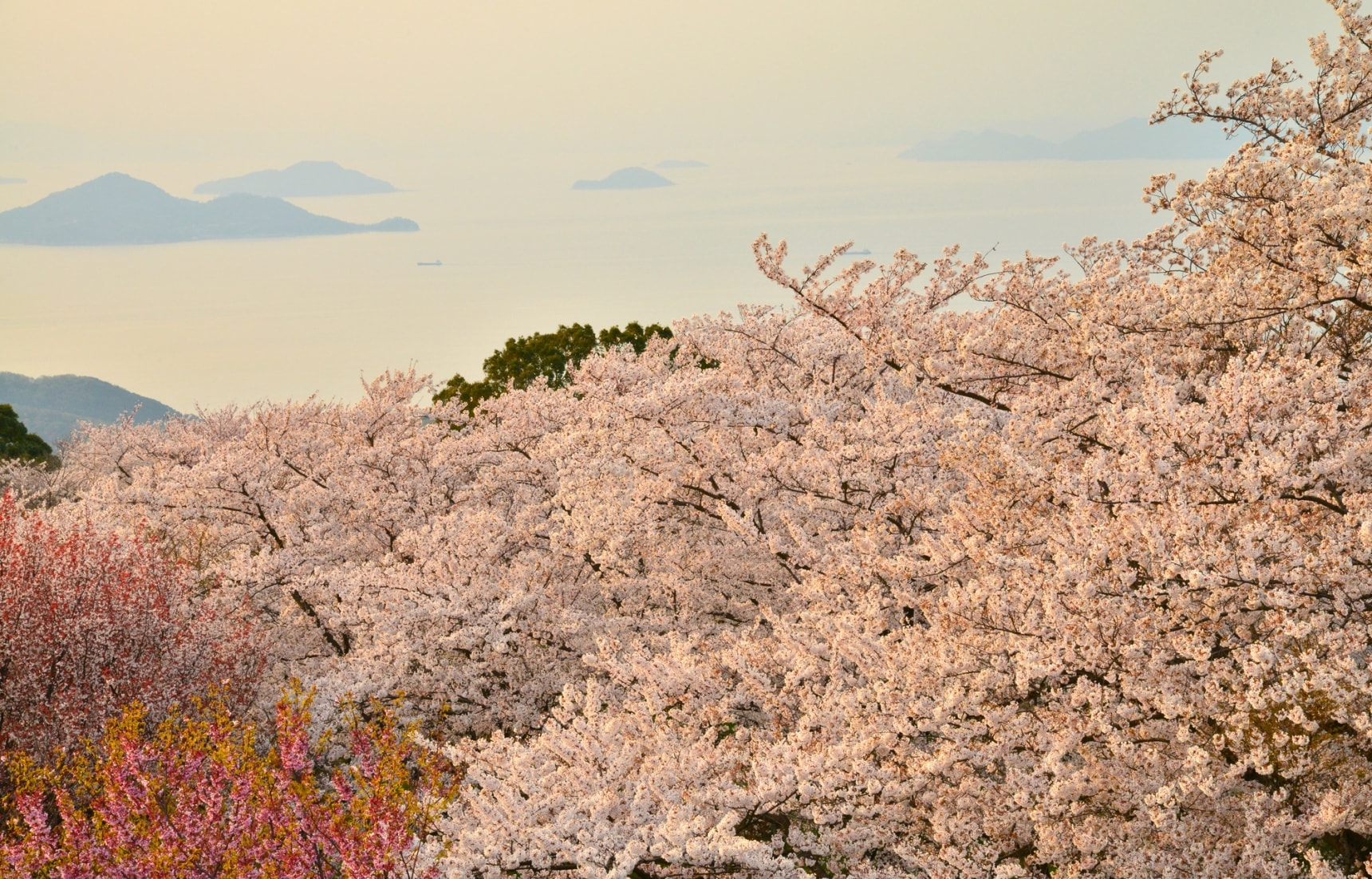 6. Ritsurin Garden (Takamatsu City, Kagawa)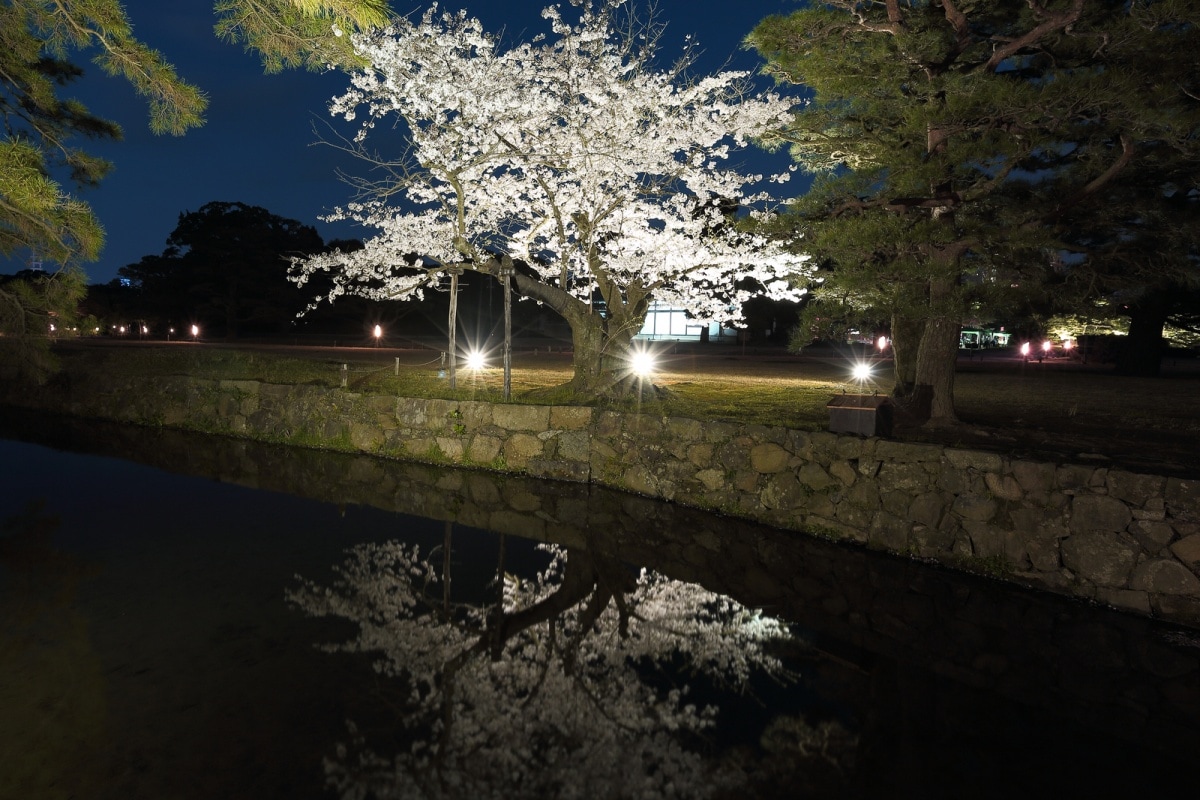 Ritsurin Garden is a gorgeous park located near Takamatsu City, and it's been awarded three stars in the Michelin Green Guide Japan. Among its many natural beauties, the park includes around 350 cherry trees, which can be seen reflecting on the surface of some of the park's six ponds. You can see them lit up at night in late March or early April depending on the year (it's April 2 to 11 for 2016). You can also enjoy tea in a traditional tea-house, or take a scenic ride on a boat.

How to Get There:
Walk from JR Ritsurin Station (20 minutes) or JR Ritsurin Koen Kitaguchi Station (3 minutes).
5. Bizan Park (Tokushima City, Tokushima)
Bizan Park is a great place to do hanami under the sun or the moon, as it's open all the time. Spread across the peak of Mount Bizan, the symbol of Tokushima City, it can be reached easily by ropeway, making it an ideal spot for those who don't have a car at hand.

Together with the sakura (cherry trees), on clear days you can also enjoy a spectacular 360-degree view of the mountains, the Seto Inland Sea, and—after the sun goes down—the romantic nighttime scenery created by the city lights below.

How to Get There:
The base of the Bizan Ropeway is a 10-minute walk from JR Tokushima Station, and the ride up the mountain takes 7 minutes.
4. Hirakiyama Park (Imabari City, Ehime)
This park is located on top of Mount Hirakiyama, 149 meters (489 ft) above sea level. Around 1,000 cherry trees fill its gorgeous scenery, and from the observation deck you can gaze over three of the scenic bridges that string together the many islands of the Seto Inland Sea.

The park is also open during the evening, with paper lanterns and food stalls set up to let you enjoy a nocturnal hanami experience. Ideal for kids, you'll also find a jungle-gym and a 36-meter-long (118 ft) slide on-site!

How to Get There:
From JR Imabari Station, ride the Omishima bus for about 40 minutes to the Hakatajima stop, then take the Kitaura Island Loop Line for 5 minutes to Kumaguchi. From there, the park will be a 30-minute walk away. You can also reach the park by car via a 10-minute drive from the Hakatajima Interchange on the Shimanami Kaido.
3. Hyotan Sakura (Agawa District, Kochi)
The Hyotan Sakura is a double weeping rosebud cherry tree that's about 500 years old. 21 meters (69 ft) in height, it's designated as a Prefectural Natural Monument. It's called the Hyotan Sakura because its buds have a shape resembling bottle gourds, or hyotan.

The tree usually blooms from late March to early April. Be forewarned that the 3.5-kilometer (2.2-mile) road to the sakura is quite narrow at some points, so it might be congested during spring, especially on weekends.

How to Get There:
From JR Sakawa Station, take the Kuroiwa Kanko Bus to Tosa Osaki bus stop, or drive for about 45 minutes along National Route 33. The walk to the tree is about one hour from the bus stop.
2. Kinbuchi Forest Park (Takamatsu City, Kagawa)
Kinbuchi Forest Park sits around a tranquil lake in Takamatsu City. In spring, its 500-meter-long (547 yd) main road is the perfect spot to take a walk under the falling cherry blossoms, and you can also enjoy the pink petals around its lawns and children's park, with roughly 5,000 trees in total. Tulips also bloom in spring, while at other times of the year you can enjoy beautiful flowers like hydrangeas and peonies.

How to Get There:
Kinbuchi Forest Park is 40 minutes by car from JR Takamatsu Station, or a 10-minute drive from Takata Station on the Kotoden Nagao Line.
1. Shiudeyama (Mitoyo City, Kagawa)
This mountain climbs to the No. 1 spot thanks to colorful scenery created by the pink hues of its 1,000 cherry trees against the backdrop of the glittering Seto Inland Sea. The mountain is 352 meters (1,155 ft) high and offers a 360-degree panoramic view that, on clear days, extends up to Shodo Island and the Chugoku region of western Honshu.

How to Get There:
Take the bus from JR Takuma Station to Shiudeyama Tozanguchi, then hike up for about an hour. Alternatively, you can drive from the station area in about 40 minutes.