Sakura & Samurai Houses in Kakunodate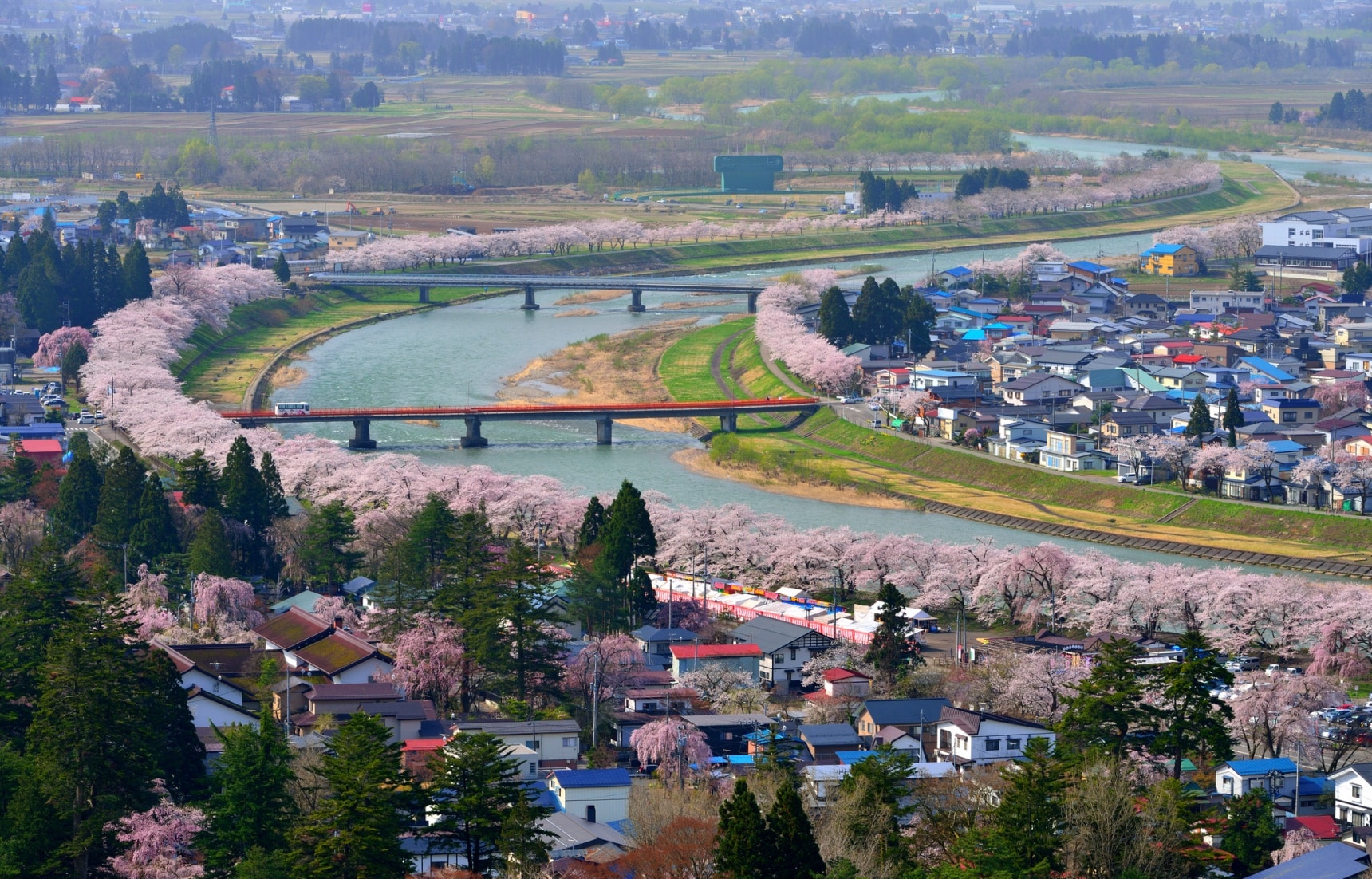 Spring comes late in Japan's northeastern Tohoku region, an area known in ancient times as Michinoku, or "The Interior Road." The season's delayed arrival allows visitors an extended opportunity to enjoy the Three Famous Cherry Blossom Spots of Michinoku, including the centuries-old weeping cherry blossoms of Kakunodate's samurai district.
Though it varies year to year, the height of the cherry blossom season in the more southerly Kanto and Kansai areas usually ranges from late March to early April. While the pink-and-white blossoms are a surefire way to uplift the spirit, this season also coincides with the conclusion of the Japanese fiscal year, which ends on March 31. Schools and companies follow this system as well, with students graduating in March only to begin school again in April, while new hires at companies most typically arrive for their first day on April 1. In short, there's a lot going on—making it difficult for many people to find the time to enjoy the cherry blossoms in full bloom.

Thankfully, there are plenty of places to enjoy peak-season cherry-blossom viewing—or hanami as it's locally known—from late April onward. The Tohoku region experiences a delayed spring season, with cherry blossoms at their best from mid to late April in a plethora of renowned locations.
Kakunodate's Samurai District
Kakunodate, located in central Akita Prefecture, first flourished as a castle town, or jokamachi. Construction began in 1620 under Ashina Yoshikatsu, whose design for the town featured a specially designated living area set aside for the samurai warrior caste. When the Yoshikatsu line died out in 1656, the area was given to Yoshichika of the Satake Clan, who saw out the plan to completion.

As early as Yoshichika's son's time, it's said that Kakunodate came to be known as the "Little Kyoto of Michinoku." The town's samurai district presents numerous residences standing in their original states to this day. These well-preserved examples of historic architecture frequently feature in Japanese films, and a number can be entered and explored free of charge, or for nominal fees of up to about ¥500.

In addition to its history, the samurai district is a renowned hanami spot, with massive weeping cherry trees lining the street. With some of the trees up to 200 years old, 162 of them are designated as Natural Monuments of Japan. The cherry blossoms here are so beautiful they're listed among the Three Famous Cherry Blossom Spots of Michinoku, the others being Hirosaki Park in Aomori Prefecture and Tenshochi Municipal Park in Kitakami City, Iwate Prefecture.
Top-3 Chicken & Udon
Akita Prefecture is famous for a number of unique dishes and products. Kiritanpo, originally designed as a portable meal for local hunters and woodcutters, is made by shaping pounded rice into a cylinder around a cedar skewer and then roasting it. Akita's Hinai Jidori chicken features as a key ingredient in kiritanpo hot pot, and is recognized as one of Japan's top three chicken breeds, along with the Satsuma Jidori of southern Kyushu and central Japan's Nagoya Cochin.

Meanwhile, chewy Inaniwa udon (pictured above) is considered one of Japan's three greatest varieties of udon noodles—in this case alongside Kagawa Prefecture's Sanuki udon and Nagoya's Kishimen udon. With a history tracing back to the early 17th century, it's said Inaniwa udon was so renowned that it was even given as a tribute to feudal lords.

Nowadays, any of these treats can be enjoyed right on the street or taken home as gifts, so be sure not to miss them while on your hanami outing!
Hinokinai River
The cherry blossoms that line a 2-kilometer-long (1.2-mile) portion of the river in this area were planted in 1934 to celebrate the birth of the current emperor, Akihito. They are now formally designated by the national government as a Place of Scenic Beauty. Visitors can amble along the pathway under the row of cherry trees and enjoy the gentle, snow-like fall of the petals. Some areas offer access to the riverbank, where visitors can find perfect spots to sit, relax and enjoy the unending stretch of beautiful pink blossoms.
When & How to Go
Kakunodate features two main species of cherry tree. The weeping cherry blossoms of the samurai district are a species of Edo Higan, while the Hinokinai River is lined with Japan's signature Somei Yoshino cherry trees. While these two species typically bloom around the same time, it can be a challenge to time trips perfectly to align with the much-anticipated full bloom. However, this makes it all the more worthwhile when you do happen to get the timing just right. The 2015 Kakunodate Cherry Blossom Festival generally runs from mid-April to early May.

Kakunodate is easily accessed by plane or Akita Shinkansen bullet train. Staying at least one night allows visitors to fully enjoy all that the town has to offer. Further, there are various other attractions in the area, including Lake Tazawa, the deepest lake in Japan, and the historic Nyuto Onsen hot spring area, which can be combined with the cherry blossoms to make for a memorable late-season hanami trip.