Where to Get Your Lifelong Brolly
If you live in Japan, you know that rain is unavoidable at certain times of the year. Instead of wasting ¥500 on plastic umbrellas every time you get caught in a sudden downpour, why not find the one umbrella you can carry around and even cherish for the rest of your life? And Cool Magic SHU'S is a great place to find the one for you!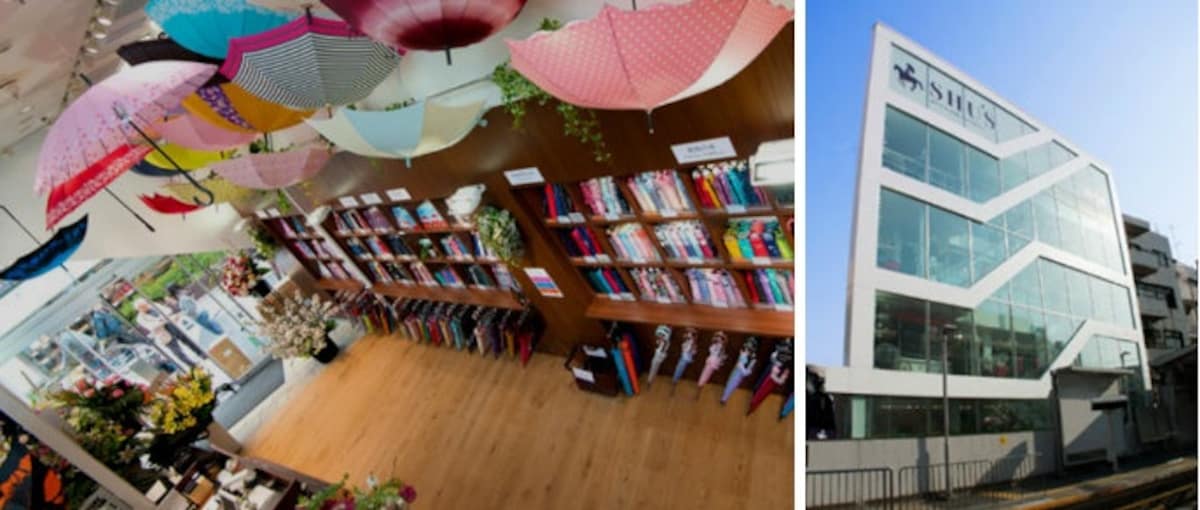 Opened in April 2014, Cool Magic SHU'S in Jiyugaoka, Tokyo, is one of the world's largest umbrella stores. In the four-story building (the fourth floor is open to professional buyers only), shoppers can find approximately 10,000 umbrellas in 500 different types, from compact folding umbrellas and 98-gram (3.4-oz) super-light umbrellas to massive golf umbrellas. In the summer, many women in Japan use higasa, parasols specifically designed to filter out UV rays, but here at Cool Magic SHU'S, all of the higasa can be used for any occasion, literally rain or shine!
1st Floor
The first floor is conceptualized as a "library," where shoppers can see umbrellas neatly lining the wooden shelves. Keep an eye out for the Poke-flat folding umbrella (¥1,000), which is extremely thin, with a thickness of just 2.5 centimeters (1 in) when folded. Popular for both men and women, it's one of the best-selling umbrellas in the store.
2nd Floor
The second floor features different types of umbrellas targeted at men. You will notice that the colors of these umbrellas are either dark or plain white, with little or no print design. It seems that for men, umbrellas just might not be fashion items after all—or are they?
3rd Floor
The third floor is dedicated to colorful umbrellas with different designs—what they call umbrellas for women. Women in Japan tend to select their own umbrellas with care, avoiding the cheapies you can get at convenience stores except in weather emergencies.

The prices of these umbrellas are quite reasonable, most of them ranging from ¥1,000 to a few thousand yen. Even on a sunny day, it's definitely worth a visit! And these umbrellas are functional rain or shine!
4th Floor
The fourth floor is the buyers' floor—so unless you're planning on making your own umbrella brand, there's no real reason to head up here!

Despite the swanky image, the prices of the umbrellas at Cool Magic SHU'S are quite reasonable, with most of them ranging from ¥1,000 to a few thousand yen. Even on a sunny day, it's definitely worth a visit!