7 Cool Sake-Inspired T-Shirts
7. Nakao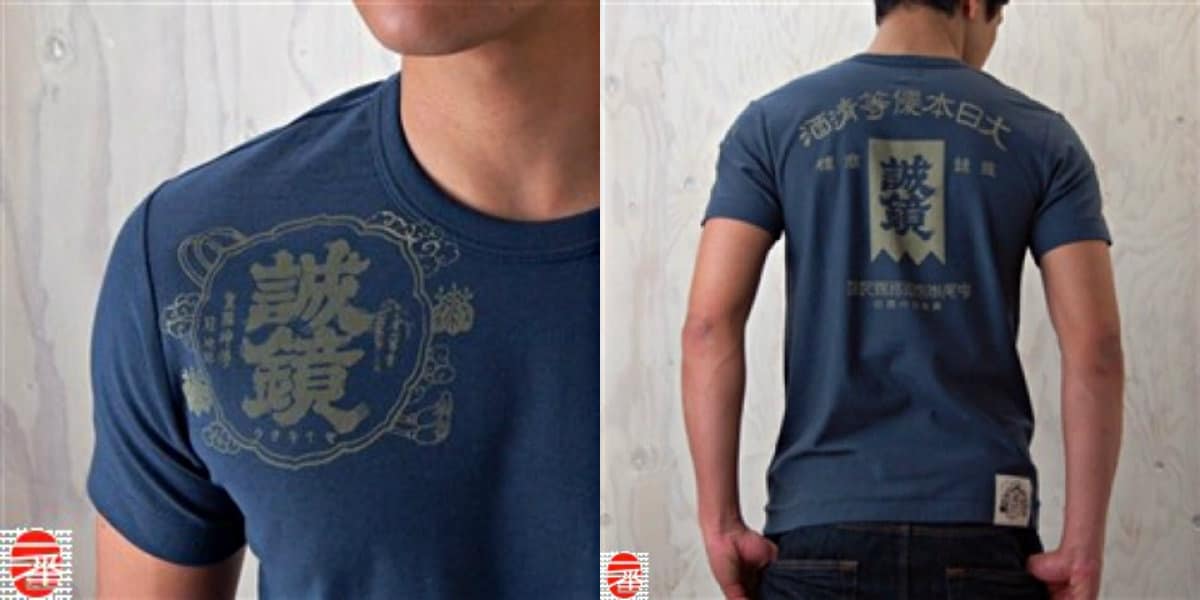 This T-shirt features the logo of Nakao Sake Brewery, which was founded in 1871 in Takehara, a historical city in Hiroshima Prefecture facing the Seto Inland Sea. The brewery is known for its Seikyo ("True Mirror") sake, so named because the sake in the cup is like a mirror that reflects the heart of the brewer.

This T-shirt and all the others on this list are part of the brewery collection from Kume Co., Limited, which was established in 1935 as the first T-shirt producer in Japan.
6. Fujimizake
Fujimizake means "sake while watching Mount Fuji." And what better time to do that than under the full moon? This T-shirt features drawings of the moon above Mount Fuji, which are also symbols of fortune and good luck. This one isn't actually a brand, but just a poetic concept of when and how to drink sake!
5. Ichinokura
Ichinokura is a sake brewery in Miyagi Prefecture, a place well known for the quality of its rice wines. The T-shirt dedicated to this brewery features a water motif, which is an essential ingredient in making good sake.
4. Tentaka
This T-shirt features the Japanese sake brewery Tentaka, which was founded in 1914 when liquor wholesaler Motoichi Ozaki bought and renamed an insolvent brewery in the village of Yuzukami in Tochigi Prefecture. Ozaki is famous for having stated, "If it isn't dry, it isn't sake." He called his brewery Tentaka (literally, "Hawk in the Heavens") because he had had a dream envisioning precisely that.
3. Hakuryu
This Hakuryu T-shirt features a dragon on a white background—naturally, considering Hakuryu means White Dragon. The dragon is a symbol of the responsibility to make good rice as the main ingredient of great sake—which shouldn't be hard, considering Hakuryu is based in Niigata Prefecture, home to what's generally agreed to be the best rice in Japan.

Founded in 1839, Hakuryu started out shipping sake to Hokkaido on the storied kitamae-bune, merchant ships that brought kelp (kombu) from Hokkaido to points all around Japan.
2. Nanatsu Ume
This T-shirt features the sake brand Nanatsu Ume, which means seven pickled plums, a Saitama brewery that began operation in 1694. While the brewery itself closed down in 2004, its logo remains immortalized on this shirt, complimented with a solid plum blossom motif.
1. Shichihon-yari (Seven Spears)
The Shichihon-yari (Seven Spears) brewery was founded in the Tenbun Era (1532-1555). Located in Nagahama City, Shiga Prefecture, it takes its name from seven samurai warriors known as the Seven Spears of Shizugatake, whose most famous exploit occurred on Mount Shizugatake, which is located at the south of the city on the coast of Lake Biwa.

In 1583, a series of forts on the mountain were held by forces loyal to the powerful Toyotomi Hideyoshi. When they came under attack from Sakuma Morimasa, Hideyoshi rushed to the fortifications' defense—and it's said that its was ordering his mounted bodyguards, the Seven Spears, into the fray at a critical point that sealed his victory. Now who wouldn't want that on a T-shirt?