Wonder at These 7 Exquisitely Designed Sweets!
7. Takaoka Ramune: Soda-Flavored Candy (Toyama)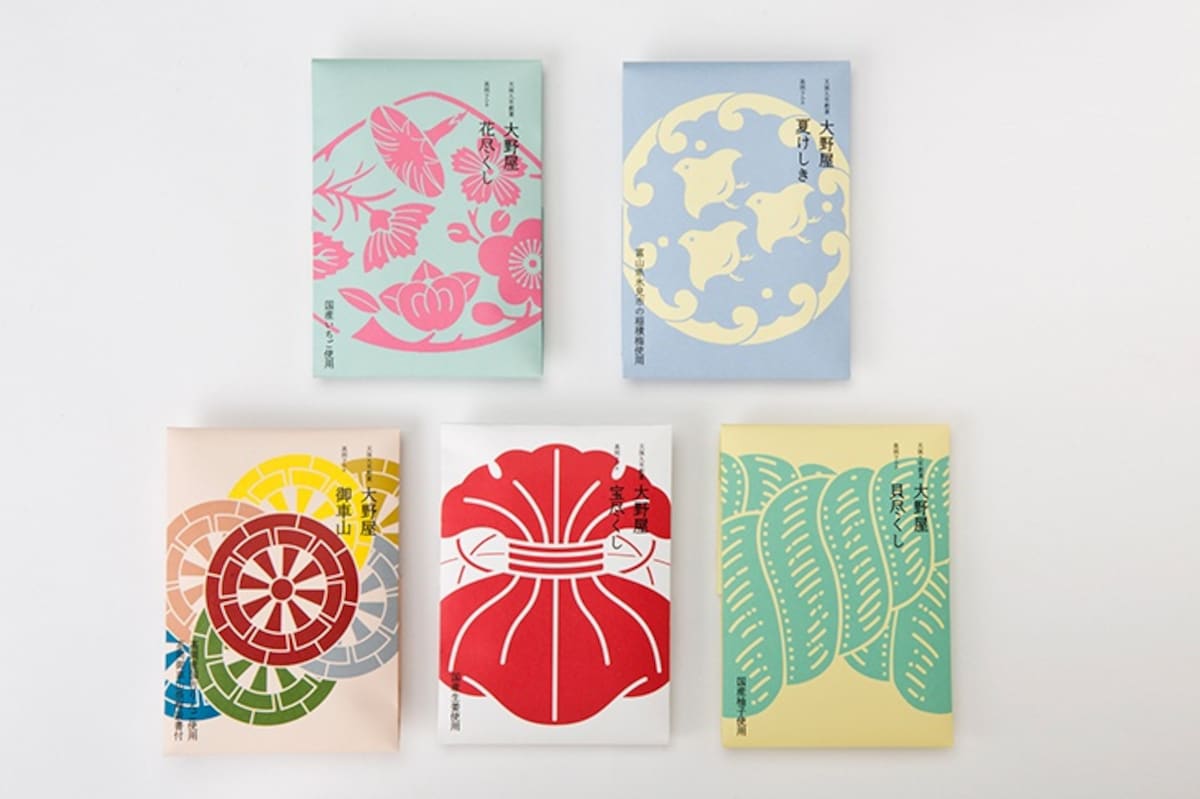 Established in 1838, Takaoka Ramune is a veteran Japanese candy shop that conceived of ramune, a soda-flavored candy that uses Koshi-hikari rice as its main ingredient. The shape of each piece of candy is different, with a beauty that can be mistaken for rakugan (dried sweets made with rice flour and powdered sugar). Handmade ramune that are small enough to hold on the tip of a finger are the product of tradition passed down by Japanese confectioners, with elaborately detailed, beautiful shapes that are tiny works of art.

You can feel the tradition and commitment of a veteran Japanese confectioner with a history of nearly 170 years in these treats. These fun ramune bear traditional patterns symbolizing good fortune, such as the seashell-styled kaizu-kushi design, the sea-bream-styled takara-zukushi design, which brings good fortune and treasure, and the hana-zukushi design, bringing in the flowers of the four seasons, as well as other shapes that tell a traditional Japanese story.
6. Suwako-mame: Sugar Glazed Soybeans (Nagano)
Suwako-mame are a traditional Japanese sweet that have been eaten for nearly all of the last century. They are traditionally made in the Suwa region of Nagano Prefecture, an area rich in soybeans, with a thriving miso production and soy sauce brewing tradition that date back to ancient times.

Suwako-mame are made via the traditional method of roasting natural soybeans and coating them with sugar and starch. Perhaps similar to the chocolate-coated orangette candies from France, suwako-mame are a coated treat originating in Japan. The simple, fragrant flavor of the soybean and the slight natural sweetness of the surrounding sugar strike the perfect balance. The nutrition of the soybean is preserved, making it a safe snack for kids, and its ingredients of only soybeans, sugar and starch make it a good choice for those who do not consume animal products.
5. Kusudama: Sweets in an Edible Shell (Ishikawa)
The city of Kanazawa in Ishikawa Prefecture is one of the country's top three producers of Japanese sweets. Because the tea ceremony has long been prevalent in the city, it has a flourishing culture of Japanese sweets, which draw out the flavor of the tea. These sweets delicately reproduce the beauties of nature and reflect the aesthetic sense of the Japanese people, who are attuned to seasonal change. These beautiful sweets became popular among the common people, and essential to events marking life changes and seasonal events.

Kusudama from Moroeya, a Kanazawa shop in business for over 160 years, is a special sweet made for celebrating New Year's. Rice cracker made from glutinous rice is shaped into a ball and decorated with the auspicious kohaku colors of red and white. Break it open as if opening a treasure chest to reveal a number of tiny and delightful dried confections. It's a perfect way to celebrate the New Year with friends and family.
4. Keiran Somen (Fukuoka)
Founded 342 years ago, Matsuyariemon Inc. has produced its traditional signature sweet, Keiran Somen, for 13 generations. Its origins lie in the nanban-gashi European-style sweets introduced from Portugal during Japan's feudal period, and the recipe has been a carefully guarded secret passed down from one generation to the next. The only ingredients are egg yolk and sugar. These simple ingredients are hand-stretched into gleaming, sweet egg noodles.

This Keiran Somen, when cut into bite-sized pieces and wrapped with a string of kelp, become Keiran Somen Tabane. The 12th-generation head of Matsuyariemon came up with the idea of this easy-to-eat, beautiful form, perfect for tea ceremony. Its simple ingredients belie the lingering finish of its rich flavor and full fragrance. Keiran Somen Tabane is a refined sweet that is sure to make an equally fine gift.
3. Mori no Naka e: Japanese Dry Sweets (Nara)
High quality kudzu starch can be gathered from the roots of kudzu, a plant in the legume family. Though extraction is highly time- and labor-intensive, the starch is valuable since it is velvety and pleasant to the taste. In addition to being used in Japanese sweets and foods, it was also utilized as a folk remedy for colds and upset stomach. Yoshino kudzu from Nara prefecture is of especially good quality, and refined Japanese sweets have been made with it locally for generations.

Mori no Naka e from the company Tsujimura are shaped like a Yoshino cherry blossom. The natural color of the ingredients is used along with five types of sugars, including the refined Japanese sugar, wasanbon. A taste of these pretty dried sweets, produced with molds that have been used since ancient times, makes one nostalgic for the gentle sweetness of one's childhood. The delicate taste also goes well with coffee and tea.
2. Wasanbon-to: Sugar Stick (Fukushima)
Wasanbon sugar is unique to Japan, and essential to making Japanese sweets. The sugar is made with traditional ingredients and methods, and is characterized by a refined sweetness that quickly melts in the mouth. The Aizu Dagashi P Series/Wasanbon-to Sugar Muddler is a modern take on wasanbon sugar for contemporary living. They are shaped using a wooden mold passed down from a 160-year old traditional confectionery shop selling Aizu Dagashi, a traditional confection derived from the Aizu region of Fukushima Prefecture.

The muddlers are molded into charming, traditional Japanese shapes believed to bring good luck and fortune to those who use them. Stir coffee or tea with the muddler for an unprecedentedly mellow, mild sweetness that envelops the palate.

Wasanbon sugar has never before been widely utilized outside of the tea ceremony, but shaping it into sugar sticks allows Japanese sweets to be enjoyed in more settings and by many people who can now readily enjoy the flavor.
1. Sotto Hirakuto: Dried Sweets & Confetti (Ishikawa)
The city of Kanazawa is flourishing with the opening of a new Shinkansen bullet train line in early 2015. About a one-hour drive away lies Yamanaka Onsen, a hot spring region located in the mountains of Kaga City that has over 1,300 years of history. The tea ceremony and a culture of Japanese confections have thrived in this region since olden days, and the Sotto Hirakuto series is a new creation that was born in this historic center of confectioneries.

These seasonal higashi (dried sweets) wrapped in monaka wafers (made from mochi, a kind of pounded rice cake) come in four types: spring, summer, autumn and winter. Their light taste and delicate flavors convey the confectionery tradition of Kaga.

Great care is also taken in their appearance. The higashi are attractively finished in decorative plant and food motifs for each season. A fortunetelling card is also inserted with each one, delivering a little surprise with each treat. These Japanese sweets are fun to look at, hold, and eat.