Saitama's Seven Super Snacks
Saitama Prefecture, roughly 20 kilometers (12.4 miles) from central Tokyo, is often overlooked as a destination. But it's worth exploring for its preserved Edo-Period sites, the railway museum, the beautiful Hikawa Shrine, and the Super Arena, which often hosts A-list pop and rock stars. But Saitama's culinary culture is unique, and often unsung.
7. Imogashi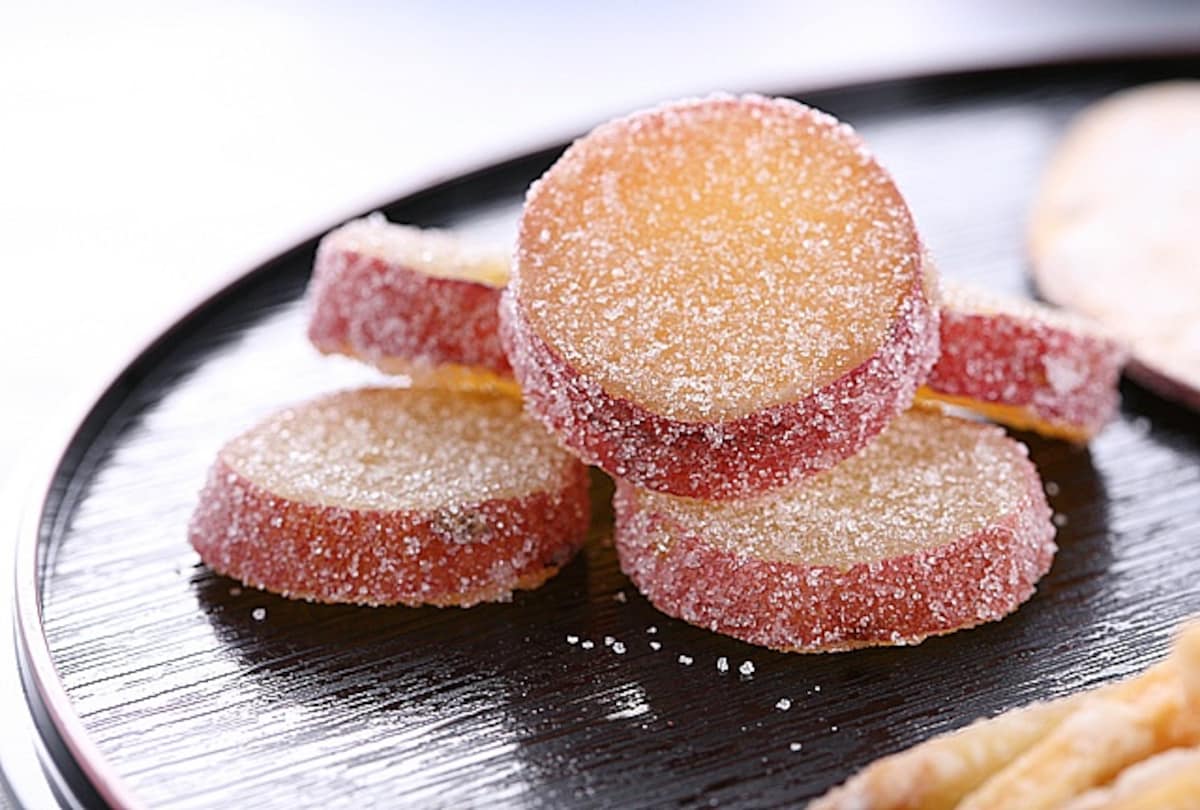 People in Washington state once flocked to Seattle to enjoy Umai-Do Bakery's famousimogashi. They often referred to it as the "Japanese snickerdoodle," but for the people of Saitama, imogashi, or sweet potato snacks, are part of a food tradition they've enjoyed since the Edo Period (1603–1868). These sweet potato snacks abound in Saitama's Kawagoe area, which is known for its sweet potato harvest. The imosenbei (baked sweet potatoes), imonatto (sweet potatoes boiled with syrup), and the imokempi (sweet potatoes dusted with sugar) are must-tries.
6. Zerii Furai
The katakana spelling of this delicacy (ゼリーフライ) gives this Japanese snack its American-sounding label, zerii furai, or jelly fry. Jelly fries are mainly made of okara, or Japanese bean curd, which gives the goody its gooey texture. The curd is sometimes mixed with vegetables and potatoes, making it a filling snack. The north Saitama city of Gyoda is the jelly fry capital, and has even made a map for your jelly fry pilgrimage.
5. Udon
Just about every region in Japan has its own way of making udon. Saitama has long been a center for high-quality wheat production, and its noodle industry has followed suit. Kazo udon, named after the northern Saitama city of Kazo, is made using traditional methods, kneading and cutting the noodles by hand. Other local forms of udon get a unique twist through the addition of local products, such as Fuyaya Niboto udon and its spring onion broth, and Niiza udon, which turns orange from the addition of carrots during the kneading process.
4. Shoyu +
Japan is usually known for two food items: sushi and ramen. There's no better way to enjoy them, though, than to pair them with Japanese soy sauce, especially the shoyu okoku produced in Saitama's Hidaka City. Its unique flavor comes from fresh soybeans (instead of the usual processed defatted soybeans) and a traditional brewing process using cedar pails (instead of the modern brewing tanks that affect the aging stage of the soy sauce). Not too salty, not too strong—a full, well-rounded flavor is what Saitama's shoyu is all about.
3. Soka Senbei
A popular snack for fashionable Edo-Period citizens, this soy sauce-laced rice cracker, made in the eastern Saitama city of Soka, continues to enjoy its popularity. While many Japanese companies produce senbei by machine nowadays, a number of Saitama artisans still use older methods, baking the senbei by hand and drying the crust in the sun.
2. Fugashi
These sugary brown bread sticks abound in the streets of Kawagoe City. It's an airy type of pastry that seems to be a cross between cotton candy and a meringue—a perfect snack to recall Edo-Period nostalgia as you explore the city, which is also called Koedo, or "Little Tokyo."
1. Gokabo
This traditional snack made of glutinous rice and dusted with kinako, or toasted soybean flour, is common in the northern part of Saitama Prefecture. It's been a favorite since the Edo Period because of its light texture and delicate taste, which starts with a crispy bite and ends with a lingering touch of sweetness.