Walking Japan's 1,000km Michinoku Coastal Trail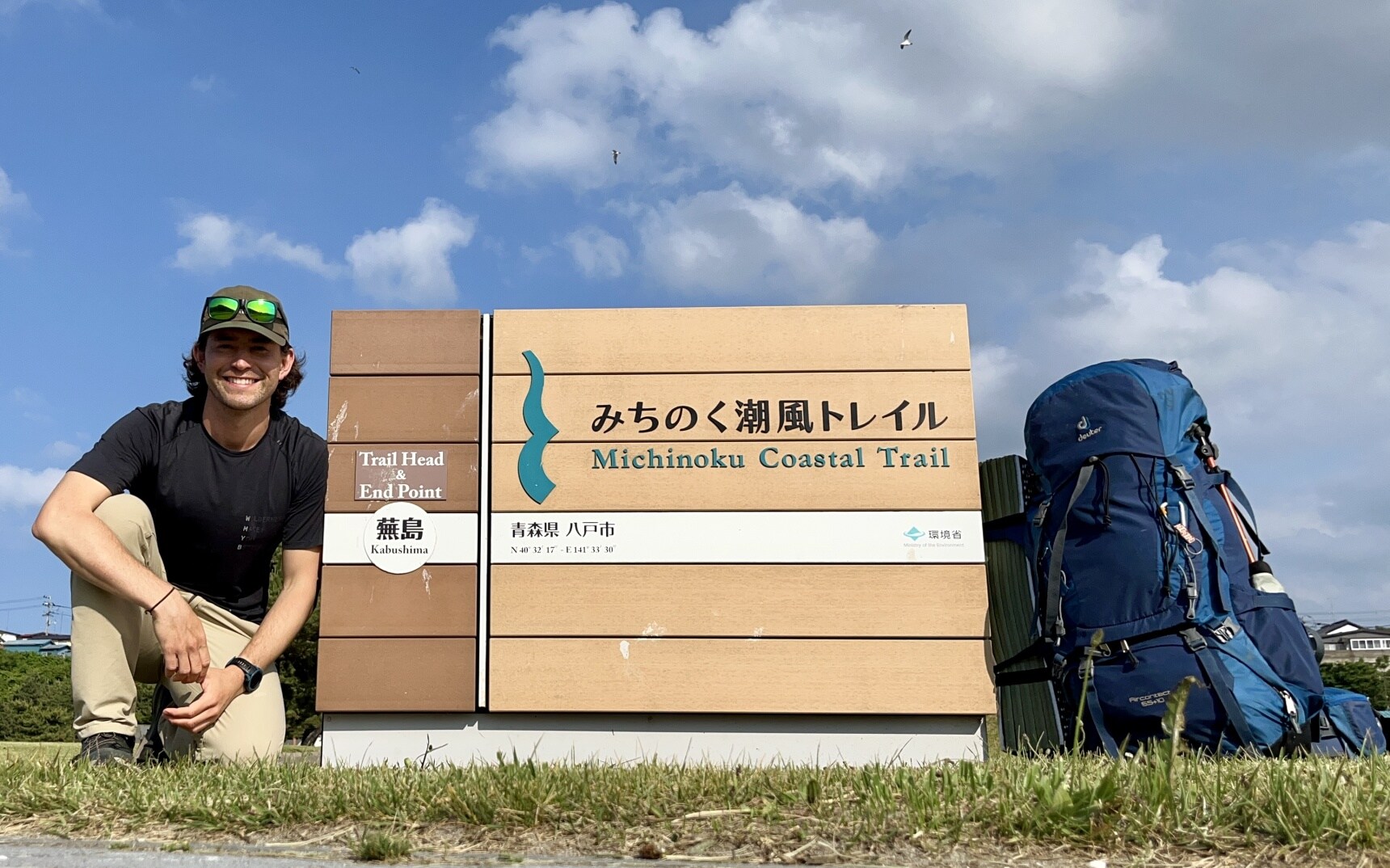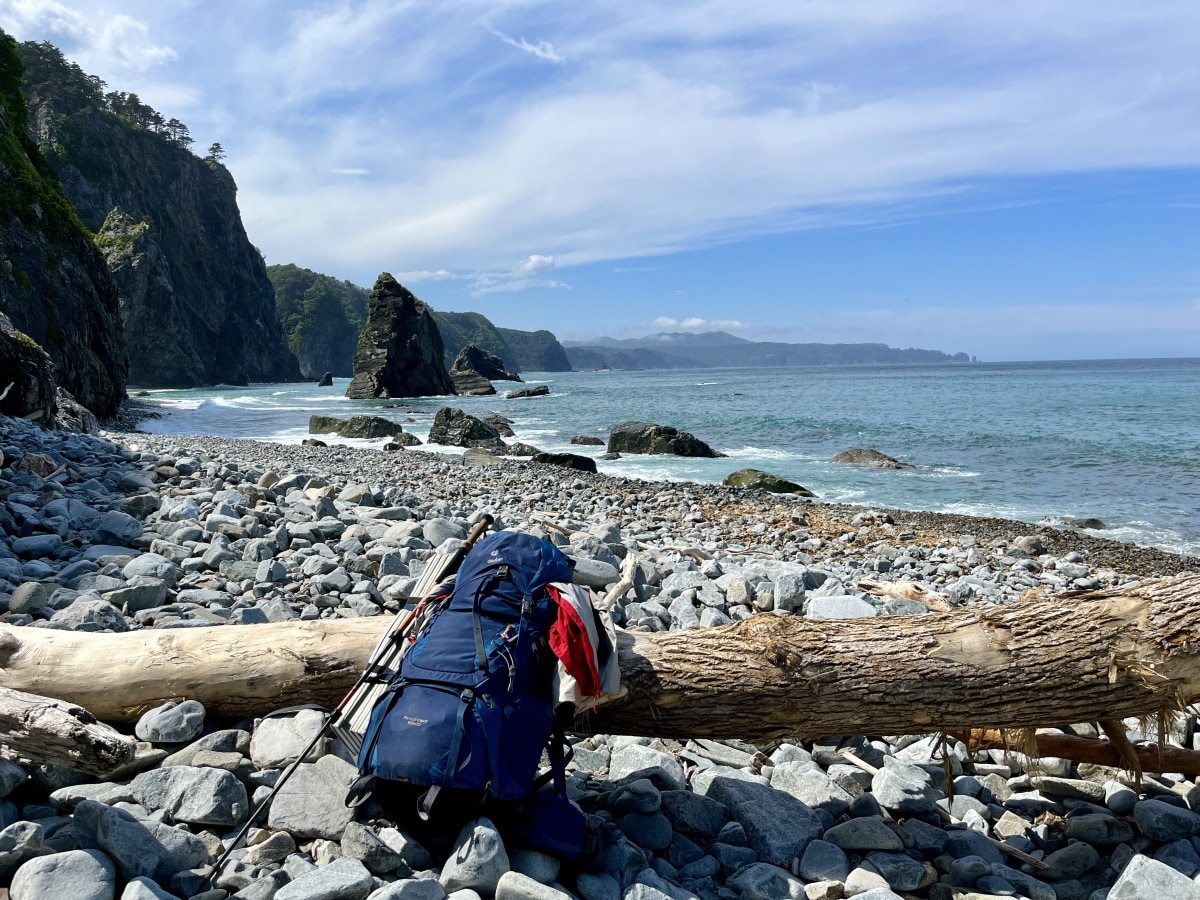 Having spent the better part of four hours walking through a mountain pass in torrential rain, I stood in the entrance of a small, dimly lit shop in the middle of a quiet village, completely drenched and questioning my life decisions. I shook off as much water as I could before entering, and timidly began looking for a bento box as my shoes squelched with every step.

Ten minutes later, I was sitting with my legs tucked under a kotatsu, sipping on a hot cup of tea and tucking into a warm bowl of ramen while my clothes dried by the stove. I'd been ushered into the attached family home by shopkeeper Chiba-san who (strongly) insisted I warm up and wait out the storm.

The afternoon slipped away as I chatted with the Chiba family, including the indomitable ojiisan, an 83-year old former professional boxer and avid table tennis player. Hours later, I emerged into the spring afternoon, smiling, reinvigorated, and ready for the long journey ahead.

While Japan's newest hiking trail, the Michinoku Coastal Trail, offers stunning scenery, the freshest of seafood and so much more, it is these unplanned encounters that make it truly unforgettable.
52 Days on the Trail
Since 2017, I have been walking sections of the Michinoku Coastal Trail (or "MCT" for short) in Japan's northeastern Tohoku region. Most recently, I spent 52 days thru-hiking it from south to north and--despite traumatizing my feet a little--I can't wait to go back.

The trail stretches 1,025km along the pristine Sanriku coastline, traversing rugged countryside, small fishing villages, and dramatic cliffs in the Sanriku Fukko National Park. From its southern trailhead in Fukushima Prefecture's Soma City, it winds in and out of bays and inlets of the lesser-visited Miyagi and Iwate Prefectures, arriving at its northernmost point in Hachinohe, Aomori Prefecture.

It is not just a hiking trail; the story behind it makes it one-of-a-kind.
A Symbol of Hope and Recovery
On March 11, 2011, Japan experienced one of the worst natural disasters in the 21st Century: the Great East Japan Earthquake. The megaquake and ensuing tsunami claimed almost 20,000 lives and levelled dozens of coastal towns. Now, over a decade later, communities continue to rebuild and are eager to welcome travellers from across Japan and the world.

The MCT and Sanriku Fukko National Park projects were spearheaded by Japan's Ministry of the Environment as initiatives to support long-term recovery, by connecting people with the area's unique natural landscapes, culture and communities. The trail, which officially opened in June 2019, is also an important symbol of hope, enabling travelers to learn about the disaster through its many preserved sites and memorials, and hear stories of loss, resilience and rebuilding first-hand.
Beyond the beautiful scenery, Tohoku is a land steeped in history, mythology, and folklore, and has a certain uniqueness about it; from the charming dialect to its ancient tales and traditions. However, few international travelers make the journey there, making it an ideal destination to get off the beaten track and have an enriching--and unusual--experience.
Natural Wonders
The landscapes are wild and varied, from idyllic beaches to sacred islands and ancient tunnels. While it's difficult to select favourites, here are a few spots I would very gladly revisit.

Without a doubt, the trail section along the cliffs of Kitayamazaki and Unosu in Iwate is among the highlights of the trail. There are some rigorous ups and down, but peering out over the 200-metre cliffs and going through the hand-dug tunnels nearby (where most visitors don't venture) is a must.

At the northern end, Tanesashi Kaigan in Aomori is a walker's paradise, with relatively flat stretches of trail covering large grassy meadows and breathtaking views of the Pacific Ocean. Stroll along the nearby Osuka beach, famous for its "squeaky sand," said to be so pure and untouched that it makes a squeaking sound under your feet as you walk along.
In Miyagi Prefecture, hikers can island hop across the Urato islands in Matsushima Bay, loved for their slower pace of life and varied walking trails. A visit to the sacred island of Kinkasan, at the base of the Oshika Peninsula, is also definitely worth a visit. Home to Koganeyama, a Shinto shrine visited many seeking blessings for financial good fortune, Kinkasan offers beautiful hiking through ancient forests and spectacular views.

In the southern section, summiting Mt. Karo in Fukushima offers gorgeous views of both the Pacific coastline and the mountains inland. The area is also home to the mystical kamoshika (Japanese serow), so keep your eyes peeled.

We'd like to hear your opinion on the Michinoku Shiokaze Trail and this article. Please click here to participate in a short questionnaire.
Northern Hospitality
There are a lot of accommodation options along the trail, but certain sections are sparse in terms of lodging, so it's best to plan ahead. You can find a volunteer-curated, English-language map with hundreds of accommodation options, as well as locations of public baths, campsites and more here.

There are many small, family-owned ryokan and guesthouses along the trail. One of my favourites is Minatomaru Guesthouse in Shiogama, where owner Yusuke-san is known to take guests on walking tours of the seaside town and fish market early in the morning to try out the morning catch.

If you're looking for more of a luxurious stay, you can book a night or two at places like Hotel Ragaso in Tanohata Village, Iwate. The hotel was damaged badly by the tsunami and became a hub for recovery workers. Today, it is back in business and offers fresh seafood dishes, a relaxing bath, and ocean-view rooms.

For those who prefer camping, there are some 25 campsites along the trail, including one on the famed "Cat Island" of Tashirojima, accessible via a short boat ride from Ishinomaki City.
With over 50 hot springs and public baths dotted along the trail, there are plenty of chances to rest weary feet and refresh. Among my favourites was the bath at Minami-Sanriku's Hotel Kanyo, where you can indulge in a stunning view of the Shizugawa Bay.

The Sanriku coast, where the Oyashio (cold current) and Kuroshio (warm current) collide to create fertile fishing grounds, is a world-renowned fishing area, supplying its bounty of fresh, quality seafood throughout the year. Depending on the season, you'll be able to enjoy fresh uni (sea urchin), oysters, mackerel, tuna, seaweed--and much more.
I recommend trying Onagawa's iconic dish, the Onagawa-don, a simple yet delicious assortment of sashimi on rice, available at the Okasei fish market near Onagawa station. Those looking to broaden their culinary horizons can try the local delicacy hoya, affectionately known as the "Pineapple of the Sea", a bizarre-looking edible ascidian (sea squirt) with an orange-red shell that is often served raw.
Moments for Pause
The MCT passes through several memorials, exhibitions and preserved buildings, to ensure that the stories and lessons from the 2011 tsunami live on. In a disaster-prone country like Japan, this is important both to honour those who were lost and the loved ones they leave behind, but also to ensure that we can learn and be better prepared for future disasters.

Among the most moving sites was the Phone of the Wind in the small town of Otsuchi, Iwate Prefecture. Located in a quiet hilltop garden, there is a disconnected rotary phone for "calling" lost loved ones, providing a unique way for people to manage their grief. The phone box now attracts thousands of visitors from around Japan and even abroad, and became the inspiration for a recent film.

The Arahama Elementary School near Sendai stands exactly as it was in the wake of the tsunami, preserved as a walk-in museum. In what is known now as the 'Miracle of Arahama Elementary School', 320 people took refuge on the upper floors and were all rescued by helicopter from the roof. Today, visitors can walk through the school and learn about that fateful day, as well as how the area was rebuilt in the years that followed.
Something for Everyone
Whether you're a seasoned long-distance hiker or looking for a day trip with the family, the MCT has something for everyone.

The combination of dramatic natural landscapes, delicious northern dishes, Tohoku culture and true Japanese omotenashi (hospitality), as well as the ability to learn from and contribute to the rebuilding of a disaster-stricken region, make it a destination like no other.

So next time you're looking for a worthwhile travel experience in Japan, consider visiting the Michinoku Coastal Trail. If it's anything like what I experienced, you will not be disappointed.
Best Time to Go
The trail can be walked year-round, although be wary of ice and snowfall during winter and walking in the summer heat can be draining. I would recommend spring, when Tohoku offers top-notch sakura viewing, or the autumn season when the mountains come alive with autumn foliage colors and the temperatures cool down. Note that some facilities, such as campsites, close during the winter, so it is always best to check ahead and plan your route to make sure you have the best time possible.
Getting There and Around
The northern trailhead is at Kabushima Shrine near Same Station in Aomori. Take the Shinkansen from Tokyo to Hachinohe Station, then head to Same station on the Hachinohe Line. The southern trailhead is at Matsukawaura Kankyo Koen in Soma, Fukushima. From Tokyo Station, take the Shinkansen to Sendai Station, then take the Joban Line to Soma Station. In terms of local transport between trail sections, there are trains and buses running up and down most of the Tohoku region's coastline, including the iconic Sanriku Railway Rias Line, enabling hikers to hop between sections (with a bit of planning).