A Valentine Chocolate Tour of Tokyo

Pierre Herme: A French Love Affair Nurtured in Tokyo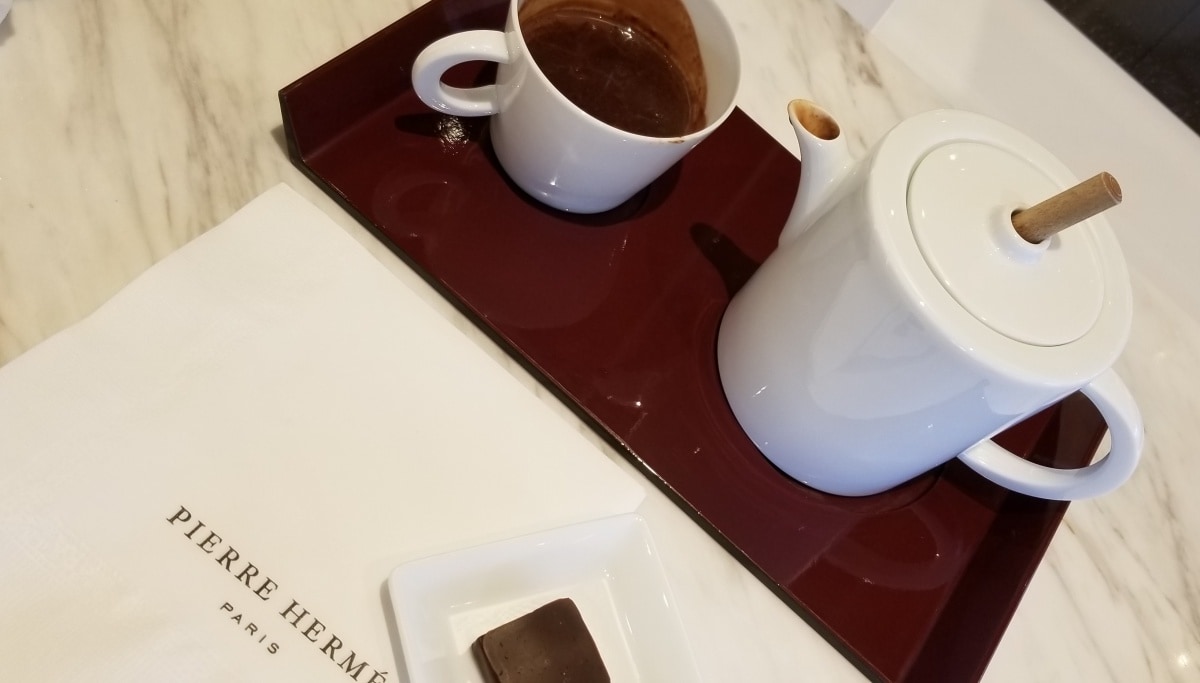 Although our first stop is not a local brand, there's something about the pretty pastries and delicate-tasting chocolate selection of French patisserie chef and chocolatier Pierre Herme. The experience of having chocolate chaud cooked in front of me in their show kitchen makes this Tokyo-favorite worth mentioning. Its shop in Aoyama has an open kitchen on the second floor for its specialty drinks, and a showcase of its dainty macarons at the ground floor. As you climb the stairs lined with books on French pastries, you will see a neon sign that says, "Heaven." Chocolate heaven, indeed!

Pierre Hermé
La Porte Aoyama 1-2F 5-51-8 Jingu-mae Shibuya-ku
150-0001 Tokyo
+81 (0)3 5485 7766
Jun Ujita: Meguro's Much-Loved Master
I was the first customer at the Meguro patisserie of Chef Jun Ujita Meguro, just before its 10:30 a.m. opening, but a line quickly formed behind me. A small showcase of handcrafted, high-quality, pricey chocolates occupy one corner, but their surprisingly affordable pastries (some of them infused with liquor, including sake) seem to be the crowd-favorite. Locals from the Meguro neighborhood come and leave with boxes and boxes of pastries. The Tarte Caffe, made of aromatic and premium Maruyama coffee beans, is something worth remembering.

4-6-6 Himonya, Meguro 152-0003 Tokyo
+81 3-5724-3588
Les Cacao: Shinagawa's Not-so-secret Sweet Spot
One can never go wrong with madeleines and mille-feuilles, and Les Cacao, near Gotanda Station, has top-notch versions of these and plenty more. There are boxes of premium, artisan chocolates for gifting, where every piece seems to be stamped with some decorative art such as gold swirls, monograms, autumn leaves, stripes, and dots. They have mouthwatering cakes and pastries, and rich gelato, too. Their famous flavor, "Chocolat Noisette," comes in cake and gelato forms.

The man behind the shop, Chef Takumi Kuroki, trained in world-renowned patisseries and chocolatiers in Paris, such as Stohrer (operating since 1730) , Le Cacaotier, and Fauchon. He also trained under 2020's Best Pastry Chef in the World, Pierre Marcolini. So his small Les Cacao shop definitely packs a lot of love of the good stuff.
Green Bean to Bar Chocolate: The Right Kind of Love
Green Bean to Bar Chocolate Cafe in Nakameguro is one of the few shops in Tokyo that treats you to the right kind of love for chocolate. All their chocolates are ethically- and sustainably-sourced, and are proudly labelled as bean-to-bar chocolates, made only from cacao beans, with no added vanilla, lecithin, or cacao butter extenders. This is definitely the kind of chocolate that's really good for you. Green Bean to Bar sources their beans from different countries such as Colombia, Peru, Bolivia, Brazil, Vietnam, Madagascar, and Dominican Republic. Their top-of-the-line, the Chuao Chocolate from Venezuelan cacao, comes from the mountainous "Cacao Route," an accessible-by-foot-only cocoa plantation surrounded by the beautiful Caribbean beaches of Aragua.

At the cafe, they have bean-to-bar chocolate scones, pound cakes, and seasonal pastries; the perfect pair for their unique cacao tea. They also have unique chocolate bonbon flavors such as Lime, Mikan (orange), and Goma (sesame). The shop is so sustainability-conscious that the covers of their takeout cups are made of biodegradable cardboard paper, too!
Dandelion: Bean-to-Bar Love on Top
Although the brand is from San Francisco, Dandelion's single-origin chocolate shop in Kuramae is a Tokyo favorite. Among their offerings are sweet, creamy, rich, and aromatic chocolate-based drinks that are not laden with sugar. They also have Chocolate Dunkel, a German lager type of beer, which uses cacao from Dominican Republic. The unique drink is produced in collaboration with Codeo Brewery, one of Japan's leading craft beer brewers. A personal favorite is their Gateau Chocolat, which is naturally gluten-free, made of nothing but pure chocolate, millet sugar, eggs, and butter.

If you're up for sharing, we recommend their Chef Tasting Plate composed of all the love in the world: a cacao fruit jello (made of Brazil Single-Origin-Chocolate), profiterole (Tanzania SOC), tarte au citron (Belize SOC), creme brulee pistache (Guatemala SOC), and canele (Ecuador SOC). And if you do want to understand the love they put into making the chocolates, you can also join one of their chocolate workshops, or try their Bean-to-bar Chocolate Making Kit at home.
Magie du Chocolat: Jiyugaoka's Helen of Troy
Magie du Chocolat is the place that launched a thousand slips . . . order slips, that is. On a lazy afternoon, the small shop, though a little far from Jiyugaoka station, is packed with people taking out some award-winning bean-to-bar chocolates, cacao sticks, chocolate bonbons, baked confectionery, and cacao soft serve ice cream.

They are serious about their affair with their bean-to-bar business partners, with photos of the cacao farmers they work with placed throughout the shop. The shop's raw chocolate pudding is made of 70 percent cacao beans from Ghana, while their chocolate ganache mini cakes, available in different flavors, are made of cacao beans from Tanzania, Ghana, and Papua New Guinea.
Presquile Chocolaterie: Kichijoji's Sweet Surprise
Finding something exceptionally good in the kitsch neighborhood of Kichijoji is almost expected, but Presquile Chocolaterie just upped the ante. You know something's good here: they have a partnership with Japan's oldest surviving winery, Maruki Winery, which was established in 1891. They have award-winning chocolates, but what I found truly unique and worth the trip are their thoughtful chocolate bonbons called Mariage Chocolat with creative unions of Sake x Uji Matcha, Okinawan Passion Fruit x Caramel, Thai Berry x Lychee x Rose, and Blackberry Tea x Cassis, among others. Their gooey chocolate fondant, especially their bean-to-bar variant, is one you'll never forget.
Artichoke Chocolate: For the Love of Art
Artichoke Chocolate's uniquely flavored chocolate bonbons (such a Yuzu and Pistachio and Pear), look like planets wrapped in colorful gases: if you were to pop them, you almost expect a burst of unicorn sparkles. It's a bean-to-bar chocolate shop that also offers cold and hot drinks. And no, they don't sell artichokes wrapped in chocolate, but they do sell chocolate in the shape of a chicken drumstick, a perfect prank for a loved one with a sense of humor. The shop is close to the Museum of Contemporary Art Tokyo, and also right smack in the thriving coffee and craft scene of the Kiyosumi-Shirakawa area, where quaint restaurants, glass-blowing workshops, wineries and beer brewers abound.
Ken's Cafe Tokyo: Hard-to-Get Treasures
Patrons of Ken's Cafe Tokyo call the shop's gateau chocolat as the Hermes of all gateau chocolat in Japan, because it's hard-to-get, and it takes one to three month's time on average to reserve a cake at their main shop in Shinjuku. The price tag for a chocolate cake only about the size of my hand is pretty hefty at 3,000 yen, but for a reason. It only uses pure, exclusively-crafted bean-to-bar Italian Domori chocolate, which uses the world's rarest variety of cacao, the Criolli, which was once at the risk of extinction. The Aztecs and Mayans used to call this variety food for the gods.

Ken's gateau has long been on my bucket list, and it was serendipity for me to unexpectedly pass by a small takeout counter, on the way to the train station, after a visit to Artichoke in Kiyosumi-Shirakawa. And yes, there was this naturally gluten-free piece of heaven waiting for me, right before the shop's closing time. I was told that the cake could be enjoyed three ways: at room temperature, as a molten lava type of cake (after a few seconds in the microwave), or as a ganache after some time at the fridge. I would gladly savor it in all forms!
Chocolatier Palet D'or: Aged and Exclusive
Chef Shunsuke Saegusa's elegant shop, Chocolatier Palet D'or is the first and finest bean-to-bar chocolatier in Tokyo. Its full-scale workshop, where some 10 tons of cacao beans are stored and aged per year, is located in Yamanashi Prefecture, where wine grapes are also cultivated. Inside its Marunouchi shop is an extensive display of bean-to-bar chocolates, all award-winning, some of its cacao beans sourced all the way from Belize, Haiti, and Uganda. It sells Tokyo-exclusive chocolate bonbon boxes, with the most expensive box of 36 pieces at 11,340 yen. It has unique flavors, too, like the Kiki Zake Box, which is high-end chocolate flavored with Miyazaki Sake, as well as the Dassai 23, using Japan's finest sake.

The dining experience is equally impressive, with options for wine and chocolate pairing, coffee and cake pairing, and tea and pastry sets. Their velvety Vogue Cake is made of pure chocolate goodness, with no hint of additives. The best pair for their offerings is their Chocolate Nespa, a cold, transparent, sparkling chocolate champagne, topped with champagne sorbet.
Kabuki: From Tender Love to Perfect Pair
The coffee is being slowly and lovingly prepared in front of me by Yusuke Kabuki, coffee connoisseur and chocolate engineer. (That's not just a fancy title; he did work as an R&D engineer in a major chocolate company, learning the process from cacao to chocolate production). He uses the Japan-original brew technique, the nel coffee drip, a dramatic under-extraction of freshly ground coffee beans that releases the natural coffee oil, producing a rich but mellow cup of coffee. His shop, Kabuki, located in Kuramae, has an extensive list of offerings. That includes Irish coffee (yes, the one with whiskey), and cafe royal (yes, the one with cognac and lemon peel).

But the "chocolate fine dining" experience here is unforgettable. Customers are ushered into a dimly-lit upper floor of the building, where only the sound of pouring coffee and boiling water can be heard, along with faint classical music in the background. No photos, laptops, or talking are allowed. At the time of my visit, Yusuke made a special concoction out of one-of-a-kind anpo-gaki persimmons (native to his hometown Fukushima), cognac, caramel sauce, delicate nuts, and chocolate (of course!). It was paired with slightly-roasted haku coffee made of Ethiopian beans. The coffee and melt-in-your mouth chocolate experience from the persimmon was so alluring, I had to ask for another pairing recommendation. I was served with three pieces of Madagascar chocolate squares on a small brass plate; the fruity notes set against the bitterness of pure chocolate were a perfect union--and a fitting end to this chocolatier tour.