7 Unmissable Art Festivals in Japan
From modern galleries to installations ranging across the scenic Japanese countryside, Japan's art scene is capturing the imagination of visitors and locals alike. See Japan's cities from a different perspective or plan a creative escapade to experience up-and-coming art festivals in some of the country's most scenic rural spots.
Reborn Art Festival (Miyagi Prefecture)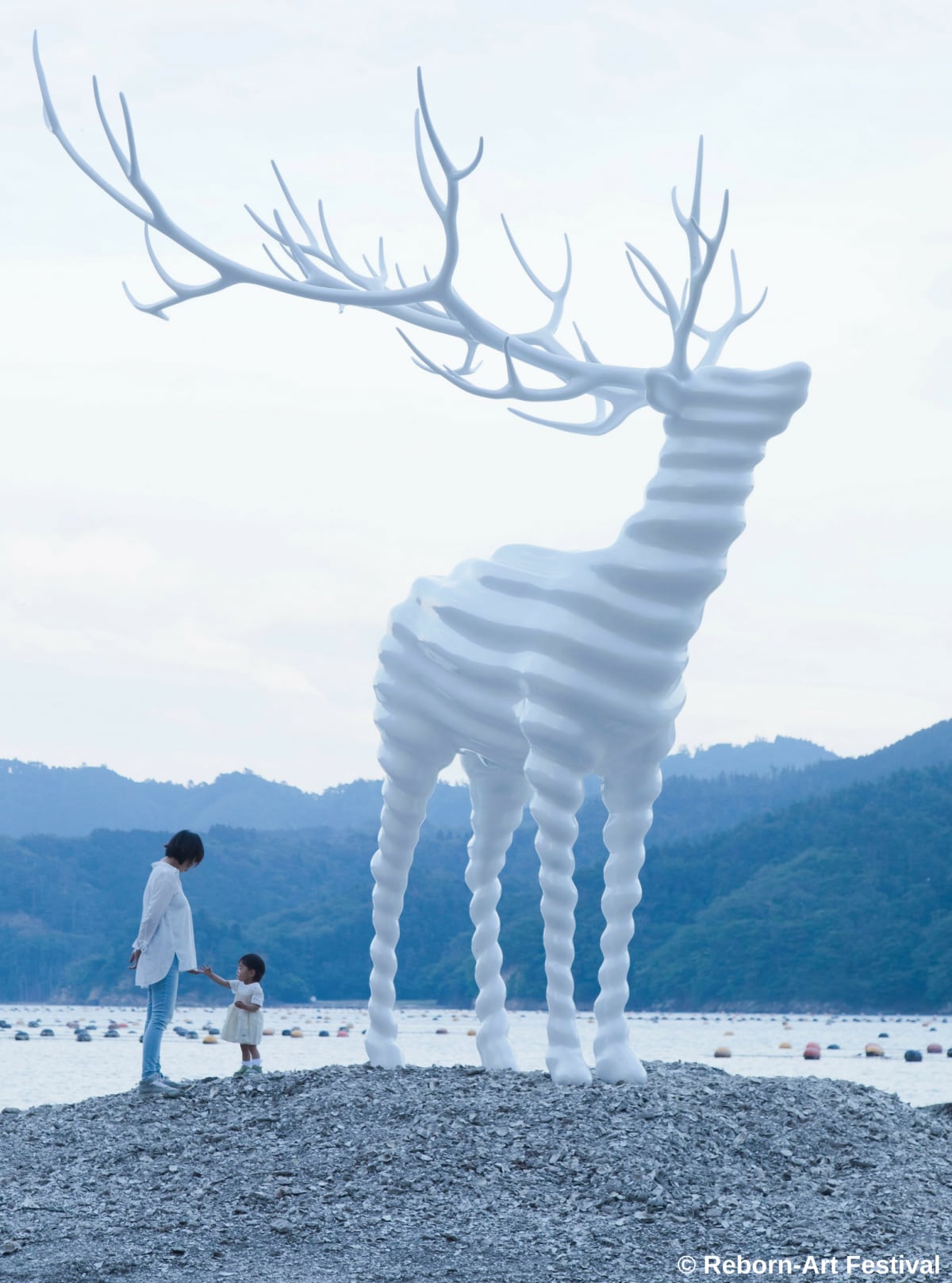 Seeking to bring positivity and joy to an area that was devastated during the 2011 Tohoku earthquake and tsunami, this inspiring festival is centered on the concept of "reborn-art" as a means of promoting life skills. First held in 2017, it has quickly become a space where new ideas and connections come to life through various forms of art.

The 2019 edition will explore the theme of "Texture of Life, " using artwork, performances and community to lead participants back to the true essence and joys of life. In true Ishinomaki style, it is sure to be an almost 2-month long celebration of vitality and humanity, of course accompanied by plenty of chances to sample local cuisine, dance under the stars and make new friends. Their Instagram account (Japanese-only) is full of shots from previous events, so you can get an idea of what to expect.
This year's Reborn Art Festival will take place from Saturday, August 3 to Sunday, September 29, 2019.

Venues will be spread out over a few areas in Miyagi Prefecture, centering around the Oshika Peninsula, Ajishima, Central Ishinomaki and Matsushima Bay.
Roppongi Art Night (Tokyo)
A beloved yearly event, Roppongi Art Night is a celebration of art held in Tokyo's Roppongi district. For one night this party-loving area gets taken over by artwork and performances, ranging from music, video and performance pieces to huge sculptures dotted around the neighborhood.

Wander around Roppongi Hills, Mori Art Museum, Tokyo Midtown, Suntory Museum of Art, 21_21 DESIGN SIGHT, The National Art Center, Tokyo and other public spaces to take in all the works. The organizers aim to create a truly extraordinary experience, celebrating art and how it can bring joy to everyday life.
The 2019 edition of Roppongi Art Night will take place on Saturday, May 25 and Sunday, May 26, with most of the major events planned for Saturday evening. The full program has not been released yet, but you can expect a surreally magical evening of outdoor art installations, live performances, exhibits and (of course) food stalls with tempting treats.
UENOYES (Tokyo)
The area around Ueno Park is full of museums of all sizes, dotted with charming residential areas that still have a touch of old Tokyo charm. UENOYES celebrates diversity, history and hidden sides of Tokyo's culture through events such as art exhibits, art tours, musical performances and talks by guest artists.

While this festival is still a bit of a hidden gem, some of the large scale installations have captured the imagination of art-lovers worldwide, such as the whimsical burrowing bunny of Akiko Sakata's Wandering into the Rabbit Hole.
The events are often both family-friendly and barrier-free, to ensure that anyone can join in the joys of art, creativity and discovery. As this project is ongoing, you can keep up with upcoming events, workshops and collaborations on their calendar.
Echigo-Tsumari Art Field (Niigata Prefecture)
This widespread art festival seeks to bring together creativity, nature and community in the lush Echigo Tsumari region of Niigata Prefecture. Artworks are spread across 200 villages in a deliberately "absolutely inefficient" approach that contrasts with modern society's obsession with efficiency. Discovering the landscapes and homesteads between each site is supposed to give visitors a sense of wonder, revive their souls and inspire them to connect with locals.

Some of the highlights of the art festival are the House of Light, where art and accommodation combine in a home with a retractable roof and inspiring light effects, and the deeply touching The Last Class exhibition.
Many of the artworks and buildings are open throughout the year, and you can check their site to find out about special exhibitions, workshops or other events.

With so much to see in Echigo-Tsumari Art Field's six areas, it can be a bit tough to decide what to do and how to get around. Fortunately, they kindly provide model routes and detailed travel information to make it easier to orient yourself.
Artists' Fair Kyoto (Kyoto)
This new event on Kyoto's social calender is a space for artists and potential art-buyers to meet, creating a market where both sides can learn about one another. A stage for presenting work and creating relationships between the artist and audience, the artist-led organizing committee hopes to create a platform to help the next generation of talented creators sustain themselves through their artistic work.

The first edition, held in February 2018, brought together the artwork of up-and-coming Japanese and international artists. The prevalently modern art graced the halls of the Museum of Kyoto Annex, an elegant Meiji period brick building, combining old and new as only Kyoto can. Creatives and art-lovers wandered and chatted surrounded by bright canvases.
The 2019 edition was held on Saturday, March 2 and Sunday, March 3, 2019. Besides the original location in the retro Museum of Kyoto Annex, this year the event expanded with large-scale installations in a former printing plant of the Kyoto Shimbun newspaper. Keep an eye on their website (provided below) for details about future events!
Setouchi Triennale (Kagawa Prefecture)
Once part of a flourishing trade route, the islands of the Seto Inland Sea each had their own unique cultures which mixed local traditions with new ideas brought by ship crews. However, shrinking population and changes in transport routes have deeply affected the area.

To revitalize the communities and bring in fresh ideas and visitors, the Setouchi Triennale is using the power of art to once again make the little islands a center of cultural exchange and transform the region into a "Sea of Hope."

Attracting artists from all around Japan and the world, many of the thought-provoking works incorporate the island scenery and bring the views into relief through the medium of modern art and structures. While Yayoi Kusama's Red Pumpkin may have become the most iconic symbol of the Triennale, Shinro Otake's I LOVE YU a whimsical take on a sento (public bath), Takahito Kimura's Sea Gulls Parking Lot installation and tasty hyper-local gelato are just a few of the many treasures to discover in the Seto Inland Sea.
In 2019 there are three dates to look forward to:

・Spring Encounters will run for 31 days, from April 26 to May 26, 2019
・Summer Gatherings will last 38 days, from July 19 to August 25, 2019
・Fall Expansions will also run for 38 days, from September 28 to November 4, 2019

A special ferry pass is available for the duration of the festival, which makes island-hopping even easier. The 3-Day Ferry Pass covers eight ferry routes, connecting the islands of Naoshima, Teshima, Megijima, Ogijima and Shodoshima to Takamatsu and Uno.
Kitakyushu Pop Culture Festival (Fukuoka)
The two-day Kitakyushu Pop Culture Festival is one of Kyushu's biggest events for lovers of manga, anime and other sides of Japan's subcultures. After Tokyo this is the only other venue for major events like "Kaigai Manga Festa" and other special art exhibitions. The festival brings together fans from all over Kyushu and beyond for a weekend of exhibits, cosplay, live music performances, workshops and talks by some of the biggest names in anime and gaming.
The event is held in Aruaru City, a hub for all the latest trends from Japan, with eight floors of shops related to manga, anime, figures, cosplay, games, idols and more.

The festival's 2018 edition featured guests like Andrew Griffith, who works on the Transformers series, Juan Albarran of Injustice fame and Yusuke Murata, who draws the popular One Punch Man series.

While the dates for the 2019 festival have not been released yet, you can check their website (Japanese-only) for updates.