The Akiyoshidai Fire Festival
Located at the southern tip of the Japanese mainland, Yamaguchi Prefecture has some fascinating sights. Right in the center of the prefecture is a geologically intriguing area called Akiyoshidai, a quasi-national park with a beautiful and unique landscape, with alien looking rock formation that create interesting sites both above and below ground.
Akiyoshi Plateau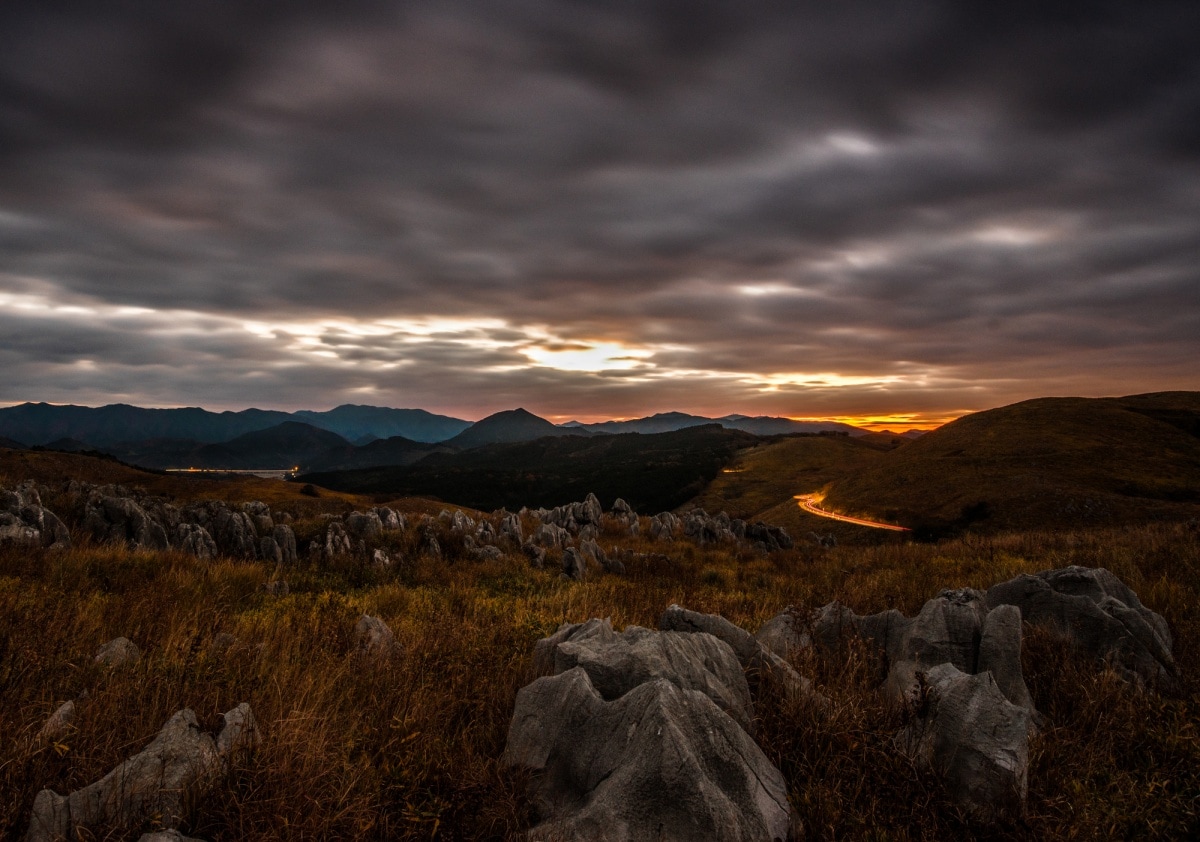 Close to the city of Mine, the Akiyoshidai Plateau is a rocky grassland area with natural wonders just begging to be explored. One of the most unique aspects of the ecosystem of the area is that it is painstakingly maintained by locals (many of which are volunteers) to ensure its preservation for future generations.

The Akiyoshidai Fire Festival (or Akiyoshidai Yaki in Japanese) sees the hilly grasslands burned with lengthy strips of open flame the third sunday of February each year. The purpose of the controlled burn is to help keep the grassy plains fertile, and stop them from overgrowing to unsustainability. This is a regular practice that happens around Japan but the Akiyoshidai Festival is one of the largest of these mountain burning events!
The Festival Experience
Thousands of people come to see the festival's pyrotechnics. A good vantage point is the park café, or the elevated ring of the Karst Observatory, located next to the Natural History Museum. Not only can you watch the blaze from a safe distance, but you can also enjoy taiko drum performances, courtesy of local schools and ensembles.

The local authority used to do a dramatic night time burning, though they have stopped as of 2019. Safety is obviously the number one priority, and there are fire engines and park staff on hand to help should the fire spread past the controlled burning points. After the mountain has burned for a few hours, ash starts to fall from the sky, like black snow. This is a magical sight, but it's a good idea to bring a mask to help keep out unwanted soot and smoke!
How to Get There
The area is so removed from urban Japan that no trains pass near it. In order to get to this natural wonder, you will have to take a bus From JR Yamaguchi Station or Shin-Yamaguchi Station. Alternatively, if you have access to a car, you can travel along the Sanyo Expressway. Either way, there's plenty of parking, and buses run regularly throughout the day. A bus from Yamaguchi Station takes about an hour, and costs about ¥1,210. You can also take a bus from Shin-Yamaguchi Station, which takes about 45 minutes and costs around ¥1,170.
Akiyoshi Cave
While the plateau is a big draw for many visitors, the area is most famous for Akiyoshi Cave, an incredible limestone cave—Japan's largest, in fact—that runs beneath the park.

Although the Fire Festival only happens once a year, the caves can be explored year-round. While only a kilometer-long stretch of the cave is open for visitors, the rock formations contained therein are simply incredible. There's a limestone terrace referred to as "100 plates," and also a "Golden Pillar" that towers over 15 meters tall! It can be crowded because it's a popular destination for school trips, but tends to be less crowded during weekends in winter, which is great, since that's when the Fire Festival takes place!