A Tasty Guide to Kyoto's Japanese Cuisine
One of the most popular destinations in Japan is Kyoto, a land where Japanese customs, landscapes and traditional Japanese merge into one awesome travel experience. There are numerous restaurants around the city which serve amazing dishes, and choosing which ones to visit is no easy feat. That's why Trip101 is here to help out!
13. Bistro Nozomi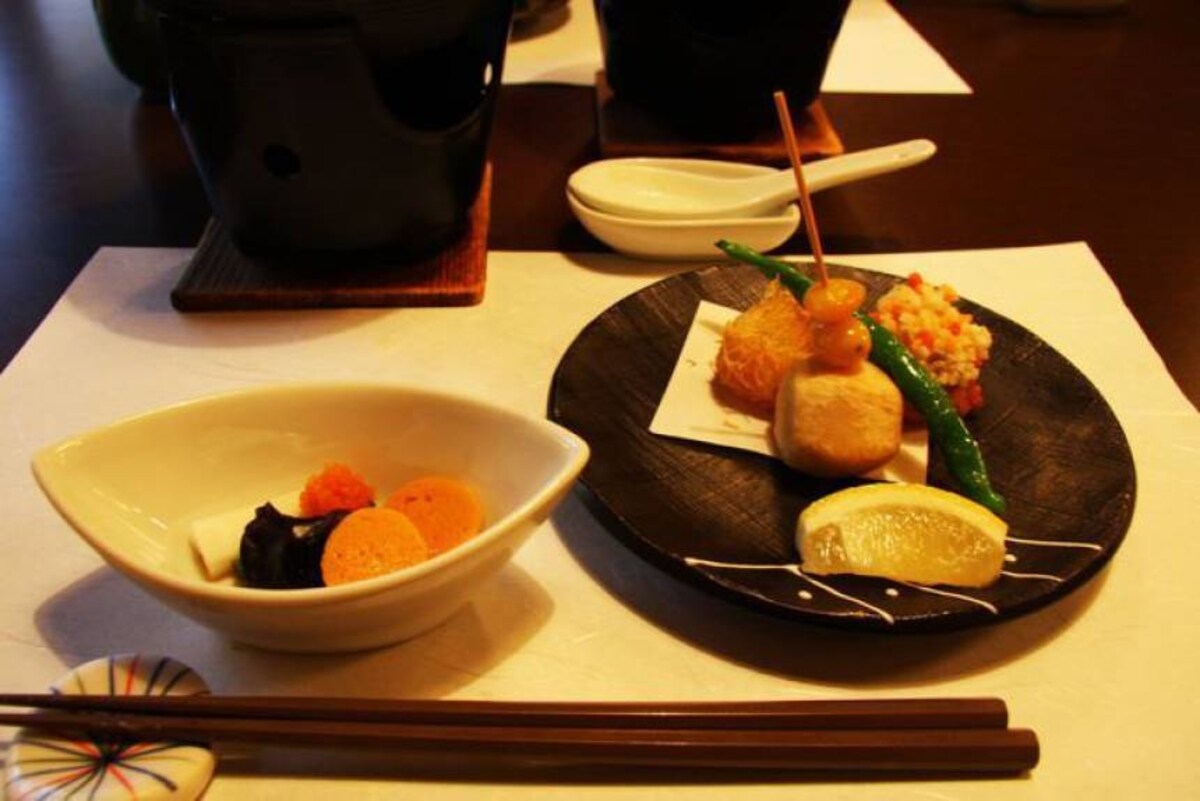 A full-course Japanese meal is usually expensive and not something most people can enjoy without a serious dent in the budget. Yet, they are one of the best things about Kyoto. Bistro Nozomi is the ideal place where you can enjoy the fantastic meal at an affordable price. Located near popular tourist spots such as Gion and Yasaka Shrine, Bistro Nozomi is in a vintage building that blends in well with the Kyoto streetscape. A small Japanese-style garden is located in the restaurant too.

There are several courses available in Bistro Nozomi which can be as cheap as ¥1,000 (about US$9). Various seasonal dishes are included in the course, made with delicious seafood and vegetables. There are also sweets served at the end of the meal such as matcha ice cream. It is a great place to enjoy a quiet traditional Japanese meal while viewing the beautiful garden.
12. Masugataya
Masugataya is a restaurant located in the Demachi Masugata Commercial District, and this restaurant is said to be the origin of Kyoto's famous local cuisine, saba sushi. Saba is the Japanese word for mackerel, which is a rich, unctuous fish enjoyed around the country.

High-class saba sushi tends to cost a lot, but at Masugataya you can enjoy the saba sushi and udon set for just ¥1,000! Chewy soy-sauce based udon is served together with the fragrant saba sushi, making it one of the best places to enjoy mackerel at a reasonable price.
11. Bineizaka Inari Kyo
Inari sushi is a dish where rice is wrapped in deep fried soybeans called abura-age. Bineizaka Inari Kyo is a café located near Gion where you can enjoy their unique inari sushi called the koinarisan.

The koinarisan is a small inari sushi filled with various ingredients such as sesame and sour plum. It is recommended that you try the "Koinarisan Set," where eight different types of koinarisan are served together with side dishes and miso soup. There are also seasonal dishes available at Bineizaka Inari Kyo, and this is one of the most fashionable cafés where you can delight in traditional Kyoto cuisine!
10. Tawaya
The restaurant Tawaya is another fantastic place to enjoy obanzai, which is seasonal, home-cooked Kyoto cuisine. The Tawaya Nijou Branch is located in Ritsumeikan University, one of Kyoto's top universities.

Over 20 selections of obanzai are available in Tawaya Nijou Branch, which you can enjoy buffet-style. Main dishes such as meat, fish and pasta or curry are also served. The wide variety of obanzai available makes this the ideal place to enjoy a Kyoto-style lunch. Apart from that, you can purchase curry made from Kyoto's local ingredients which are great as souvenirs too.
9. Yuba Ryori Higashiyama Yuuzu
Yuba is a unique Japanese dish which is essentially the skin of tofu. Though "tofu skin" might not sound appealing, Yuba Ryori Higashiyama Yuuzu has recipes that will definitely make you a believer!.

At Yuba Ryori Higashiyama Yuuzu, you can enjoy various dishes such as the yubagasane, where layers of yuba are served together with seasonal vegetables and black beans. It is recommended that you try the "Tofu Nabe Gozen" set menu shown in the picture, where tofu and yuba hot pot is served with rice and other dishes. There are even yuba sweets available in Yuba Ryori Higashiyama Yuuzu, and this is the best place to enjoy this type of traditional Kyoto cuisine.
8. Kyoto Century Hotel
Kyoto Century Hotel is located conveniently just two minutes from Kyoto Station by foot. Inside you'll find Kyoryori Rantei, which specializes in traditional Kyoto cuisine.

It is most famous for the obanzai set, which is available in three types: ume, take and sakura. Each set allows you to select your favourite obanzai from over 30 selections, all cooked from the best seasonal ingredients. This set is available during both lunch and dinner time, and the luxurious menu will definitely boost your love for Kyoto.
7. Kyoto Ramen Koji
Different regions in Japan have their local ramen taste, and comparing them is one of the best ways to explore the country. Some places are famous for salt-based shio ramen while others are famous for miso.

At Kyoto Ramen Koji, located on the 10th floor of Kyoto Station, you can enjoy ramen from different regions of Japan such as Sapporo, Fukushima and Osaka. Of course, there's also Kyoto-style ramen available. One of the best shops there is Kyoto Ginkakuji Masutani which serves Chinese-style noodles. The soft noodles are served in soy-sauce flavored soup, accentuated by the fragrance of thick pork.

For more mouth-watering recommendations, read the full article from Trip101 at the link below!