Offbeat Japan: Water & Greenery in Kumamoto
Kurokawa Onsen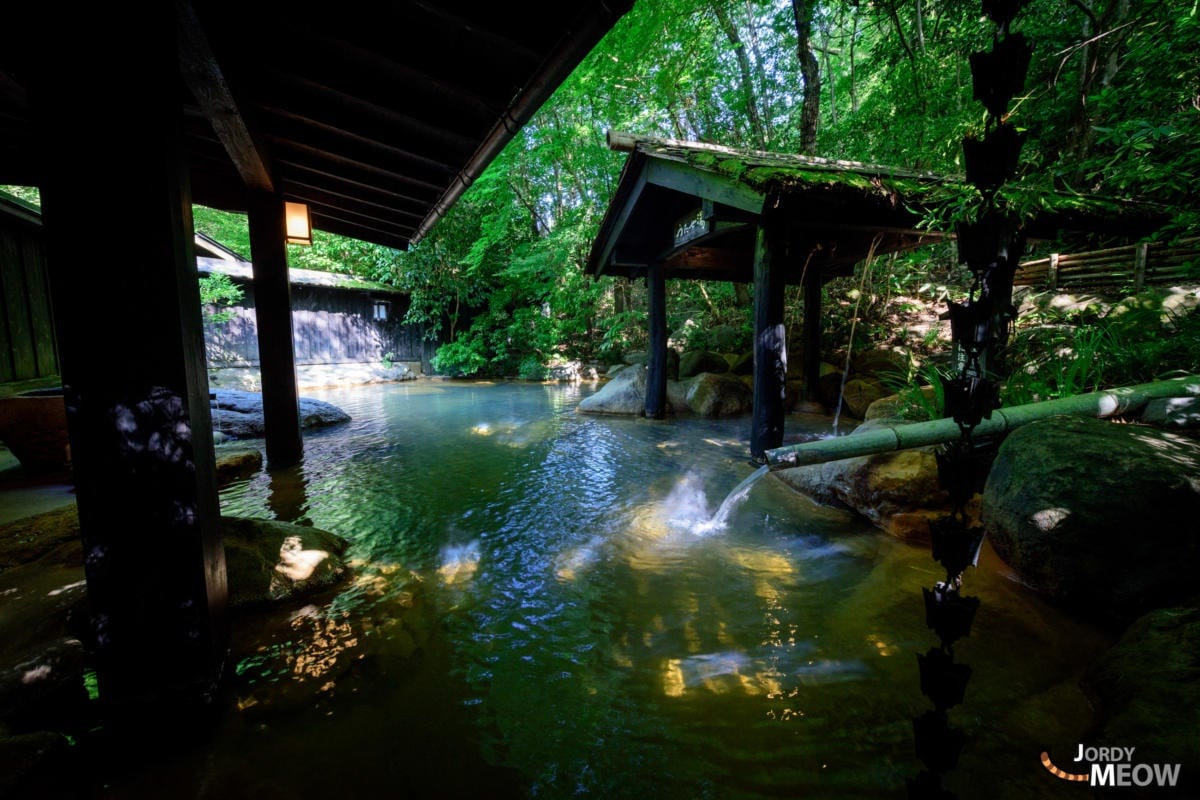 It should be clear by now that I love Kumamoto. But what I love best isn't its volcano, or its natural vistas and waterways, or its well-marbled beef or tasty horse. No, what I love best is its geothermal springs and spa villages, where anything can be found!

This makes Kurokawa Onsen my favorite spa village in Japan. The quality of its ryokan (traditional Japanese inn) is simply amazing. I found paradise here and I believe these four photos say it all. Here is the Sanga Ryokan...
here's the open-air bath.
And here's Miyama Sansou.
I'm sure you're convinced! But just in case you need a little more, let's head south.
Southern Kumamoto
Aboard the Limited Express A-Train, I headed toward the Amakusa Islands. Along the way to Misumi you can sip on some delicious whiskey and soak in the ambiance of the train, which is cozy and broadcasts jazz music. From Misumi, there's a boat to reach Amakusa. I know, it's long trip. But they say that what matters is the journey, not the destination, right?
The Amakusa Islands see relatively few tourists, though their history is well known to Japanese people. Because the islands were quite isolated, they were easily converted to Christianity by missionaries. It was a land with Catholic daimyo (lords)!

But, during the Edo Period, Christians were persecuted. A bloody uprising was organized, leading to the historic Shimabara Rebellion, but the shogunate crushed it. Although the history is a little heavy, the view on the way is enough to lighten any mood.
The Amakusa Islands have a warm and unique atmosphere. Lovers can take boats out to watch the dolphins dance at sunset (I actually recommended it to a Japanese friend and his sweetheart), while others may prefer the Sweet Cruise (エ ル ミ ラ), a small yacht that tours the islands while offering a chef-driven menu. And there are some who choose to grab a fishing rod and cast a line for fish...from their room's rotenburo! If you manage to catch anything, it can be prepared by the ryokan 's chef.

Not in the mood to fish? You can find one of Japan's top 3 best sushi restaurants here in Amakusa. The fish are varied but fatty, from beginning to end, and it has to be tasted to be believed.

I hope you enjoyed getting to see another side of Kumamoto. For more information on exciting opportunities and experiences just waiting for you, visit AAJ's Kumamoto hub and start planning your perfect trip!

Translated from French. Original article and more spectacular pictures can be found below.