Ishinomaki Fishing & Cat Island Tashirojima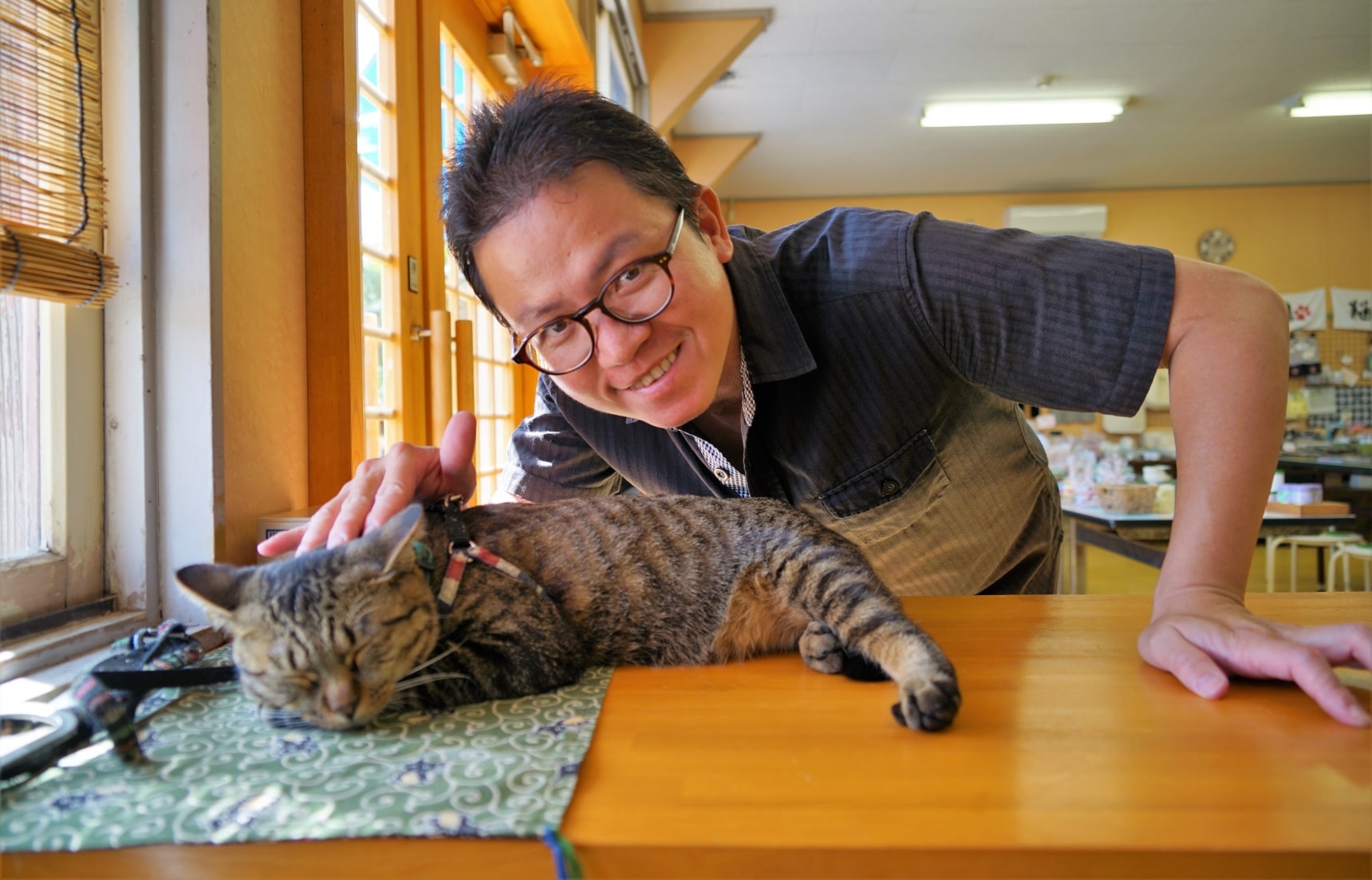 Participating in a fishing experience at the harbor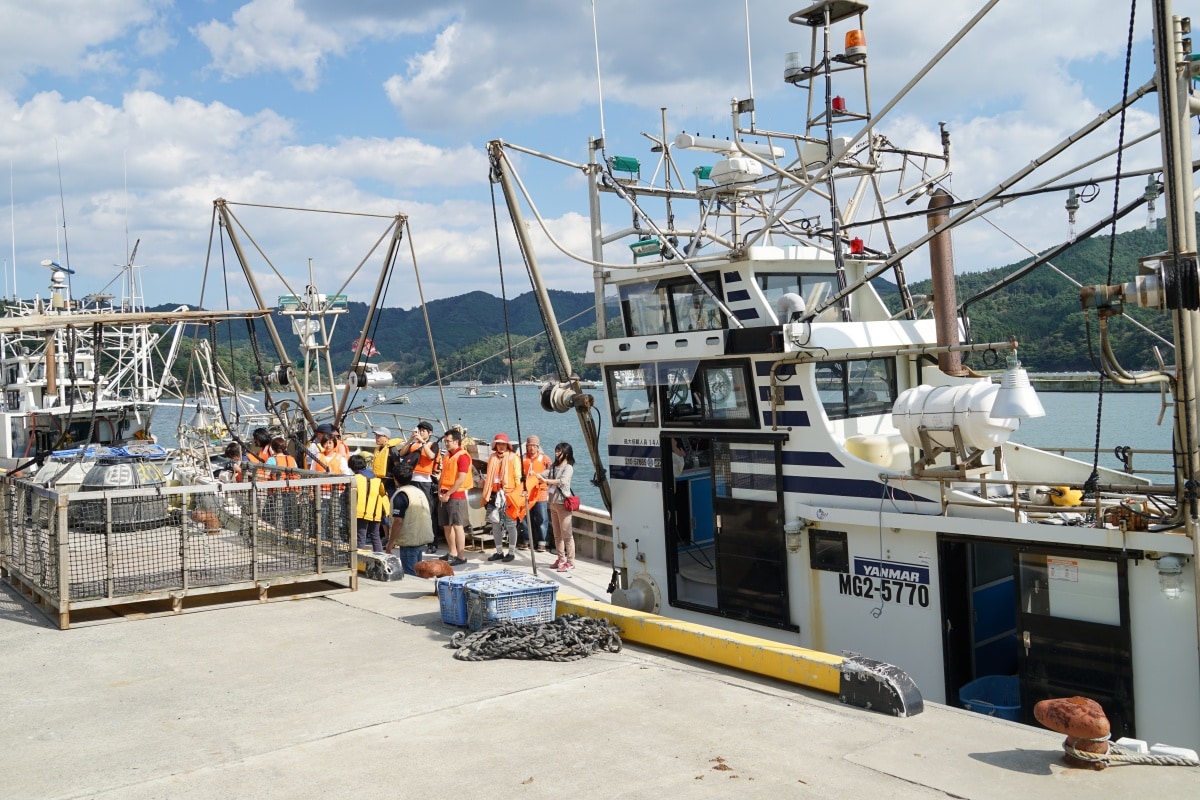 The Sanriku Coast is the meeting place between the Kurile and Kuroshio currents, where the fishing industry flourishes. Encompassing some of Japan's top fishing harbors including Shiogama, Ishinomaki and Kesennuma, it is Japan's second-highest commercial fishing area, only second to Hokkaido. Located on the southern tip of the Sanriku Coast, Ishinomaki is an important city for traditional fishing as well as aquaculture. It produces around 60 percent of the oysters in Miyagi Prefecture, the importance of which is easy to imagine. The people who live here were not discouraged by the 2011 tsunami, and the city's agriculture, fishing and tourism industries are now recovering well thanks to the hard work of public and private organizations.
This time I had the special opportunity to participate in a fishing experience on Ishinomaki's Oshika Peninsula. Participants in this experience get to ride on a local fisherman's boat, enjoy the view from the boat and also see the various stages of oysters being cultivated. The oyster farming cycle varies by region. In Ishinomaki, oysters go through a two-year farming period before being shipped to market. Their meat is tender and juicy.
We could actually see oysters being cultivated.
The view from the boat
A staff member of Fisherman Japan, which organizes the fishing experience program, explained the characteristics of the region along the way. The participants were able to learn about life in the region and feel closer to it. At the end, the kind captain took some oysters that had completed the two-year cultivation period and shucked them right there for the participants to taste. The texture and taste of a fresh oyster is completely different from the oysters normally sold in markets. Fresh, sweet and juicy with notes of salt from the seawater, it was more delicious than anything I'd ever tasted. The whole tour takes around one hour, and it is a very satisfying experience for both the eyes and taste buds. Boats are charted for the fishing experience, so the fee varies depending on the time and the details of the program. If you are interested in joining a tour, please check the website of the managing organization Fishing Japan. You can make reservations or inquiries in English and you can also request an English guide (link below).
The staff member was very passionate and always answered our questions.
The captain shucking oysters on the spot for everyone to taste.
Mmm. A fresh, sweet oyster!
Hoya's refreshing texture
In addition to oysters, another of Miyagi's famous marine products is the hoya, or sea pineapple. Its taste represents summer in Miyagi. Shaped something like a jar, it actually doesn't look much like a pineapple. I personally think it looks more like a cactus. Fresh hoya has a combination of sweetness, tartness, bitterness and the refreshing aroma of the rocky shore. It is said that Oda Nobunaga once served hoya to Tokugawa Ieyasu. Sendai feudal lord Date Masamune also famously loved hoya. Because hoya loses its freshness quickly, it is rarely seen anywhere west of Kanto. If you want to taste delicious hoya, you should definitely go to Miyagi!
Tashirojima
Along with Ishinomaki's fresh, delicious seafood, the famous "cat island" Tashirojima in the Tohoku region has also become a popular sightseeing spot in recent years. With around 50 human residents and 150 cats, Tashirojima is appropriately called "Cat Island" because it has more cats than people. Here you can see cats lazily walking around and sleeping everywhere you go. The main goal of tourists who visit the island is to find a "cat paradise!" I also noticed that fishermen and cats have an unexpectedly close relationship here. You can see cats everywhere on Cat Island.
Above is a docked Tashirojima Ajishima Line ferry.
Tashirojima is around 15 kilometers (9.3 miles) away from Ishinomaki and can be reached in around 50 minutes on the Ajishima Line ferry. The island has two harbors called Otomari and Nitoda. Otomari Harbor was closed for repairs when I went, so the ferry docked at Nitoda Harbor.
Cat Shrine
If you get a chance to go to Tashirojima, remember to visit the "cat shrine" in the middle of the island. You can reach it in around 30 minutes on foot from Nitoda Harbor. This shrine is dedicated to the "God of cats," and the islanders go there to pray for large catches of fish. Apparently, fishermen long ago used to judge fishing conditions based on the behavior of cats, and this custom was intimately linked with local life. This is why people here came to treasure cats so much.
Here's a carefree cat laying down to rest on the road.
The cats aren't shy around people, so tourists can take all the photos they want.
These guys are taking it easy!
Nyanko Kyowakoku
There is one restaurant on Tashirojima near the cat shrine that you can go into without a reservation. Appropriate for this island, the restaurant is named "Nyanko Kyowakoku" ("Kitty Republic"). Nyanko Kyowakoku opened in September 2016. Located inside an abandoned school building, it serves yakisoba, gyudon (beef bowl), chukadon (chop suey), and so on. It also sells cat-related merchandise in addition to food, so be prepared for some damage to your wallet.
A wide variety of cat-related merchandise is waiting for a new home.
Some tourists choosing souvenirs.
And, of course, the restaurant's cute and clever mascot, Saba.

Nyanko Kyowakoku is good for eating and relaxing, but it takes inconsistent holidays, so you might want to prepare food and drinks beforehand if you are worried about finding a meal on the island. The island does have some drink vending machines, but not many. Don't forget to take your trash with you when you leave the island to help keep it beautiful.
Chukadon and gyudon
Finally, an islander gives cats their favorite canned food at the harbor. One thing I want to ask you to be particularly careful of is that you must not feed the cats on the island. If you give the cats food, they might get sick. Don't be moved by their adorable faces and give them food in the heat of the moment. There is no need to worry that the cats might be hungry.

Ajishima Line departure location: 3-1-19 Kadonowaki-cho, Ishinomaki-shi, Miyagi