A Day Trip to Iwaki, Fukushima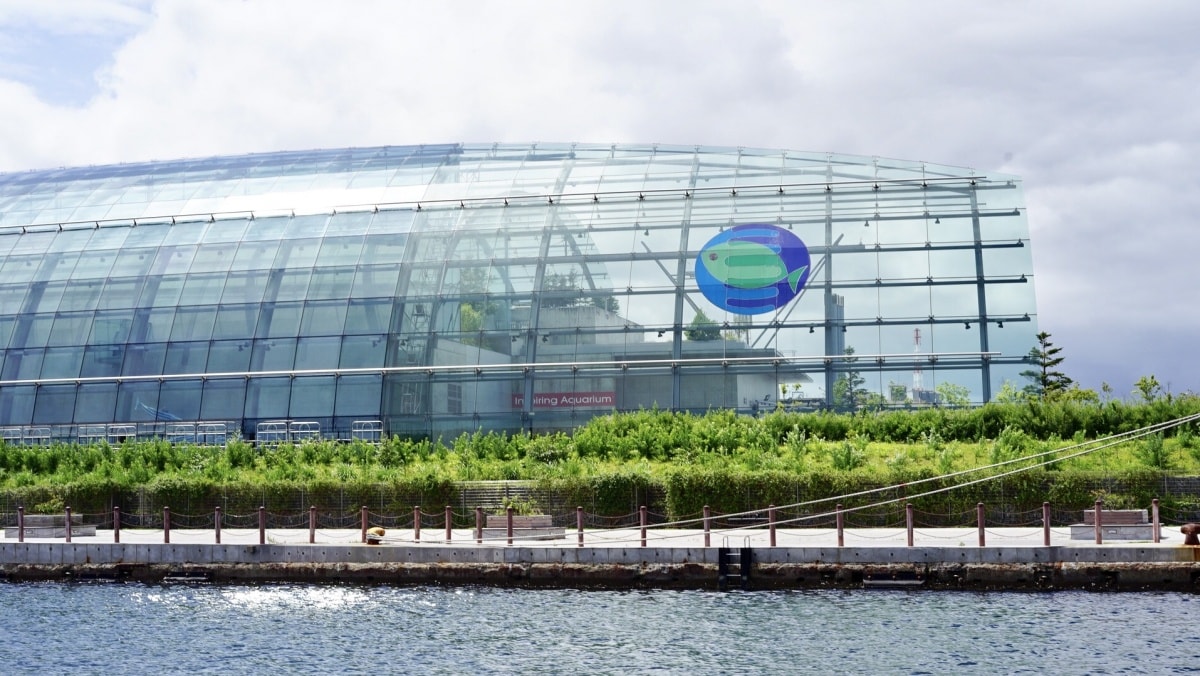 After a mere three-minute walk from Iwaki Lalamew and we arrived at Aquamarine Fukushima, an aquarium that takes "thinking about the future of humankind and the planet through the oceans" as its philosophy. This is a spot not to be missed when visiting Iwaki.
Because the cold water of the Oyashio Current and the warm water of the Kuroshio Current meet in offshore Fukushima, these waters are known as Shiome no Umi (or Shiome Sea, where two ocean currents meet). Unusual oceanic landscapes can be observed at this intersection point. Aquamarine Fukushima is an aquarium that makes a genuine theme of Shiome no Umi.
Aquamarine Fukushima, full of contemporary sculptural beauty.
Aquamarine Fukushima has four floors. It starts with an introduction to marine life. A large variety of "living fossils" of the sea, such as nautiluses, sturgeons and giant salamanders, are exhibited in several dozen separate aquariums. What's more, visitors can also take their time walking around each of the aquariums, which start from the rivers and coastline of Fukushima, and cover the North Pacific, the tropical waters of Asia, and the coral reefs of the South Pacific. The main aquarium, which represents Shiome no Umi, reproduces the intersection point of the Kuroshio Current, which flows up from south of the waters off Fukushima Prefecture and the Oyashio Current, which comes down from the north. Walking through the triangular tunnel, visitors feel as if they have stepped into the world of the oceans.
The large aquarium, which is divided by the triangular tunnel, holds 2,050 tons of water. According to a staff member, if this is calculated according to the amount of water used to fill a bathtub in an average household, the amount of water filling the large aquarium equates to 100 bathtub's worth of water.
There is even a sushi bar where customers can enjoy their sushi while viewing the fish!
Two children playing happily in front of the gigantic aquarium right in front of them.
The healing power of a spotted seal.
This is exactly the same kind of fish we ate for lunch today: mehikari (which I'm now feeling a bit sorry about…). Mehikari always use their fins to stay upright!
Just like other places in the region, Aquamarine Fukushima was affected by the Great East Japan Earthquake and was damaged by the tsunami. Up to 90 percent of the living creatures that were kept in the facility died. Even so, Aquamarine Fukushima was restored in four months and managed to open once again. By incorporating more diversified and meaningful educational methods, and by regularly holding exhibitions about marine life and setting up experience zones and guided routes within the facility, Aquamarine Fukushima has succeeded in amusing not only children, but also adult visitors, to the extent that they find themselves totally absorbed. It is steadily bringing more life to Iwaki.
Fishing experiences can be enjoyed by adults and children alike. Two siblings united in trying their hand at fishing!

Aquamarine Fukushima
Address: 50 Tatsumi-cho, Onahama, Iwaki City
Opening hours: 9 a.m.–5:30 p.m. (March 21-end November); 9 a.m. to 5 p.m. (beginning of December-March 20)
Admission: adults ¥1,800, students ¥900, pre-schoolers free of charge
Transportation: A 15-minute bus ride from Izumi Station, JR Joban Line on Onahama- or Ena-bound buses, then a 10-minute walk from Shisho Iriguchi bus stop. Alternatively, a 15-minute taxi from Izumi Station.