All-You-Can-Eat Sushi, Ramen & More for $15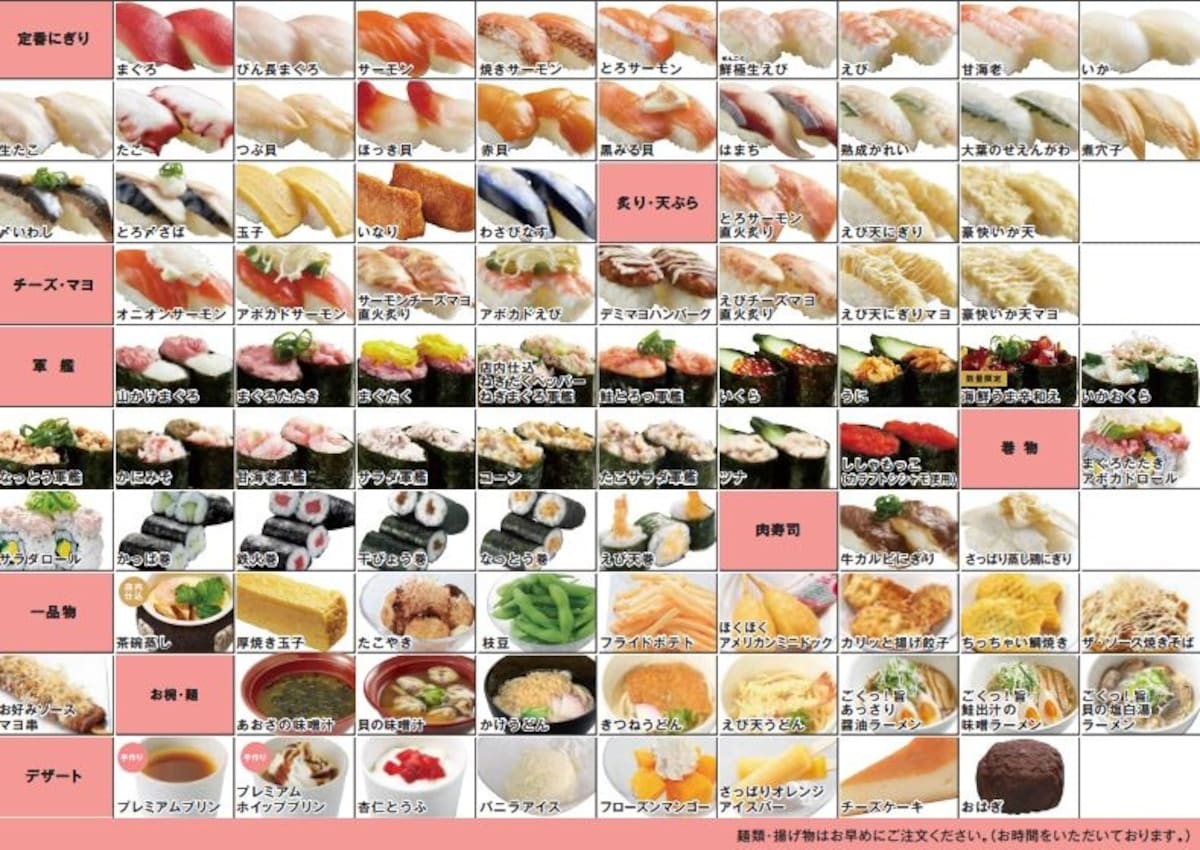 The complete all-you-can-eat menu features all your favorite sushi as well as appetizers like miso soup and Frech fries.
There's a huge variety of sushi to choose from, starting with orthodox stalwarts like tuna, salmon, yellowtail, salmon roe and sea urchin.
But the all-you-can-eat plan includes such modern innovations as tempura, grilled beef and steamed chicken sushi. Want something other than sushi? You also get unlimited side orders including takoyaki octopus dumplings, edamame soy beans, French fries, udon and ramen. Save room for dessert, because you also get access to all-you-can-eat pudding, ice cream, cheesecake and taiyaki sweet bean cakes.
Dine at the Nerima, Minami Rinkan, Kitaageo, Ichinomiya Omiya, Minami Tsumori and Uji branches, each representing Tokyo, Kanagawa, Saitama, Aichi, Osaka and Kyoto Prefectures, respectively, to get this awesome deal.

Oh, and don't worry about having to wait in line, since Kappa Sushi's all-you-can-eat deal is now exclusively available through an online reservation system.

Kappa Sushi will begin taking reservations at 3 p.m. on August 25, when you'll be able to make reservations for either August 28 or 29. From August 28 you'll be able to make reservations for the date two days ahead only. Reservations can be made for dining times between 2 p.m. and 5 p.m.

The standard 60-minute plan costs ¥1,580 (US$14) for men and ¥1,380 for women. Seniors over 65 pay just ¥980, while elementary school-age children dine for just ¥780, and children not yet in school eat for free. If 60 minutes isn't enough to satisfy your unlimited sushi dreams, 10-minute extensions cost just ¥500 and are good for your entire party, not a per-person additional charge.

If you fail to get a seat this time, you'll be happy to know that Kappa Sushi has already announced that the all-you-can-eat deal will be offered again between September 25 and October 6, as well as from October 30 to November 10.