The Top 5 Fall Color Spots in Koshinetsu
5. Shosenkyo Gorge (Yamanashi)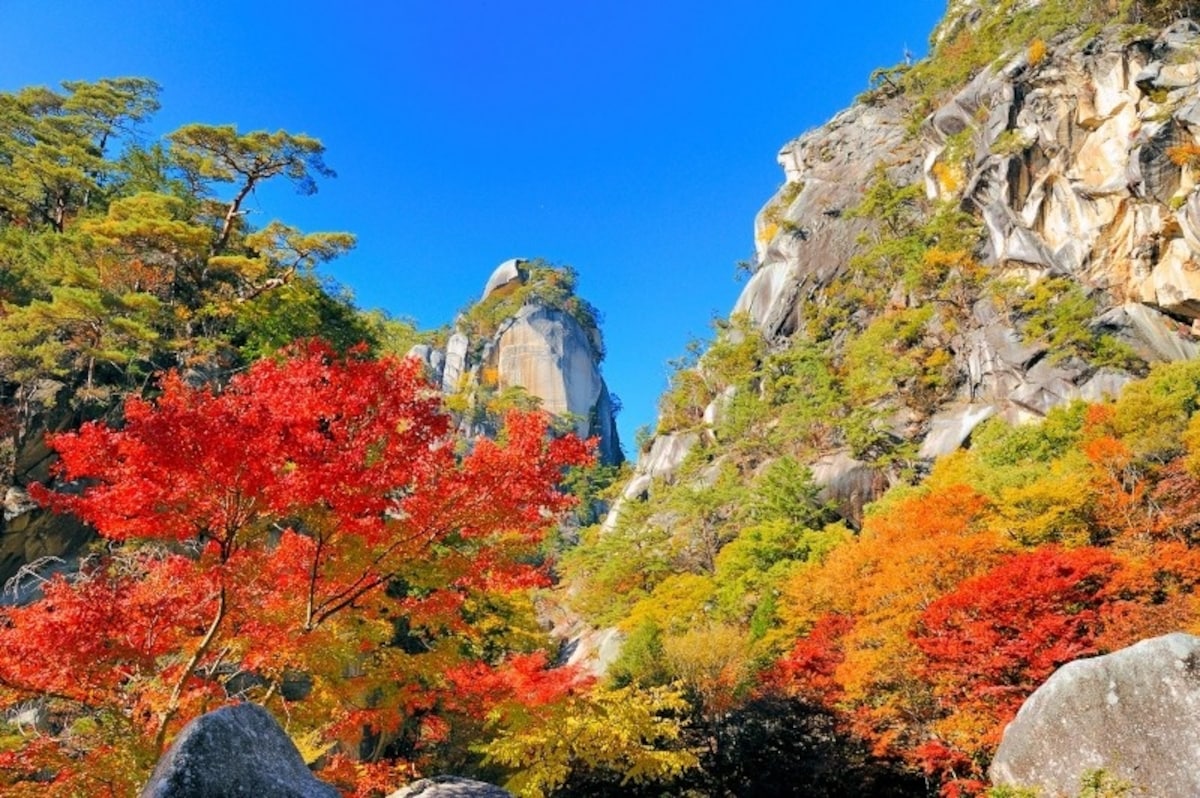 Yamanashi Prefecture's most famous spot for autumn leaves is, of course, Shosenkyo Gorge, with the best time to visit being early to mid November. A spot offering superb views of the leaves is Yume no Matsushima, which is located in front of the stone gate at the start of the walking course. Many hot spring spas can be found nearby, including the well-known Kofu Yumura Hot Spring Resort and the various hot srpings of Kofu City.
4. North Shore of Lake Kawaguchi (Yamanashi)
A famous spot for autumn leaves in the vicinity of Mount Fuji is the north shore of Lake Kawaguichi. Viewing Mount Fuji across the lake from spots such as Ubuyagasaki and Nagasaki Park, you can enjoy stunning vistas of this World Heritage Site framed in autumn leaves just like you see in photographs.

Near Nagasaki Park is Fujikawaguchiko Onsenkyo. In a corner of this hot spring village is the Momiji Kairo ("Maple Corridor"), a beautiful spot for autumn foliage best viewed in mid November. Lined with maple trees, this street is naturally stunning during the day, but as it's lit up during the Maple Festival, we recommend visiting before dusk so you can enjoy both daytime views and illuminated nighttime views as well. Nights get chilly, so you'll need warm clothes, gloves and kairo hand warmer packs.
3. Takase Valley (Nagano)
While Nagano boasts many famous places for fall foliage, one spot that has wonderful leaves each year and is easy to get to by car is Matsukawa Ravine, best viewed in mid to late October. Further west, we recommend the Takase Valley, which is spectacular at the same time of year. Due to the presence of hot spring minerals upstream, the aqua-colored lake stands out beautifully against the red and gold leaves. With a number of hot spring inns nearby, it's also possible to dip into some springs on a day trip.
2. Omine Plateau (Nagano)
Among the many spectacular sites for viewing autumn leaves, special mention must be made of the Seven-Colored Maple of the Omine Plateau,. best seen in mid to late October. Just as it's name suggests, this tree changes color from green through yellow, then to red. The gradation of hues between its different-colored sections truly makes this single tree worthy of being called "seven-colored." As this is such a wonderful sight, the spot has become a major tourist destination during the autumn foliage season, even on weekdays.
1. Myoko Kogen (Niigata)
Niigata Prefecture's most famous spot for autumn leaves is Myoko Kogen. These highlands cover a vast area, with its major sites for autumn leaves including Sasagamine Kogen, Naena Falls and Imori Pond.

However, above all else, we recommend a visit to Otagiri Valley. With its Tsubame Onsen, the Otagiri Valley is surrounded by picturesque hot spring areas. To gain an appreciation of these superb views, go up the hill a little past Ogon no Yu, the free outdoor pool, to a viewing point with views of the waterfall. If you look closely around the waterfall, you'll notice that it has a color just like it's been painted red.

This is in the neighborhood of Tsubame Onsen, which means there are many hot springs to choose from. In addition to Ogon no Yu, a spot called Kawara no Yu also offers luxurious hot spring bathing. Autumn leaf viewing can be enjoyed from the outdoor pools in either of these sites.
Read more in Japanese from All About onsen (hot springs) guide Satoshi Fujita.