The Best of Kanazawa for Every Traveler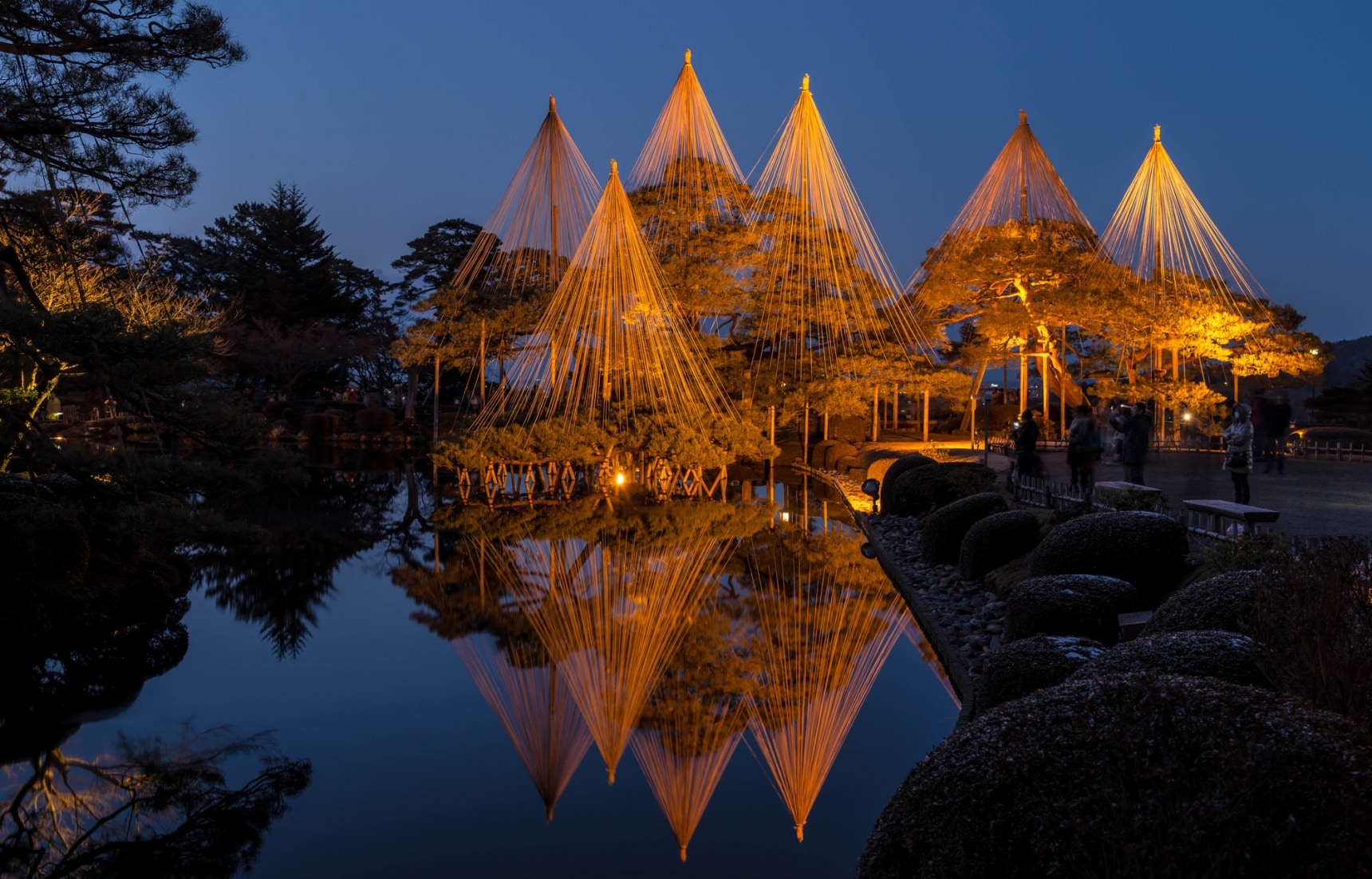 Kanazawa might mean "marsh of gold" in Japanese, but there's more to enjoy in the Ishikawa Prefecture city than coffee with gold shavings, ice cream with gold sprinkles and cosmetics full of gold flakes. While gold-infused products are ubiquitous, why not discover this town's other "golden treasures," like modern museums and old merchant streets.
5. For the Nature-Lover: Kenrokuen Garden
If spending time in nature and taking leisurely strolls are your thing, you could spend the whole day at Kenrokuen Garden. This garden is one of Japan's Three Great Gardens, and it's obvious why—the park is filled with majestic pine trees, unique chrysanthemum, gorgeous cherry trees and a picturesque plum grove (which is beautiful even during winter). You can easily lose track of time as you try an authentic tea ceremony at Yugao-tei, the oldest building in the garden, built in 1774. In the same scenic sanctuary, you can also experience the maki-e (蒔絵) technique of making gold-infused lacquer-ware, a specialty of Kanazawa.
4. For the Sweet Tooth: Matcha with Gold Shavings
This dessert is the best of Japan and Kanazawa! Kanazawa, which produces 98 percent of Japan's gold leaf, will surely not run out of gold. The city has more than enough to sprinkle any delicacy with gold. If you like sweets, this soft-serve ice cream is a must-try. Nothing says authentic Japanese foodie experience like matcha with gold flakes.
3. For the Artist: 21st Century Museum of Contemporary Art
If all things bright and beautiful are your thing, make a beeline to this artistic haven. While most of the spots in this modern museum are included in the admission fee, some special exhibits require an additional payment. If you're familiar with Millennium Park's "silver bean" ( Anish Kapoor's Cloud Gate) along Chicago's Magnificent Mile, the 21st Century Museum of Contemporary Art's sprawling entrance will welcome you with something like it. Beyond this impressive metallic sculpture, there's more to discover inside the facility, such as the famous installation called The Swimming Pool by Leandro Erlich, as well as Florian Claar's Klangfeld No.3, intriguing tuba-like pipes that will carry your voice to an unexpected location.
2. For the Foodie: Seafood at Omicho Market
If your motto in life is "FOOD, GLORIOUS FOOD," this is the place to be. Provided high blood pressure isn't a problem for you, indulge in all-you-can-eat crab legs, a famous delicacy in Kanazawa. But if you're not up for the crab-cracking challenge, you can simply slurp down fresh and delicious uni (sea urchin), sushi and unique foods like wasabi nori paste, which is like a pâté made of seaweed and wasabi. It's good to slather on hot rice!
1. For the Souvenir Shopper: Higashi Chaya District
There's no end to the interesting things to buy and try at this place. Within this historic district, you can pass by shrines and centuries-old shops. This is also the access point to the Sakura Gold and Silver Leaf Museum, where all the artistic craftsmanship of Kanazawa's golden pride is showcased. Don't miss out on the ice cream with gold sprinkles and Restaurant Jiyuken, which has been serving Kanazawa's specialties since 1909.