'Jikabuki': Local Kabuki in Gifu Prefecture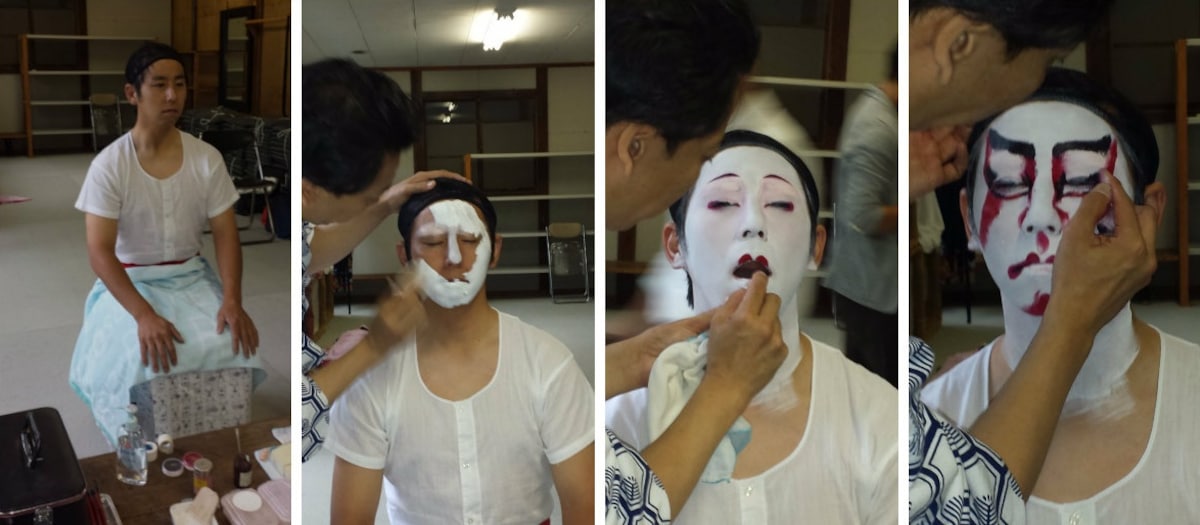 At Aioiza, a small museum and shibai-goya (芝居小屋, makeshift playhouse) in the Gifu city of Mizunami, my companions and I watched as makeup was applied onto a local actor by a professional male geisha—one of only seven in Japan, and the only one in Gifu (the other six are based in Tokyo).

In creating the actor's samurai persona, a form of complex, stylized red and black makeup was painted over his white-colored face and neck. This is known as kumadori, and it emphasizes the social ranking and personality of the character.
The same geisha also demonstrated some percussion sound effects used in the various plays while the actor—all made up and dressed—showed us some stances and moves.
We were amazed not only by the transformation of the townsperson into a samurai but also by the paraphernalia used. Aioiza maintains a collection of over 300 wigs and more than 4,000 kimono!
Gifu Prefecture has 29 traditional theater preservation groups, the largest concentration in Japan. Jikabuki in southern Gifu is often called Mino Kabuki, after the old name for this part of Gifu Prefecture during the Edo Period.

Aoiza is a stellar example of Mino Kabuki, offering complete performance equipment and an authentic stage with manually operated turning wheels that raise and lower actors from the basement into the performing space above. During the pre-performance theater tour, we actually got to try turning the heavy wheel ourselves and watch the floor being raised and lowered.
I learned that there are several elements of jikabuki that make it different from—and more intimate than—big-city professional kabuki. Modern professional kabuki is only performed by male actors, with female roles played by men, a specialization called onnagata. However, in jikabuki, while male actors may play women, sometimes female actors play men! In addition, one of the major attractions during the feudal Edo Period (1603-1868) was the fact that it was an opportunity for commoners to play lords and samurai (and sometimes poke fun at them) during a time when a strict class system was in place.
Mino Kabuki Museum Aioiza
Travelers can visit the museum and experience putting on kabuki makeup and costumes (reservation required, ¥5,000 for makeup, additional ¥5,000 for costume) and tour the theater backstage (included in the ¥100 fee for museum access) year-round. Full kabuki performances occur on select dates, usually once per year.

Mino Kabuki Museum Aioiza
Address: 8004-25 Hiyoshi Town, Mizunami City, Gifu Prefecture
Access: From Tokyo take the Shinkansen bullet train to Nagoya (about 2 hours). From Nagoya Station take the JR Chuo Rapid Line to Mizunami Station. From Mizunami Station it's about a 20-minute taxi ride (the trains are covered by a Japan Rail Pass).
See more photos on TravelPod below.