Get Your Spook On with these Halloween Bento!
With Halloween right around the corner, what better way to liven up your kids' lives (or your own!) by making cute, delectable little Halloween-themed bento? While some of these are quite decked out and extravagant, there are samples for every skill level if you decide to take on this daunting task yourself! Have fun, and Happy Halloween!
10. Boo & Jack-O'-Lantern Bento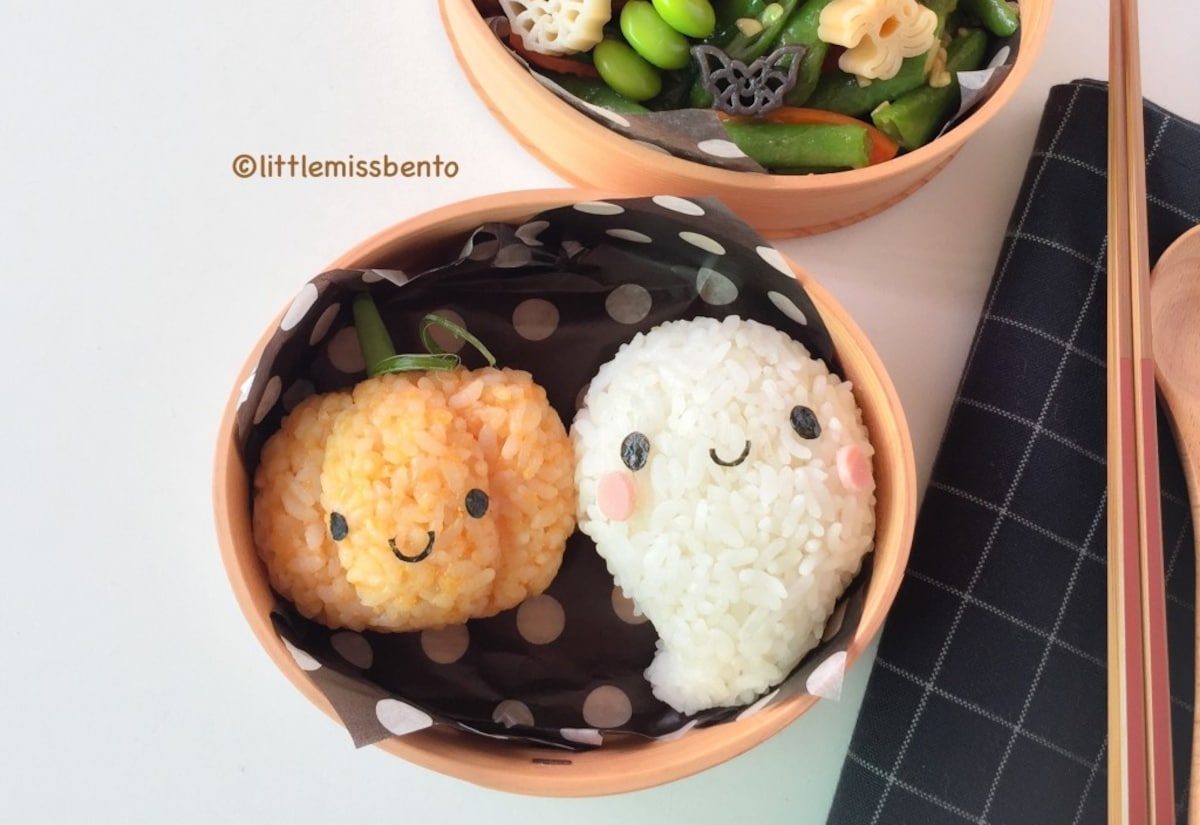 This super-simple design from Little Miss Bento is great for when you have no time but still want to get into the spirit of the season. Even if you're in a hurry, who could say no to such a cute ghost and pumpkin?
9. Korilakkuma & Co. Bento
Shirley Wong, a.k.a. Little Miss Bento, is an artiste in every sense of the word. She makes beautiful, hand-crafted bento inside boxes that are just as cute themselves. This one is the popular Korilakkuma character with an adorable cheese-and-seaweed witch's hat, stirring a brew of sautéed sweet peas with a honey butter biscuit stick.
7. Jack Skellington & Kuroneko Bento
A Jack Skellington and Kuroneko (black cat) crossover? Yes please! Both are individual staples of the holiday, along with a happy little pumpkin in the back and tamago right behind it! All in all, this is a really healthy bento and it's not as hard to make as one might think!
8. Easy Peasy Ghosts!
Maybe you're not Little Miss Bento, but you still want to be able to send your kids off with something that'll make all their friends jealous. This one's perfect for you: plenty of greens and pickled veggies on the side, with bOooOOOoo ghosts that will surely get you at least a "Thanks mom!"
6. Grim Skeletons & Happy Pumpkins Bento
The contrast between the grim-looking rice skeletons and the happy persimmon pumpkins is beyond funny, but the sweet potato bats and black cats really tie it all together. The strawberries look delicious, but as an expensive rarity in Japan out of season, this is possibly the most expensive bento on the list!
5. Nightmare Before Christmas Bento
Here comes another Jack, whom we can't live without. This bento maker really takes the cake for evoking the feeling of the movie and putting you right back into the scene in the pumpkin patch. One question remains: Where's Sally?
4. Sandwich Pirates Bento
This skeleton pirate couple truly understands what treasure is—fruit, fruit, and more fruit! X marks the spot, but can you get past the tomato obstacle to get to the pirates' berry booty?
3. Frankenstein's Monster Bento
For a cuter Halloween look, perhaps for younger children, we have this chibi (little) Frankenstein's Monster! He's not a scary monster, but just a nice boy wanting to provide health and nutrients to your belly on a wonderful All Hallow's Eve.
2. Mummy Love Bento
Now these mummies really look like they're having a time! They're wrapped up in their bento-sarcophagus with fashionably matching spider heart brooches. Possibly headed to a Halloween ball?
1. Cute Witch Bento
Ending with another Little Miss Bento creation, this one really takes the cake for "most kawaii Halloween bento ever"! This witch looks like she's popped out of an anime that's teaching us the importance of staying healthy on Halloween night—and maybe even how sweeping with ham is actually easier than it looks?