9 Classic Yugawara Ryokan with Private Baths
Yugawara is located about 90 minutes south of Tokyo, full of hot springs and ryokan, or traditional inns. Each of these easily accessible ryokan has its own charms, such as a long history, delicious food, or high-quality hot spring water. But one thing they all have in common is a private bath you can enjoy all to yourself!
1. Yugawara Fukiya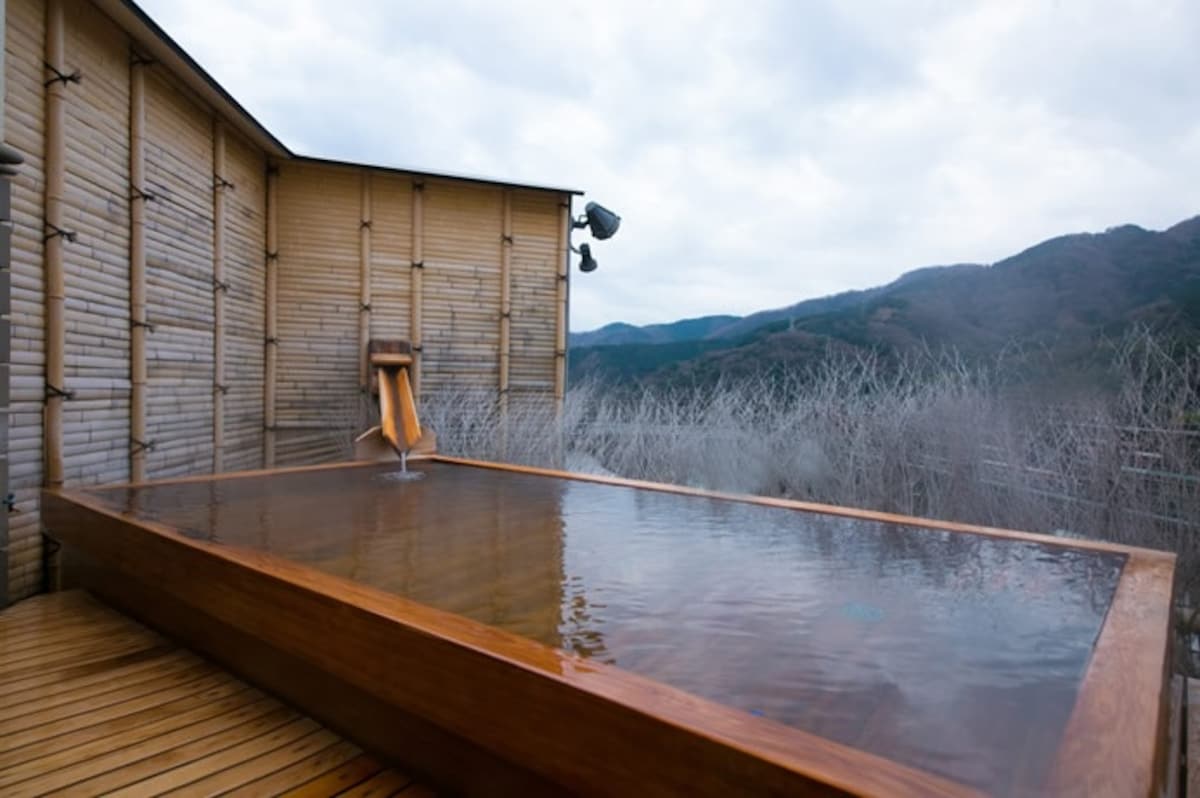 Savor the essence of a Japanese ryokan in a spot that will satisfy every need for luxury. The two open-air baths on the roof at Fukiya Ryokan are private baths made of elegant hinoki cypress. At night, you can enjoy a bath with an unobstructed view of the stars. Back inside, relax as you enjoy seasonal meals, a feast even for the eyes!
2. Itouya
Feel totally free in Itouya's private outdoor bath. Possible to enter without a reservation and made exclusively for private use, the outdoor bath is built like a garden, allowing you to enjoy charming views that change with the seasons. As long as it's open, feel free to enter this bath as many times as you like!
3. Uenoya
This longstanding ryokan has been in operation since the Edo Period (1603-1868). Its hot spring water, brought up directly from a ryokan-owned source, has long been famous as one of Yugawara's best hot springs for beautiful skin. The building has been designated as one of Japan's tangible cultural properties, so you can enjoy the experience of staying in an actual piece of Japanese cultural history. The free foot bath on the roof is also quite popular!
4. Onyado Megumi
This tranquil hot spring ryokan was built in modern times, but still invokes the feeling of Edo-style sophistication. Care has been taken to make the building barrier free, so even elderly people and people with disabilities can relax at ease. Feel free to go to the concierge desk for anything you might need! Toys and games are available as well, making this a great ryokan for kids.
5. Isuzu Hotel
Five minutes from JR Yugawara Station by car, this ryokan overlooks the town of Yugawara from an elevated location on the hillside, built in the classical style of old Japan. We particularly recommend the traditional Japanese course meal prepared with seasonal ingredients. There are two large communal baths connected to open-air baths, as well as three private open-air baths with great views of Yugawara's mountains. Melt away the fatigue of your travels in the warm hospitality of this pleasant ryokan!
6. Uohan
Uohan serves homemade dried food for breakfast, including food made from fresh, unsalted seafood caught in nearby Sagami Bay. The staff are also happy to offer advice on local eateries and sightseeing spots to visit. This tranquil ryokan is overflowing with hospitality.
7. Ryokan Manryo
Welcome to this cozy, warm and welcoming inn, popular for its cooking, especially its funamori sashimi boat. This friendly ryokan offers a number of unique amenities, including an elevator and various toys suited to babies and children. Another appeal is the popular Manyo Park, only a minute away by foot, where you can enjoy leisurely strolls surrounded by nature.
8. Tensaku
Tensaku is located near Manyo Park and the Yugawara Art Museum, and is easily accessible from JR Yugawara Station by bus. The warmth and comfort that this ryokan offer make it feel like a hiding place from the world.
9. Hotel Toyoko
Hotel Toyoko is particularly proud of its 110-centimeter-deep (43.3-in) open-air bath, as well as its open-air bath that overlooks Hakone's mountain range. Enjoy tempura freshly fried for you in the kitchen!