7 Cheap Izakaya Chains
If you love going to izakaya (Japanese-style pubs) but you think they're too expensive for you—think again! The following chains will guarantee an evening of fun, food and drinks without breaking the bank. Most of the pubs listed here also offer all-you-can-eat or drink courses, a great choice for those who like to party hard on a budget!
7. Tengu (天狗)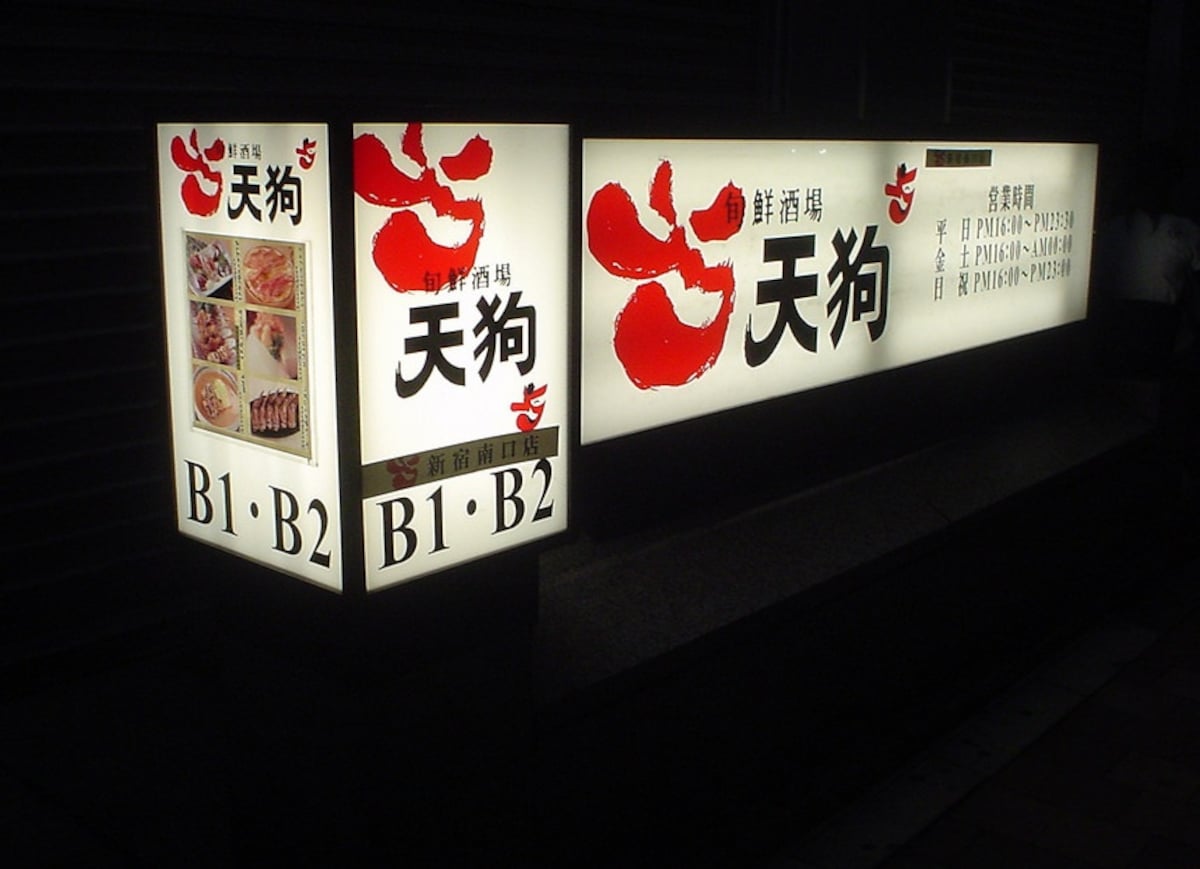 This izakaya chain tends to be more expensive on the drinks side (almost everything is priced from ¥400 up), but the food is in line with other chains, with all-you-can-eat plans starting at ¥3,000 (US$28.66) and dishes like udon, yakitori and French fries for around ¥300-400. The menu is usually in Japanese only but with pictures.

You can check the Japanese website for locations below.
6. Isomaru Suisan (磯丸水産)
Isomaru is the best place for fish lovers. Each table has a little grill, and you'll be able to grill your own fish! Additionally, the chain also offers sushi and sashimi. The all-you-can-eat version costs around ¥3,500 (US$33.44) per person. And while sushi and sashimi tend to be in the ¥1,000 range, other dishes (like grilled squid, fried mackerel, nigiri and various shellfish) are ¥400-500 per piece. There's an English menu, but the Japanese one also has plenty of pictures. The only downside is that all the grilling causes some locations to be very smoky, which might be a problem for people with sensitive eyes or throats.

Check their Japanese website for locations below.
5. Shirokiya (白木屋)
Shirokiya is another cheap chain with shops all around Japan. The all-you-can-eat costs around ¥3,000, while singular dishes go for around ¥300. This chain has large menus with pictures, which makes it good also for people who can't read Japanese, and even has a kid's menu!

The shop locations can be found at the link below.
4. Hanbey (半兵ヱ)
Hanbey has fewer locations that the other chains listed here, however there are two features that make up for this scarcity: its interesting Showa-Era-inspired atmosphere and incredible prices.

The seat charge is around ¥400, but this place serves giant okonomiyaki for around ¥200, yakisoba for ¥280 and drinks for less than ¥300! Additionally, you'll be surrounded by posters and memorabilia from the Showa Era (1926-1989), which makes for some interesting conversations.

This chain is only recommended to those who can read at least a bit of Japanese, since the menu doesn't often have pictures. You can find a list of the shops (in Japanese) below.
3. Ikkyu (一休)
There is one secret to Ikkyu: its membership card! While this izakaya chain is already cheap as it is, if you are willing to spend ¥300 per year to become a member, you can enjoy further discounts, which could save you up 50 percent on your dishes! Your tsumami will always be 20 percent off, though Mondays and specific days of the month will see tsumami and drinks 50 percent off. And, according to the day of the week, you might get other discounts!

You can apply for membership directly at the shop, and minimum Japanese knowledge is required. This izakaya is the ideal place to go for those who plan to stay in Japan for some time. The menus have pictures and most dishes are priced around ¥500-600, with drinks around ¥300.

Take a look at their store listings below.
2. Torikizoku (鳥貴族)
As the name suggests, this izakaya specializes in chicken (tori), with its yakitori grilled chicken skewers taking over a large portion of the menu (though many of the items on the menu are as low as ¥280). However, even if you don't like chicken, they still offer your typical izakaya tsumami appetizers, such as edamame, rice and sweets. Also, there's no extra seat charge. The price for the all-you-can-eat plan is around ¥2,800 (US$26.72) for two hours.

If you can read Japanese, check their website below and look up the closest location to you.
1. Kin no Kura ( 金の蔵)
Kin no Kura is a foreigner's favorite not only for its low prices, but also for the convenient touch screen menus with English! This is the ideal place for those who find Japanese too challenging. Additionally, it's good for big groups as the screen will also show you how much you should pay per person.

The menu is your typical izakaya menu, with lots of fried goods, sushi and sashimi, soba noodles, meat, pizza and the like. The all-you-can-eat course costs around ¥2,000 (US$19) for two hours, while the cheapest drinks go for around ¥270. However, since there are seat charges, Kin no Kura is mostly recommended for larger groups.

Kin no Kura locations are scattered all across Japan and they are made visible by bright yellow signs with the name in kanji. If you can read Japanese, you can find a list of all shops below.
Remember that you need to be at least 20 years old to drink alcohol in Japan at any of these locations, and if you're driving make sure that at least one driver stays sober. Finally, as this list is far from comprehensive, feel free to add your own suggestions in the comment section!