A Secluded Hot Spring in Tokyo!
In Tokyo's westernmost mountain village of Hinohara you'll find Janoyu Onsen Takaraso, a hot spring inn that's registered in the Japan Association of Secluded Hot Springs. This 300-year-old inn features a thatched-roof building shaped like a Japanese warrior's helmet, embodying the spirit of Japan's countryside.
Edo Period Origin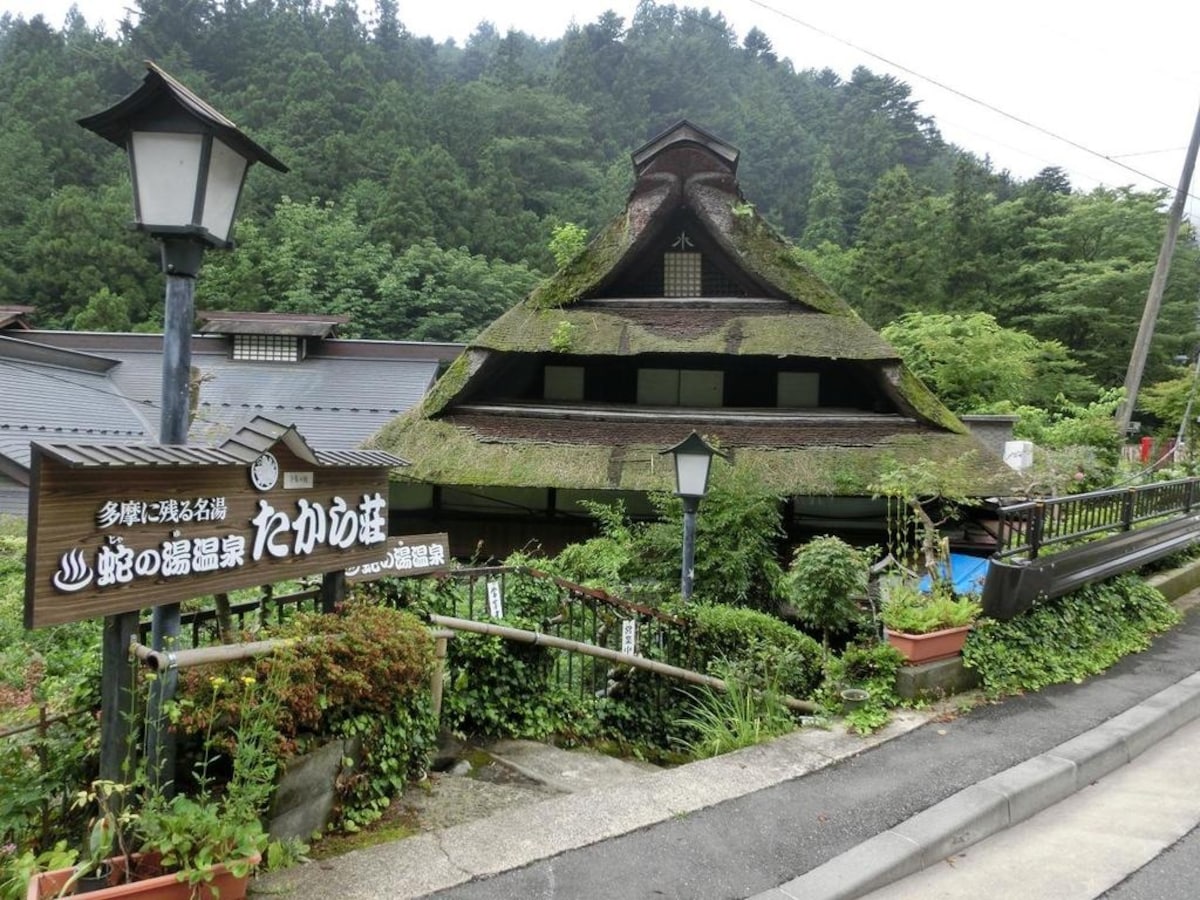 About two-and-a-half hours by car from central Tokyo you'll find the picturesque countryside landscape of Hinohara Village. You won't believe this is actually a part of Tokyo Prefecture!

Takaraso Inn in Kazuma District has a building with a history of over 300 years. It looks like the thatched-roof houses of Shirakawa-go from outside, but inside it's slightly different. Originally silkworms were bred under the thatched roofs in Hinohara Village, leading to a multi-layered roof that resembles an old Japanese warrior's helmet.
Hot Spring Heals Even Snake Wounds?
In the photo above you can see the interior of the main building. The low ceiling and warm light are very much the essence of nostalgic village houses.

At Takaraso Inn, you can stay overnight or come for a day trip, order food and go to the hot spring. An old legend even claims that a large snake once healed its wounds in the water of the spring!
Bath Surrounded by Greenery
It's not exactly an open-air bath, but you'll feel one with nature here. This hot spring is located 650 meters (2,133 ft) above sea level and is surrounded by lush greenery, which makes it ideal for those who want to be immersed in a forest. If you listen carefully, you'll hear the sound of the singing cicadas and the murmur of the forest streams.

The water is rich in simple sulfur and reputedly good for treating high blood pressure, rheumatism and exhaustion. The hot water will refresh your body and cleanse your skin. A dip in the hot spring as a day tripper costs ¥1,000.
Restaurant with a View
Takaraso Inn boasts a spacious restaurant lounge. Large windows provide a good view of the greenery outside, and the refreshing air feels great after a bath. Here you can stretch your legs on the tatami and relax.
Healthy Local Food
If you order food before you go to the bath, it'll be served right after your return. When I visited, the menu consisted of seasonal mountain vegetables, mushrooms, masu salmon grilled with salt and konnyaku (devil's tongue jellies). The entire meal, which cost ¥2,100 (US$19.78), also had a vegetable dish of ingredients cooked in soy sauce and handmade soba noodles. You can order à la carte as well, so you're not tied to set menus. The lunch is especially delicious when you're looking at the lush green of the trees and listening to the sound of the river.

You can spend your time in many ways in Hinohara Village. In the summer you can swim in the river or tour the waterfalls; in the autumn you can enjoy the multicolored foliage; in the winter you can soak in a bath and watch the snow, or visit the frozen Hossawa Falls.

This is a secluded place with a secluded hot spring, where you can forget your daily worries and relax in picturesque surroundings. There's no need for a prior reservation if you're visiting for a day trip, but it's good to inform the onsen of your arrival by phone.