Get to Osaka on the Cheap by Night Bus!
When going between Tokyo and Osaka, who doesn't love riding the Shinkansen? It's fast, smooth and gives riders the chance to view Mount Fuji. There's just one problem with this wonder journey: the cost. But fear not, for there's a convenient overnight bus service that's affordable and, as a bonus, obviates the need for a night of lodging!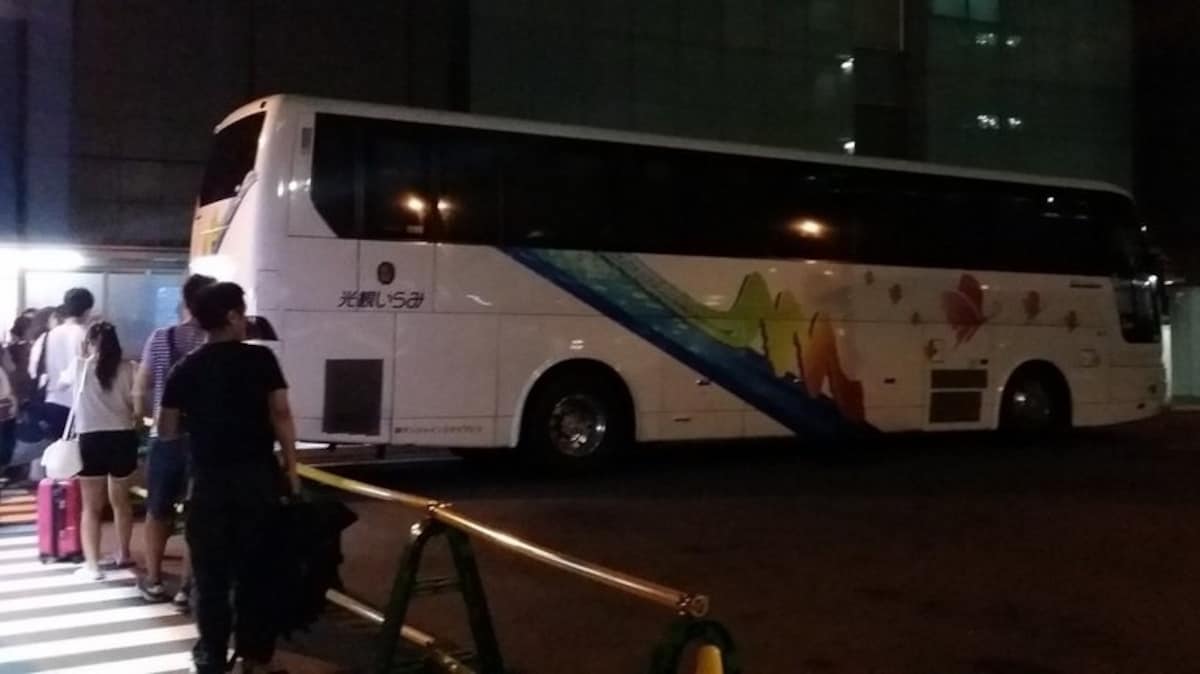 Just a block or so away from Shinjuku Station, right smack dab in arguably the busiest part of the city, is the long-distance bus departure terminal. In this case, terminal means "a place where you can line up and wait for your bus, and maybe buy something at a vending machine." As the hour nears midnight, the buses start coming in quick succession, opening their doors for the slightly glum-looking passengers (or are they just tired?) who have resigned themselves to a night without a bed.
For the cheapest of the cheap, with advance purchase for a Monday-through-Thursday departure, there exists a bus that slogs between Tokyo and Osaka in less than optimal comfort for a mere ¥3,800 (US$35.87)—remarkable savings over the bullet train! But you, dear traveler, are not a bottom feeder willing to wreck your next day by doing the ultimate cheapo bus ride. Instead, you should go VIP, as pictured above, on a double-decker bus that has only three seats across, with two aisles running the length. This means no sharing armrests and no strangers slumping onto your shoulder.

Luxury like this will naturally require you to peel a couple more bills out of your wallet. A ride on the "Premium Sleeper" bus can be as low as ¥5,400 (US$51), with prices rising moderately during peak periods and weekends. Premium Sleeper seats are 45 centimeters (17.7 in) wide and recline a whopping 50 degrees! Compare that to the mere six degrees of recline that imprisons you in most airlines' economy class. You're also provided with a blanket, overhead storage space and checked baggage service as well. With these kinds of comforts, frugality doesn't have to be painful.
The nicer buses, such as the Premium Sleeper described above, have on-board restrooms, and therefore make fewer stops along the way. While fewer stops does mean a shorter journey time, even the toilet-equipped buses generally make a stop or two to allow for a stretch or just a more spacious lavatory experience. While some rest areas are quite deluxe, others are, well, not so deluxe. Keep your mind focused on the money you're saving—including the money you're saving by sleeping on the bus instead of in a hotel room. For a single traveler, total savings can easily top ¥20,000 (US$189)!
After a journey of around seven hours, you've arrived in central Osaka at about 7:15 a.m., ready to hit the town! As you walk away from the bus, you take one more look at this beautiful, money-saving transporter. In the morning light, she's a sight to behold.