5 Dreamy Hotels in Nikko
Nikko sits in the western part of Tochigi Prefecture. In addition to being home of the ornate Toshogu Shrine, Nikko's beautiful forests, mountains, lake, rivers and hot springs have long made it a popular resort destination, with many foreign embassies building vacation houses here beginning in the Meiji Period (1868-1912).
5. Hoshino Resort Kai Nikko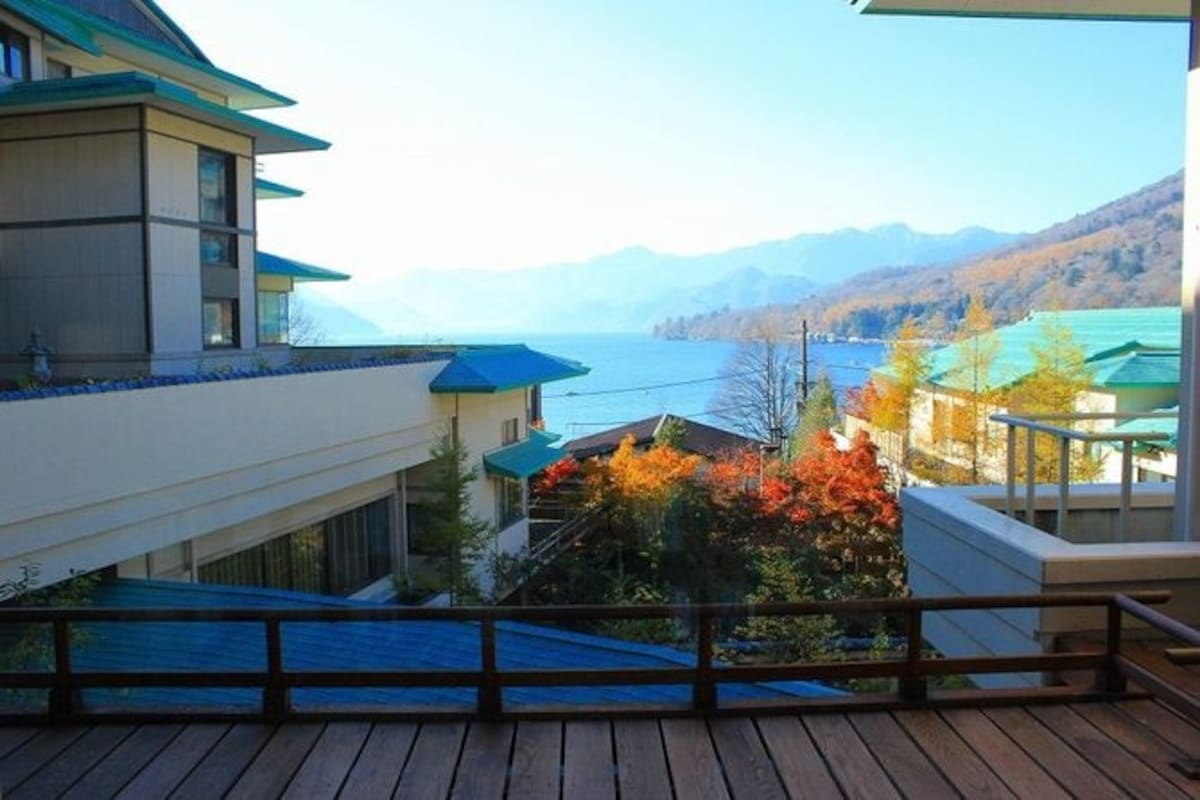 Hoshino Resort Kai Nikko stands on a hillside on the shore of Lake Chuzenji, which rests at an elevation of 1,269 meters (4,124 ft). Every one of the 33 rooms is over 60 square meters (646 sq ft) in size, and every one has a view of the lake and Mount Nantai, a 2,486-meter (8,156-ft) stratovolcano.

With facilities including Japanese and Western-style guestrooms, a corner room overlooking Mount Nantai, tatami halls that feel wonderful on your bare feet, an after-bath cooling area, a hallway overlooking a traditional garden, and a bath house built from marble and cypress, the facilities here are full of subdued luxury, embodying a sense of tradition and comfort.
4. Oedo Onsen Monotogatari Nikko Kirifuri
Oedo Onsen Monogatari Nikko Kirifuri was designed by Robert Venturi, recipient of the Pritzker Architecture Prize in 1991. His first work in Japan, Oedo Onsen Monogatari Nikko Kirifuri feastures a post-modern design that works in harmony with the surrounding landscape.

Surrounded by nature, the hotel is 1,000 meters (3,281 ft) above sea level, with the outdoor bath on the sixth floor allowing you to take in the scenery of Nikko National Park, including the various mountains of the Nikko Mountain Range.
3. Nikko Kanaya Hotel
Japan's oldest resort hotel, Nikko Kanaya Hotel was founded when Zenichiro Kanaya created an inn for foreigners at his own house, called the Kanaya Cottage Inn, in 1873.

In 1893, Kanaya Hotel was opened where it currently stands, with the new building, annex and new annex buildings constructed between the Meiji (1868-1912) and Showa (1926-1989) Periods. The three-story main building is constructed from wood and stone, mixing the beauty of Japanese and Western architecture, and retains the elegance of the Meiji Period. The entire hotel was registered as a Tangible Cultural Property in 2005, and has hosted such luminaries as Frank Lloyd Wright, Natsume Soseki, Hellen Keller and Albert Einstein.

Be sure not to miss the ever-changing view of Nikko Kanaya Hotel's pride garden, with the Nikko Mountain Range as a backdrop. The Otani River flows past the garden, with well-manicured footpaths allowing you to get right down to the river's edge, where the iconic red Shinkyo bridge sits right in sight.
2. Hotel Shikisai
If the idea of soaking in steaming water piped from natural hot springs while staring out into gorgeous foliage sounds like something you'd enjoy, then Hotel Shikisai may be for you. You can also sample traditional cuisine, lounge around in your yukata (traditional Japanese casual clothing), and enjoy a luxury stay with a traditional feel.

Located near Lake Chuzenji, you can relish the quiet once you arrive at Hotel Shikisai. The staff will invite you to a cup of green tea and offer a traditional kinchaku (drawstring bag) in a pattern of your choice. The rooms are comfortable and clean, and all feature wonderful views.

The open air baths are a truly unique experience, and deeply relaxing. The staff are friendly and helpful, and some speak English in case you don't speak Japanese. If you're looking to experience luxury and hospitality, Hotel Shikisai will deliver.
1. Chuzenji Kanaya Hotel
Established in 1940, Chuzenji Kanaya Hotel, along with Nikko Kanaya Hotel (above), are known as Japan's oldest resort hotels. Loved by locals and foreign visitors alike, it stands among the many embassies and lake houses on Lake Chuzenji, in a national park where you can rest in the midst of nature.

There's a hot spring bath where you can relax, and the facility offers classic resort-hotel-style service. Chuzenji Kanaya Hotel is a place where you go to celebrate important events.

Weekly and monthly plans are also offered during the summer; check the official website for availability. However, the facility is only operational Fridays through Sundays during the winter period from January to April.