7 Cute Cafés in Tokyo
There are various places in Tokyo where you can enjoy exclusive local dishes, such as seafood and sushi, as well as luxurious restaurants. Cafés are no exception when it comes to great food in Tokyo. The atmospheric shops together with their fantastic food make you want to visit not just for the food, but for the whole experience.
7. The latte art of Reissue Coffee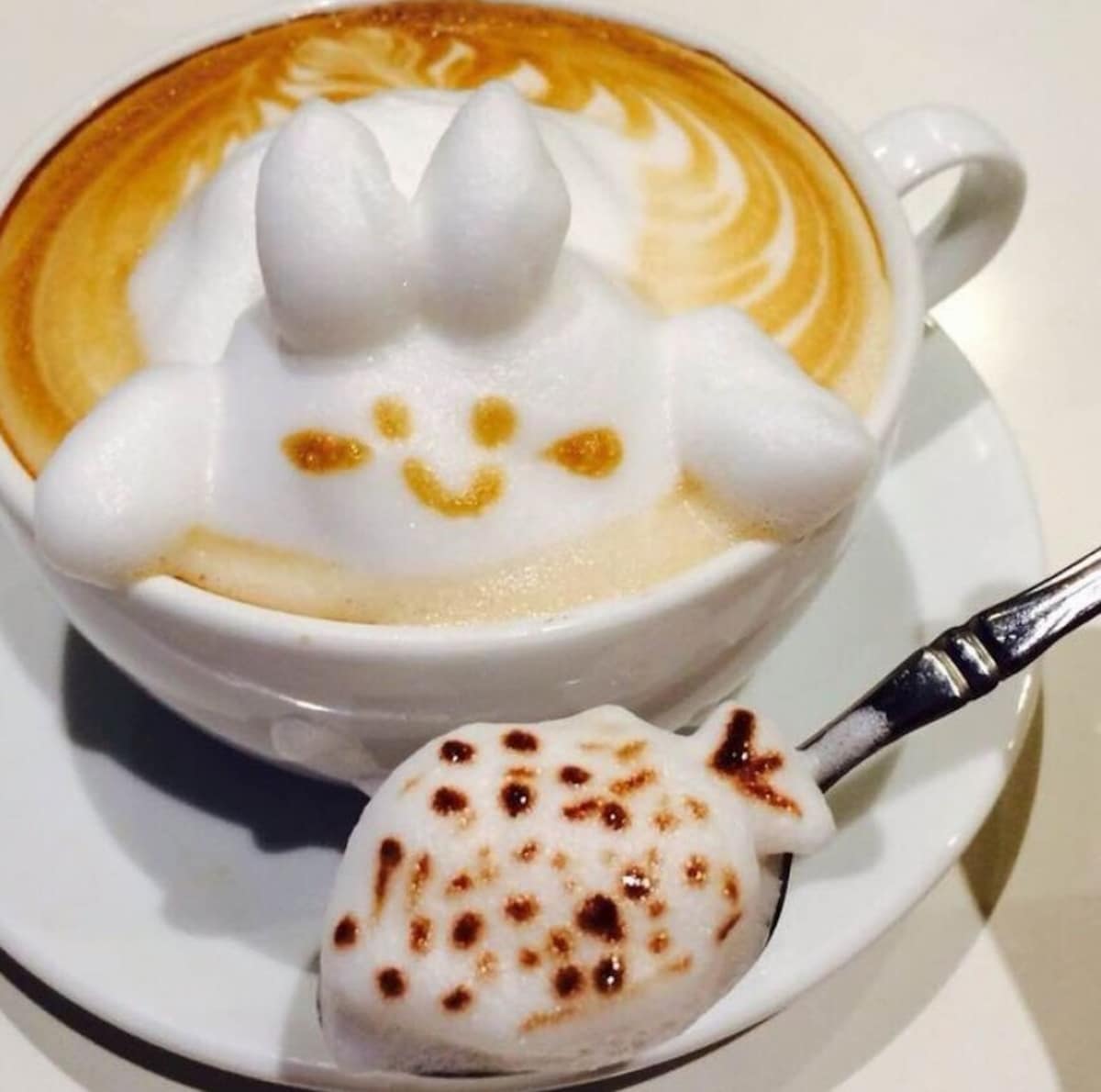 Reissue Coffee is located in the Harajuku area and is one of the shops you will definitely enjoy if you are a fan of cute stuff. At Reissue Coffee, you can enjoy different kinds of latte art when you order the café latte or hot chocolate. The art ranges from cute 3D animals to famous Japanese artwork. In fact, you can request for the staff members to create your favourite character or animal and take a photo of your one and only latte art in the world! Reissue Coffee also serves other dishes such as pancakes, as well as curry, rice, and soup during lunchtimes. Furthermore, there are also spacious sofa seats where you can quietly read a book or spend a relaxing time together with your friends.
6. The café across Kiyosumi Garden: Arise Coffee Roasters
The Kiyosumi Shirakawa area is one of the places in Tokyo where you can enjoy the olden Japanese culture, such as the beautiful Japanese-style Kiyosumi Garden. At the same time, ever since the opening of the Museum of Contemporary Art Tokyo, art has been very influential at the area too.

Right opposite Kiyosumi Garden is a café called Arise Coffee Roasters that allows you to enjoy a modern-style café while viewing the beautiful Japanese-style garden from the windows. Home-made sandwiches and puddings, together with well-brewed coffee, will send your senses tingling as you spend a wonderful time at Arise Coffee Roasters.
5. A café opened by Rakuten!?
Rakuten Inc. is one of the most successful e-commerce companies in Japan. On May 2014, the first ever Rakuten café was opened in Shibuya: the Rakuten Café Shibuyadori (Shibuya Avenue) branch. Located conveniently just a 1-minute walk from Shibuya, Rakuten Café Shibuyadori branch incorporates fantastic café food collections from all over Japan along with great internet service.

The café has 3 floors in total, counter seats at the first floor and table seats on the second and third floors. Numerous cakes, coffee, and other confectionary can be enjoyed at Rakuten Café Shibuyadori branch. Furthermore, if you make payment with a Rakuten card, you can enjoy the coffee and red teas for half-price! Free Wi-Fi is available and there also other services, such as hand-phone chargers. You can also use the Kobo eReaders there for free!
4. A café in an oasis! Aoyama Flower Market Tea House
Wouldn't it be great if you could drink fantastic coffee while being surrounded by beautiful flowers? Well, here's your dream come true!

Aoyama Flower Market Tea House, located in the Aoyama / Omotesando area, is a gorgeous café whose interior is well-decorated with vibrant plants and flowers. The green-based café has a relaxing and refreshing atmosphere, which is perfect for a break after exploring the area. It is recommended that you try out their "Flower Parfait", a creamy parfait topped with fresh fruit and delicious vanilla ice cream. Aoyama Flower Market Tea House is also known for its delectable herb tea. Two types of herb tea can be selected: the Refresh Blend or the Relax Blend, which features herbs such as lemongrass.

After a great time at the café, you can also purchase their splendid flowers as a gift!