How to Get the Most Out of Fireworks in Japan
Sumida River Fireworks Festival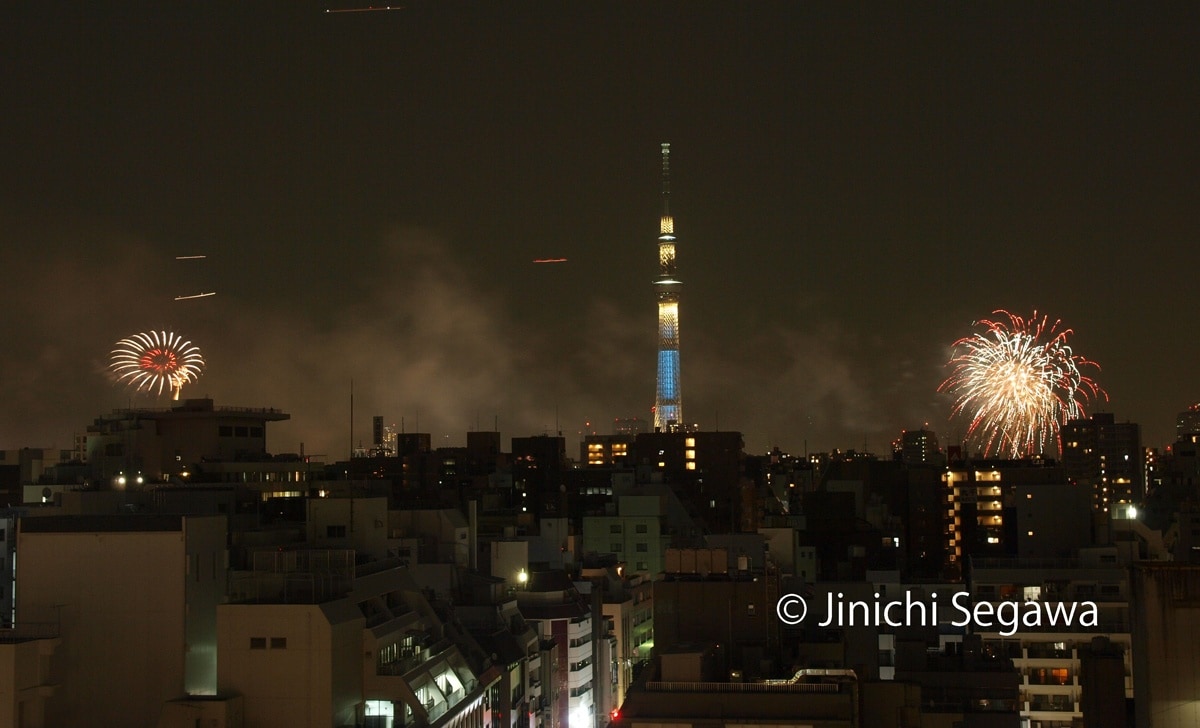 Perhaps the best-known fireworks display in Japan is the Sumida River Fireworks Festival. The fireworks are launched from two locations in Asakusa, Tokyo, and the festival is a showy competition between two rival pyrotechnic groups.

Aside from the fireworks themselves, one of the most memorable aspects of this festival is the view of Tokyo Skytree, sandwiched between the colorful explosions.
Close to a million people attend the Sumida River Fireworks Festival, which means space is at a premium. The level of competition to secure a viewing spot is high due in part to the high-rise buildings along the riverbank. Some people choose to avoid the crowded sidewalks and instead rent a river cruise boat for the evening to get an unobstructed view.

Whether you're experiencing the show on land or on water, you should prepare yourself for massive crowds at all metropolitan venues.
Edogawa Fireworks Festival
The Edogawa (Edo River) Fireworks Festival is a more spacious—although still likely to be very crowded—fireworks display on the banks of the Edo River near Chiba. There are viewing spots on both sides of the river, but it's the Tokyo side that has the sprawling fields perfect for laying back and relaxing on. Here there's also a chance to experience a bit ofwabi sabi, the Japanese aesthetic of beauty in imperfection, as big fireworks are shot off one by one, rather than in coordinated timing.
Katsushika Fireworks Festival
Compared to the Sumida and Edo River Fireworks Festivals, it might be easier to kick back and enjoy a more local fireworks show, such as the Katsushika Fireworks Festival. Roughly 15,000 fireworks were shot off for the 50th anniversary show in 2016.
The Way Home
After the festival, be prepared for the streets and public transport to be packed. If you're by a riverside, it could take you half an hour just to get up over the banks. It might be a good idea to try to grab some food nearby and wait for the crowds to subside—if you can find a spot!

Compared to the crowded cityscapes, venues in suburban areas have more room to shoot off bigger fireworks. If you have the chance, it's great to attend a variety of fireworks shows! After all, there's no way to get bored of fireworks, is there?