Spend a Star-Studded Evening at Kurokawa Onsen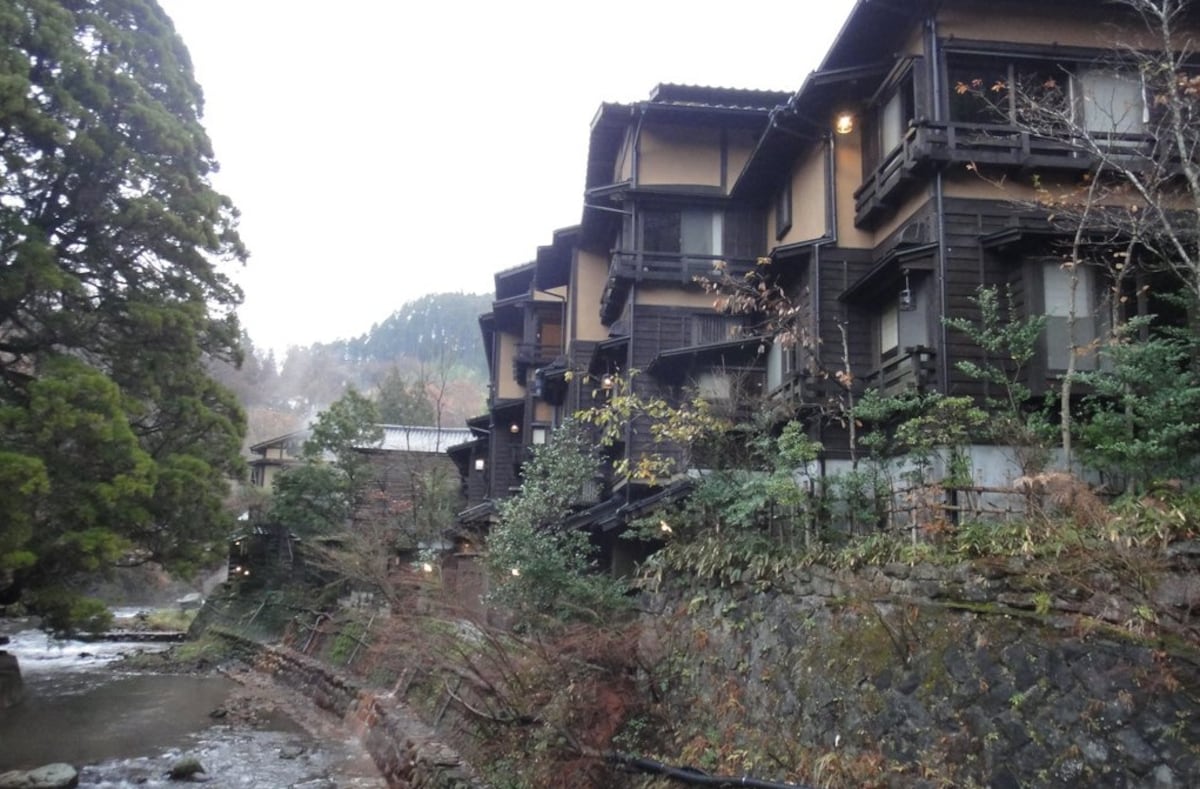 Kurokawa Onsen Town can be found in Minamioguni, a town located 30 kilometers (18.6 miles) north of Mount Aso in Kumamoto Prefecture. This area, known for its large caldera—an expansive, cauldron-like volcanic crater—is one of the most popular areas for hot springs in the Kyushu area.
Onsen-Hopping Pass
With the nyuyoku tegata, or the onsen-hopping pass, you can relax at any of the outdoor baths in Kurokawa Onsen Town! This ¥1,300 pass grants access to any three baths of your choice, from 24 total baths in the town! With this pass, available at participating inns, you can save a little bit of money, as ¥500 is usually required for each bath. The pass comes with three stickers on the back. The bath staff removes one, affixing their stamp to the pass each time you take a bath. Keep in mind it's valid for six months.

If you're looking for large outside baths, try Yukoku-no-Yu and Mori-no-Yu at Yamamizuki Inn, the sennin buro (large bath) at Yamabiko Inn, and Byobuiwa's outdoor stone bath at Kurokawaso Inn. After you take three baths, the wooden pass can be reused as a coaster or dedicated to Jizo-do, a small local shrine.
Face Onsen?!
At the left side of Jizo-do Shrine, you'll find the "face bath"! The bath is located in front of Fumoto Inn. The steam coming out soothes the skin on your face. You'll also find cute, hand-drawn letters on it. After trying the face bath, you may want to visit the candy shops on Igozaka Street, just to the right side of the face bath.

Marusuzubashi Bridge is a popular spot for taking photos. From there, you can see the fantastic scenery of beautiful seasonal trees by Fujiya Inn. Kawabata Street is a good place to enjoy shopping. At Shiratamakko restaurant, you can enjoy Japanese matcha (green tea) and mochi (glutenous rice cake) treats.
Standing Bath
In Kurokawa Onsen, there's an interesting bath that you can stand in. Called tachiyu, or standing bath, it's been called the deepest outdoor bath in Japan. You can dip into the 1.5-meter-deep (4.9 ft) bath while holding on to two bamboo sticks. It's a unique experience!
Ikoi Ryokan
If you're planning to stay in Kurokawa Onsen Town, we strongly recommend Ikoi Ryokan, which appeared on the TV show Otona Tabi Aruki Tabi (Adult Travel, Walking Travel) in 2015. This inn has an amazing atmosphere with an old-fashioned fireplace and a foot bath in an open space.

At the entrance, you'll notice the delicious smell of boiled eggs; they boil the eggs in the onsen's hot water. Also, you can enjoy taking many baths without leaving the premises, as there are 13 different kinds of baths, including ones for private rental. The water is said to treat nerve pains, rheumatism, nervous breakdown and hysteria because the onsen has sulfurated hydrogen water, which includes sulfur, alum and salt.
Dinner's Served
Your dinner at Ikoi Ryokan comes with very traditional Japanese choices—horse sashimi (basashi), for example. You have a choice of three main dishes, like Aso Akaushi Wagyu beef and Oaso Akadori chicken. These local dishes promise to leave you satisfied!

All-you-can-eat oden (simmered meat and vegetables) is also available, so help yourself. They also serve zenzai (sweetened red bean soup) later in the night. The cozy fireplace is highly recommended too. You can stay here until the wee hours chatting with other tourists.