Classic Pottery via Gintama & Naruto
Tono, in Gifu Prefecture, is well known for its acclaimed ceramics culture, particularly the area's locally made Mino ware pottery. With manufacturing origins that can be traced back to the seventh century, the area has long produced tableware and bowls for tea ceremonies. Now, Mino ware producers are creating plates for legions of anime fans, too!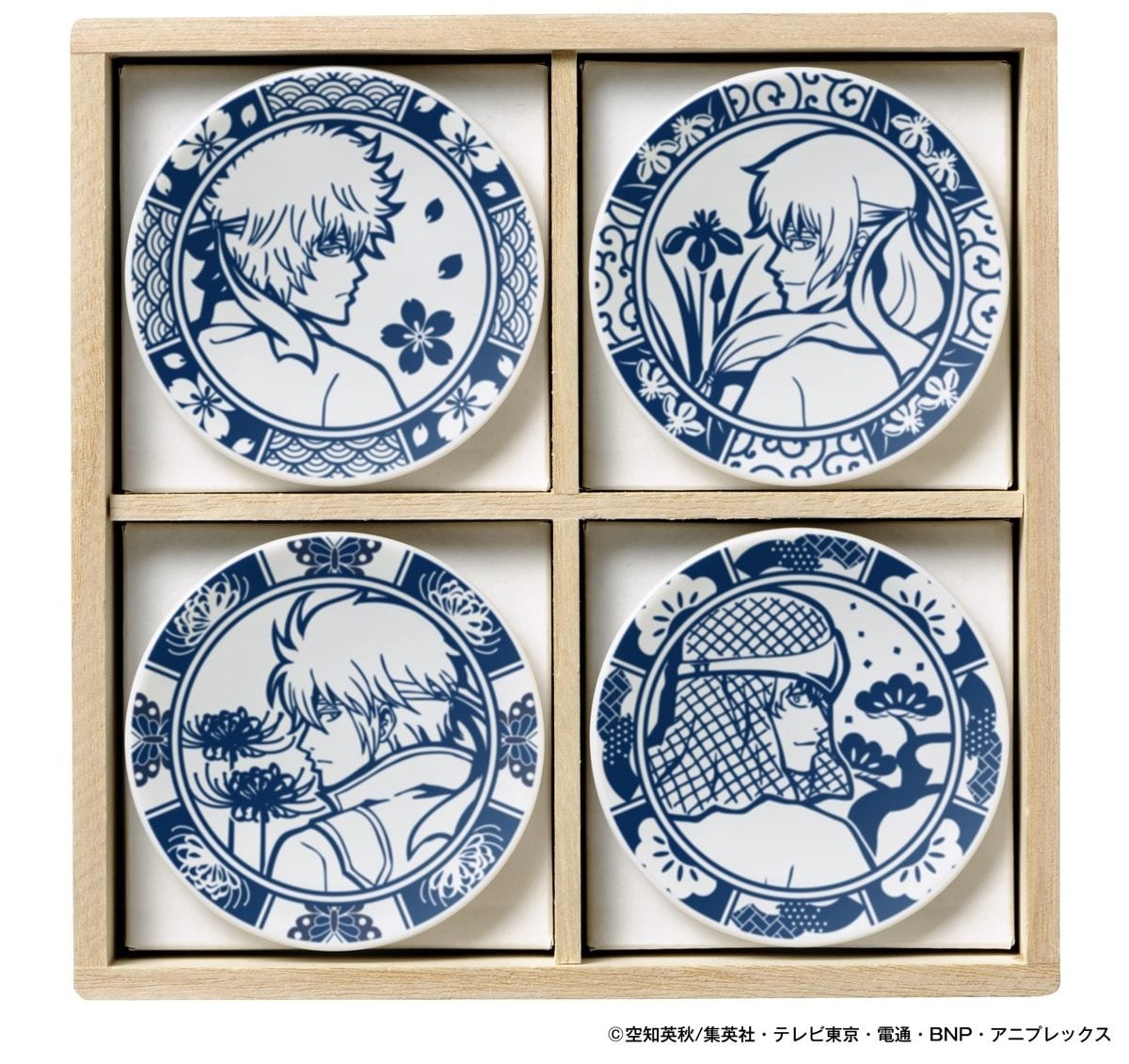 The "Mino Mame Sara Set" comes in two varieties, each featuring four mame sara (legume plates) measuring 7 centimeters (2.8 inches) in diameter.

Pictured above, the Gintama set brings you a plate for every season, perfect for serving up snacks or creating conversations as display pieces.

From the top left there's Sakata Gintoki, or Shiroyasha (White Demon), joined by one of the nation's most iconic symbols of spring: the sakura cherry blossom. Proceeding clockwise we have Katsura Kotarou, or Kyouran no Kikoushi (The Nobleman of Fury), who appears alongside a summer iris; Tatsuma Sakamoto, or Katsura no Tatsu (The Dragon of Katsurahama), whose winter background features the season's iconic pine tree; and in the lower left corner is Shinsuke Takasugi, or Kiheitai Soutoku, the leader of the Kiheitai, who's pictured with the higanbana (red spider lily) autumn flower.
The Naruto plate set focuses in on some famous Mangekyo Sharingan (Copy Wheel Eyes) as a tribute to Uchiha clan members from the much-loved series.

Starting from the upper left we have: the six-sided star shape belonging to Sasuke Uchiha; Itachi Uchiha's Three-Sided Cyclone; Obito Uchiha's shuriken throwing-star shaped Sharingan; and in the lower left is the circular Sharingan of Madara Uchiha.
Each set comes in a beautifully designed box made from Paulownia wood and is available for purchase from the Premium Bandai official site for ¥4,320 (US$39), with August 2016 delivery. Unfortunately, it looks like Premium Bandai does not offer international shipping, so if you want some of these plates, you'll need to use a reshipping service.