Hidden Gems in Emerald-Green Yakushima!
Yakushima is an UNESCO World Heritage Site that is best known for its moss-covered cedar forests and the Jomon Sugi, a 1,000 year old cedar tree. The beauty and serenity of the emerald-green trees is certainly breathtaking, but not the only thing to look out for. We've listed a few other interesting things sure to catch your eye!
5. Strange-Looking Trees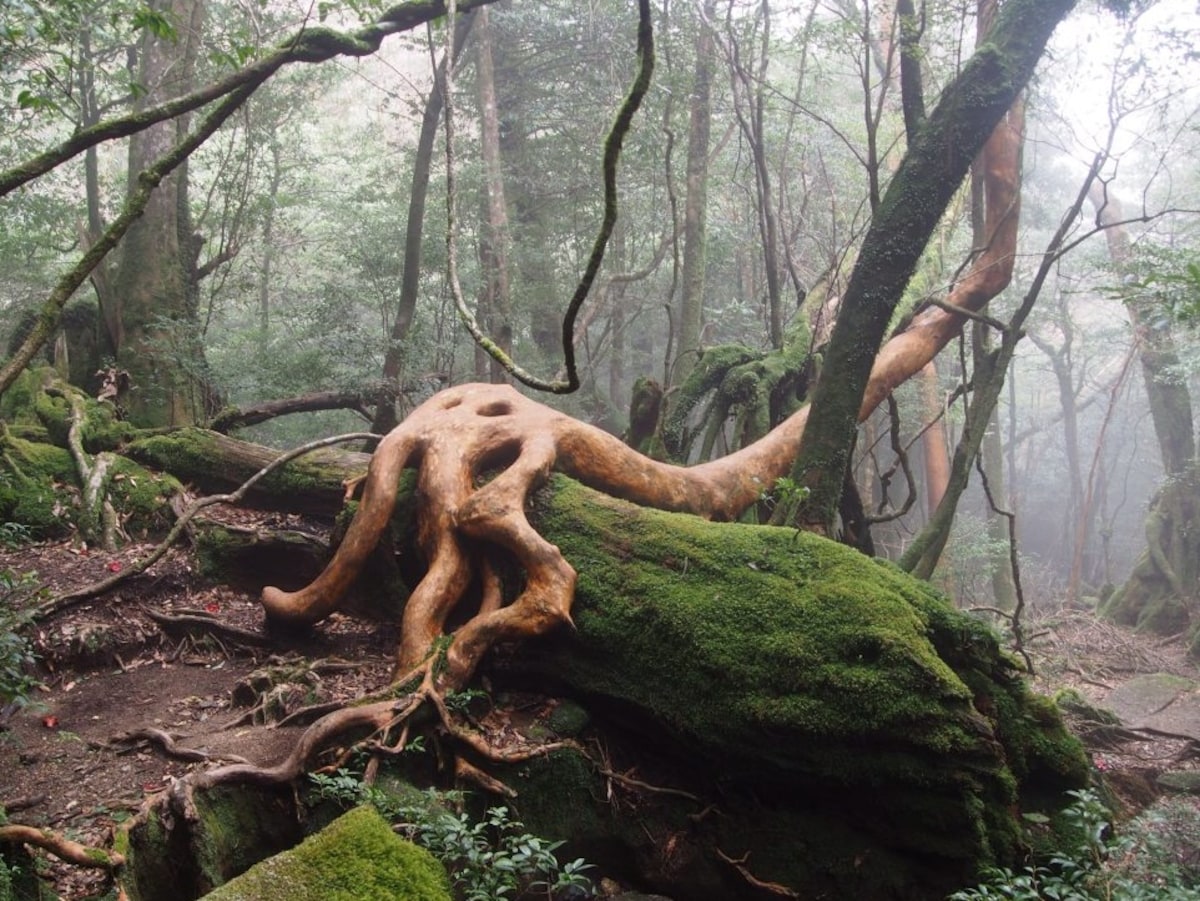 From time to time you'll spot an odd tree or plant off the main trail. Take this Orange Stewartia for example—it's growing on a dead cedar tree. Seeing plants like ferns and orchids grow on trees is a common sight, but seeing large trees grow on other trees, while exposing its root system, is definitely not as common.
4. Cute Fungi That Resemble 'Kodama'
Many visitors to Yakushima are fans of Hayao Miyazaki's Princess Mononoke. The white Kodama spirits in the movie are all over the forest floor, trees and moss-covered stones—much like the thousands of mushrooms in the animated forest.
3. Massive Granite Rocks
Despite being surrounded by volcanoes, Yakushima is actually only a mountain (mainly) comprised of granite rock. Yakushima continues to grow about 1 millimeter annually, as magma continues to cool just below surface, eventually forming new layers of granite rock. These rocks are special as they give clues to the island's rich geological history.
2. Wild Animals
The two most common animals spotted in Yakushima include the Japanese macaque monkey and the sika deer. Deer are so abundant in Yakushima that they have become pests (you'll be able to find deer meat on the menu at local restaurants). The monkeys in Yakushima are much shier than their more boisterous cousins elsewhere around the country.

The photo above shows a group of monkeys grooming each other.
1. A Closer Look at Yakushima's Flora
Animals and insects prefer to hide deeper in the forest so looking for them on busy trails can sometimes be discouraging. You're guaranteed luck with plants though. Yakushima has an abundance of flora species that grow near the trail. While admiring the moss-covered forests as a whole is breathtaking, we invite you to take a closer look at the flora of Yakushima. You'll find beauty in the wide variety of small shrubs, delicate flowers, filmy ferns and moist moss.