10 Events to Attend During Golden Week 2016
As popular as the Golden Week holiday is, sometimes it's still tough to decide where to go. It's also hard to keep up with what's happening as there's so much to see and do in such a small amount of time—and 2016 isn't making it any easier! Not only can you catch a few traditional annual Golden Week events, but also some pretty rare ones too!
1. Karo Jinja Ho-enya Matsuri (April 29, Tottori)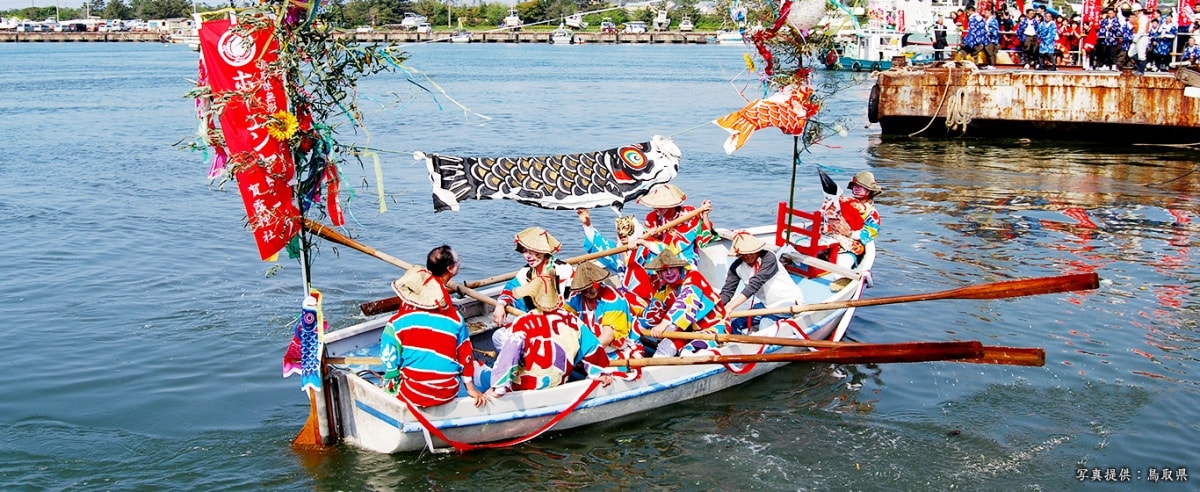 The Karo Jinja Ho-enya Matsuri, or Karo Shrine Ho-enya Festival, only takes place every two years, and 2016 welcomes it with open arms!

Kibi no Makibi, an eighth-century Japanese envoy to Tang Dynasty China, was shipwrecked and washed ashore on tiny Tori-ga-shima Island not far from Karo Shrine. The kindness of the locals who helped him is said to have inspired this boat festival.

The festival features a parade of boats down the Sendai River made up of 200 people dressed as samurai warriors, Shinto priests, lions and kirin, distinguished by bright costumes and elaborate face makeup.
2. Kyokusui-no-En (April 29, Kyoto)
Kyokusui-no-En (literally, "meandering stream party") was adopted from a traditional spring ceremony that took place in ancient China. The game involves people sitting along a stream. A sake cup is allowed to float downstream, and before it reaches the next person, he or she has to compose a 31-syllable poem.

On April 29 from 2 p.m., visitors to Kyoto's Jonan-gu Shrine will be able to view a beautiful scene of people dressed as Heian-Period (794-1185) aristocrats practicing Kyokusui-no-En.
3. Hitaka Hibuse Festival (Apr 28-29, Iwate)
The Hitaka Hibuse Matsuri is a fire protection festival that takes place in the Mizusawa area of Oshu City in southern Iwate Prefecture. Much like a parade, beautiful gold, red and green hayashi-yatai (musical floats) tour the town, each carrying 20 to 25 predominantly female musicians playing shamisen, flutes and shime-daiko drums.

Each float plays a different song representing one of the six towns in the region. On the second night, the musicians perform together, creating a brilliant composition of traditional music.
4. Miyako Odori (Apr 1-30, Kyoto)
2016 marks the 144th Miyako Odori, a spring dance festival celebrated at the Kaburenjo Theater in Gion, Kyoto's historic entertainment district. Guests are invited to buy a "special class ticket" that will also allow them to take part in a geiko (Kyoto-style geisha) tea ceremony before the event.

There are four performances daily, each lasting about an hour. Check the site below for schedules and tickets.
5. Yonezawa Uesugi Festival (Apr 29-May 3, Yamagata)
Yonezawa City's Uesugi Shrine is dedicated to the Japanese warlord Uesugi Kenshin, whose exploits during the Warring States Period (1467-1590) have still left their mark on popular culture today. The Yonezawa Uesugi Festival celebrates the famous samurai every year from April 29 to May 3. The main event on the final day features a parade of mikoshi floats and a march of roughly 1,000 samurai warriors through the city's main street, followed by a mock battle at the Matsukawa riverside.
6. Meiji Shrine Spring Grand Festival (Apr 29 & May 2-3, Tokyo)
This exciting annual event takes place in the central Tokyo metropolitan area at Meiji Shrine, showcasing a variety of traditional performing arts in honor of the shrine's deities. In addition to solemn Shinto rituals, performances include bugaku (ancient imperial court music); noh and kyogen (classical Japanese theater); hogaku and hobu (classical Japanese dance); sankyoku (traditional Japanese chamber music); and Satsuma biwa (Japanese lute). With each type of performance occurring only once, be sure to check the performance times below!
7. Kameido Tenjin Shrine Wisteria Festival (Apr 16-May 5, Tokyo)
Located southwest of Tokyo Skytree, Kameido Tenjin Shrine is the city's prime location for viewing wisterias. Planted during the Edo Period (1603-1868), these lovely lavender flowers, called fuji in Japanese, bloom all at once in late April, and look stunning reflected in the serene pond. You can also enjoy walking through a classic shitamachi (old downtown area) as you walk to the shrine from Kameido Station.
8. Arita Ceramics Fair (April 29-May 5, Arita)
The Arita Ceramics Fair brings together ceramic artists, collectors and porcelain lovers from all over Japan. The event takes over the town of Arita, with roughly 500 stands open along the 4-kilometer (2.5-mile) main road. More than one million people attend annually looking for unique pieces and rare deals. Complementing the fair is the Arita International Ceramics Exhibition, which traces its origins to a ceramics fair held in the town's Keiun Temple in 1896.
9. Onbashira Festival (Apr 2-4 & 8-10, May 3-5 & 14-16, Nagano)
Believe it or not, the Onbashira Festival happens only every six years, in the Chinese zodiac years of the Monkey and the Tiger—and 2016 happens to be a festival year!

This event, part of the symbolic renewal of Suwa Taisha Shrine, has taken place uninterrupted for the past 1,200 years. During the first half of the festival, 16 huge logs measuring 16 meters (52 ft) long and 1 meter (3.3 ft) wide are cut down from the mountains and brought down, by hand, to the shine's four complexes. They call this Yamadashi, or "coming out of the mountains." And in case you're wondering, these logs weight in at up to 12 tons!

If you're a local you can participate in the Ki-otoshi, the sliding of the logs down steep hills—with people on top!—and Kawa-goshi, their crossing over the river. These practices are extremely dangerous, regularly causing injuries and sometimes even deaths.

The second part of the event (actually happening weeks later in May) is called Satobiki, where the logs are planted into the ground at each of the four corners of each shrine complex and raised by hand, with members of the team riding the log as it rises to a vertical position.

The upper and lower parts of the four-part shrine celebrate their Onbashira on separate dates, hence the somewhat complex schedule above. While the Yamadashi is already over, the two phases of the Satobiki are just about to begin!
10. Kurayami Matsuri (April 30-May 6, Tokyo)
At the center of Fuchu City is one of Tokyo's oldest shrines, Okunitama Shrine—home to the annual Kurayami (darkness) Festival. The highlight of the week-long event comes on the evening of May 5, when eight mikoshi (portable shrines) emerge from the main shrine to the beat of some of Japan's biggest taiko drums, starting with a burst of fireworks at 6 p.m.