5 Instagram-Worthy Castles for Every Season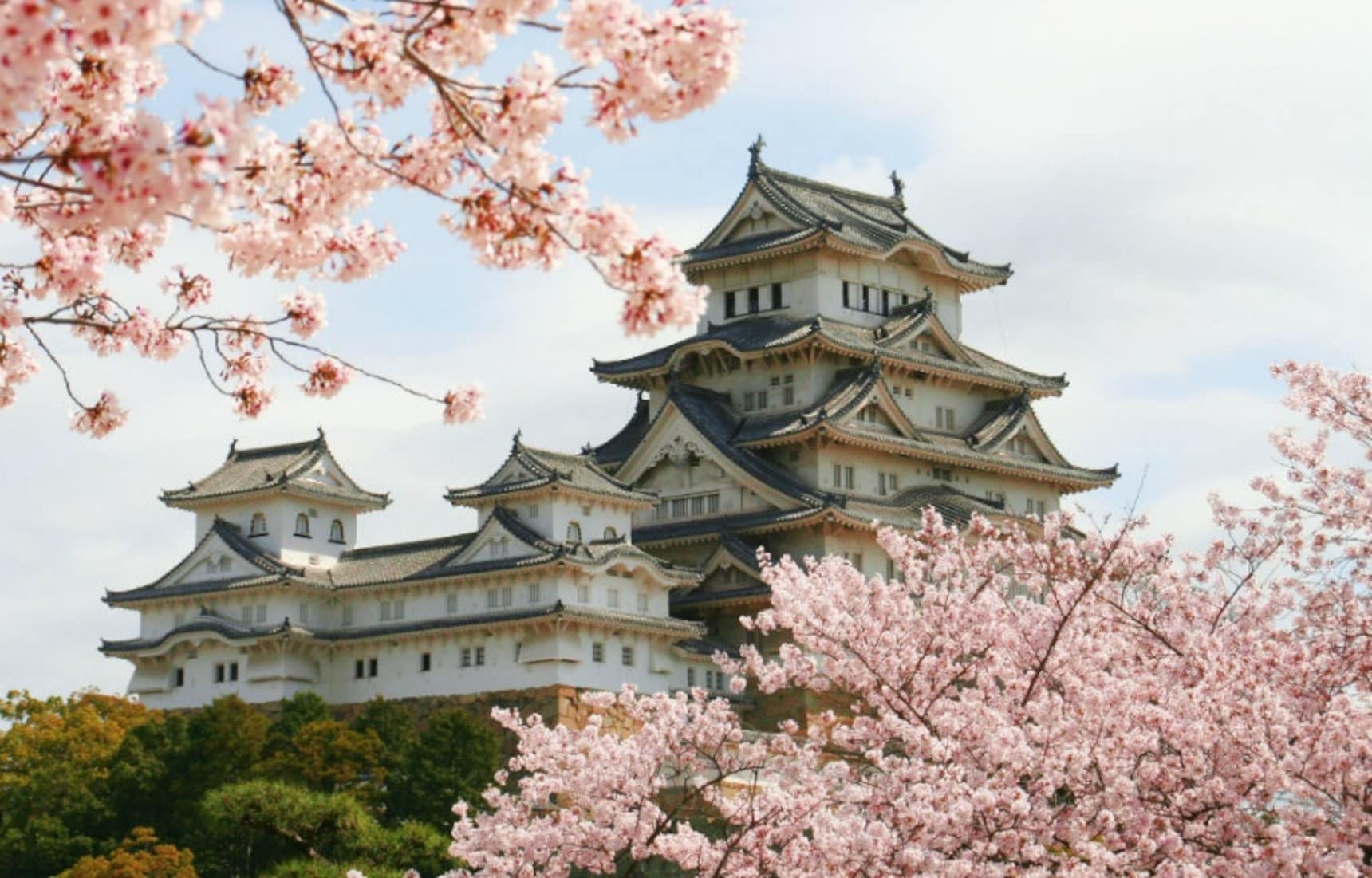 5. Himeji Castle in Spring (Hyogo)
Visiting a castle during spring isn't something to miss out on! Registered as a UNESCO World Heritage site, Himeji Castle is also called White Heron Castle for its brilliant white roofs and exterior that resemble a bird taking flight. While there are over 300 castles throughout Japan, Himeji is the most visited, and for good reason—it's magnificent.

While Himeji Castle is stunning year-round, it's well worth your time to visit in spring. Every hanami (cherry blossom viewing) season, the people of Hyogo host the Himeji Castle Cherry Blossom Viewing Fair, complete with a drum performance. And because sakura (cherry blossoms) make everything beautiful, the blossoms, together with the backdrop of a beautiful castle, make the view storybook-perfect.

Adjacent to this 17th century castle are a Japanese garden (Koko-en) and the Hyogo Prefectural Museum of History. Also nearby is Mount Shosha, where the 1,000-year-old temple complex of Engyo-ji Temple stands—the same area where scenes from the movie The Last Samurai was filmed.

Entry Fees:
¥1,000 for Himeji Castle (¥300 for children)
¥1,040 for Himeji Castle & Koko-en Garden (¥360 for children)

Getting to Himeji:
• From Tokyo Station, take the Tokaido-Sanyo Shinkansen to Himeji Station (¥16,160, about US$143)
• From Osaka Station, take the special rapid service train of the JR Sanyo Line to Himeji Station (¥1,490, about US$13)
4. Inuyama Castle in Summer (Aichi)
Summer begins hanabi (fireworks) season in Japan, and the best views of flashy firework displays are usually on the beach or near rivers.

Inuyama Castle happens to sit on the banks of the Kiso River, so visitors can take their time exploring the castle grounds in late afternoon and then enjoy colorful explosions in the sky—with the strikingly lit castle nearby—under darkness a little while later.

The oldest extant fortress in Japan (though not the oldest castle keep, a distinction that goes to Maruoka Castle), Inuyama Castle was first built in 1440, then expanded into its current form in 1537. Compared to other castles, however, it's not very big, and it was the only privately owned castle in Japan until it was seized by the Meiji Government in 1872. It was returned to the Naruse family in 1895, with the condition that the family finance and oversee its restoration since it was badly damaged by an earthquake in 1891. In 2004, the castle's ownership was passed to an incorporated foundation (which was still headed by the Naruse family), but this became a public interest incorporated foundation in 2013.

Entry Fee:
¥550 (¥100 for children)

Getting to Inuyama:
• From Tokyo Station, take the Tokaido-Sanyo Shinkansen to Nagoya Station, then from Nagoya's Meitetsu-Nagoya Station take the train to Inuyama Station (¥12,050, about US$107)
• From Osaka's Shin-Osaka Station, take the Tokaido-Sanyo Shinakansen to Nagoya Station, then from Nagoya's Meitetsu-Nagoya Station take the train to Inuyama Station (¥7,310, about US$63)
• There are also cheap night buses from Tokyo to Nagoya for only ¥2,400 one-way (roughly US$21). Then, from Meitetsu-Nagoya Station to Inuyama Station, a local train is ¥600 (¥960 for Limited Express)
3. Osaka Castle in Autumn (Osaka)
If red and gold leaves aren't flashy enough for photos on their own, why not add a castle to your composition? Osaka Castle is a top travel destination for visitors to Osaka, but this majestic castle is more than just a beautiful landmark.

Built in 1583, this castle has endured a lot of history. It was established by Toyotomi Hideyoshi, the second of the three great warlords who unified Japan, and passed to his son, Toyotomi Hideyori, upon his death in 1598. However, Tokugawa Ieyasu took control of the nation the Toyotomi had unified, and he solidified his position by defeating Hideyori at the epic Siege of Osaka. This took place in two stages, first from November of 1614 to January 1615—after which a brief truce was signed—and then again in the summer of 1615, concluding with Hideyori committing ritual suicide as the castle was overwhelmed. The second Tokugawa shogun, Hidetada, oversaw the castle's redesign and reconstruction in 1620, and almost nothing of the Toyotomi's original design now remains.

Beyond this, Osaka Castle suffered a lightning-caused explosion in 1660, the main tower burned down after a lightning strike in 1665, and the whole thing was finally burned to the ground by imperial loyalists during the Meiji Restoration in 1868. The main tower was restored in 1931, but damaged in bombing during World War II.

In 1997, after two years of government-initiated restoration work, the keep was reconstructed once more, this time with its interior designed as a functioning museum, complete with elevators and multimedia displays of its storied history.

Entry Fees:
¥600 (children free)

Getting to Osaka Castle:
• From Tokyo Station, take the Tokaido-Sanyo Shinkansen to Shin-Osaka Station (¥14,450, about US$130; much cheaper night buses are also an option)
• From Shin-Osaka Station, take the Tokaido-Sanyo Line to Osaka Station, then take the Osaka Loop Line to Osakajo-koen Station (¥180, but included in the Shinkansen fare if you come from Tokyo)
2. Matsumoto Castle in Winter (Nagano)
Built in its current form between 1590 and about 1594 by a father and son of the Ishikawa samurai clan, this castle was originally called Fukashi Castle in when it was first established as a fort in 1504.

The Tokugawa Shogunate later established the Matsumoto domain with this as the central fortress. Until the Meiji Restoration in the late 1860s, the castle was ruled by 23 different Matsumoto lords.

Recognized as one of the five castle National Treasures of Japan, this historic castle in Nagano Prefecture is a predominantly black structure, which has given it the nickname Crow Castle. In winter, snowfall highlights the exterior shades of white and the contrast of black and white makes the castle a gorgeous subject for photography.

Be sure to visit this place with socks on, as visitors are required to take off their shoes as they explore the wooden castle, and it can be quite drafty. If you're lucky and the weather is nice, you may even spot a newlywed couple taking their wedding photos in traditional costume near the moat by the main gate!

Entry Fees:
¥610 (¥300 for children)

Getting to Matsumoto:
• From Tokyo's Shinjuku Station, take the Chuo Line Limited Express to Matsumoto Station (¥6,900, about US$54)
• From Shin-Osaka Station, take the Tokaido-Sanyo Shinkansen to Nagoya, then change to the Limited Express Shinano (¥10,810, about US$97; you can also take the Limited Express Shinano straight from Osaka for ¥8,210)
1. Imperial Palace at New Year's (Tokyo)
New Year's may not technically be one of the four seasons, but look at it this way: isn't the New Year the beginning of another cycle of all four seasons?

This must-visit spot for first-timers in Tokyo is, in fact, the residence of the emperor of Japan. It's the repurposed remains of the former Edo Castle, a flatland castle that was itself first built in 1457, but vastly expanded when Edo became the center of Tokugawa rule in the Edo Period (1603-1868).

The Imperial Palace makes it onto the list because it's highly photogenic from both the outside and inside, especially if you schedule your visit on January 2.
This is one of only two times annually when the emperor opens the inner gates of the palace and greets the cheering crowds (the other is for his birthday on December 23).

Entry Fees:
Absolutely free!

Getting to the Imperial Palace:
• From Otemachi Station, it's a 5-minute walk from Exit C13a or C13b
• From Shin-Osaka Station, take the Tokaido-Sanyo Shinkansen to Tokyo Station (¥14,650, about US$132); the Imperial Palace is a 20-minute walk from the Marunouchi Central Exit