5 Japanese Potato Chips You Have to Try!
Japan may have arrived a little late to the potato chip game, but some of its homegrown flavors are simply to die for and practically impossible to find outside Japan. Now, let's get started naming off some of those tantalizing flavors, so you can pack enough of them to share with friends when you fly back home—or gorge on them by yourself.
5. Nori Shio (Seaweed & Salt)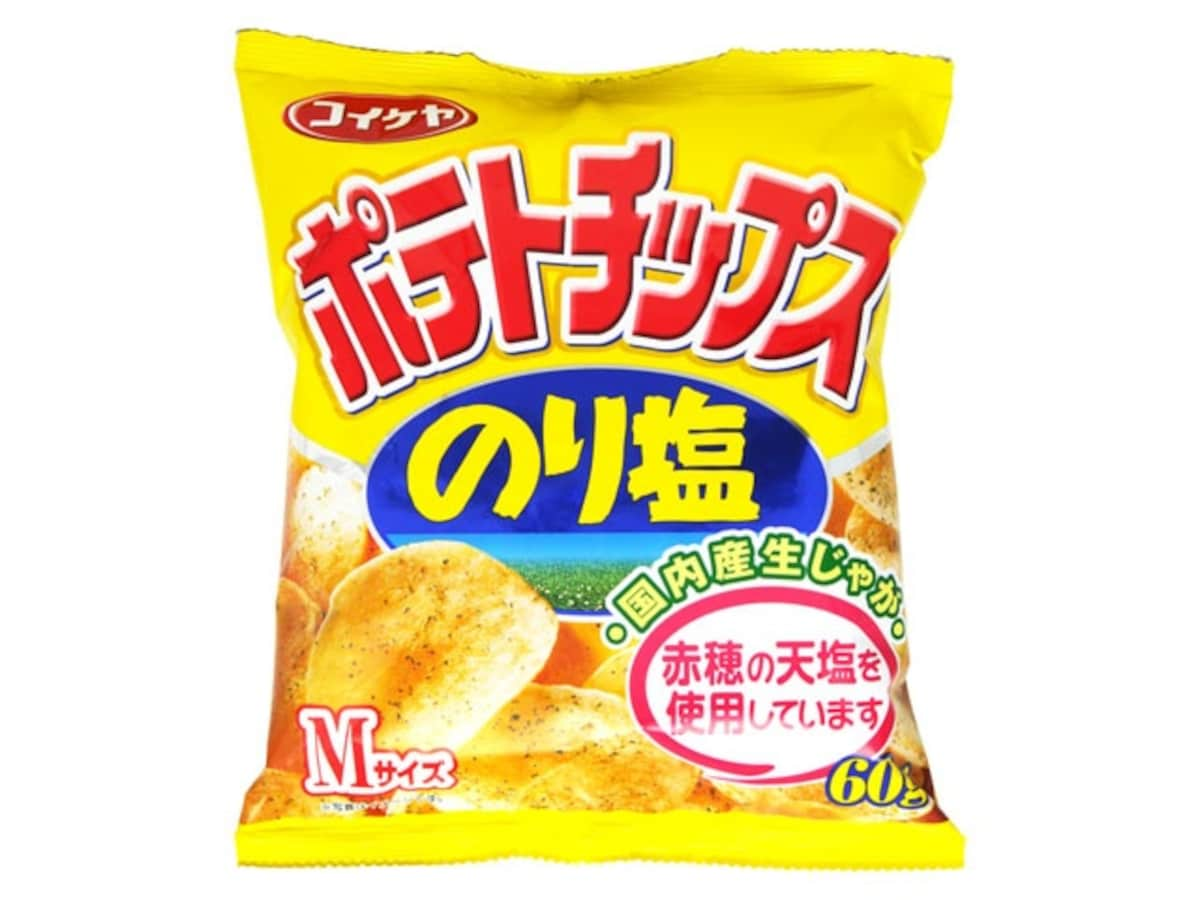 You'll know nori (also known as Japanese seaweed) as the stuff that wraps onigiri rice-balls or floats in strips in bowls of ramen. Water thin, green, and crisp until the moment a drop of moisture comes within three feet of it, nori is strangely moreish, even if it does have a habit of sticking to your lips and the roof of your mouth. It might not sound like the most obvious choice for a potato chip flavor, but nori, combined with a little bit of salt, is simply divine, and it gives your bog-standard potato chip that little bit of extra tang without ever being overbearing. It also provides the chips with a strangely alluring green hue, allowing you to convince yourself that you're eating something slightly classy as you thrust them, one fistful at a time, into your mouth.
4. Shoyu Mayo (Soy Sauce & Mayo)
While this one may sound quite unpleasant on paper (especially for our North American readers who seem to struggle the most with Japan's fondness for mayonnaise), the salty goodness of a thick-cut potato chip, soy sauce and mayo is a winning combination. Wonderfully salty yet pleasantly rich and creamy all at once, these things go down well with both beer and soft drinks. You'll be hooked from the first bite!
3. Jagariko (Assorted Flavors)
We're going slightly off-piste for a moment here, since we're technically endorsing a whole brand rather than an individual flavor (and, yes, stick-shaped potato snacks like these can be found in other countries), but Calbee's Jagariko really are in a league of their own. With their wonderful texture, cut to the perfect thickness, and with an assortment of strange-sounding (salad with carrot and parsley, anyone?) yet genuinely delicious flavors to try, Jagariko is both palatable and surprisingly filling. And you'd better believe that Calbee takes its recipe incredibly seriously! Jagariko come in little cups about a quarter of the length of a Pringles tube, each containing just enough sticks to share with a friend, but they're best eaten as noisily as possible at home alone.
2. 'Mentaiko' (Spiced Cod Roe)
Whether you're talking about chips, onigiri, or even spaghetti, mentaiko is one of Japan's finest savory creations (technically it comes from Korea, but mentaiko tastes quite different in Japan). It doesn't smell or taste fishy in the slightest, and the combination of natural salts and added spice work in perfect harmony to create a rich, but not overbearing, flavor. Slap it on a quality potato chip like one from Calbee, or fellow chip-giant Koikeya, and you're in for a real treat. Trust us—if you're a true potato chip fiend, then you need to put all thoughts of fish eggs out of your mind and get these in your mouth, pronto.