Kanazawa: Traditional Scenes Among the Sakura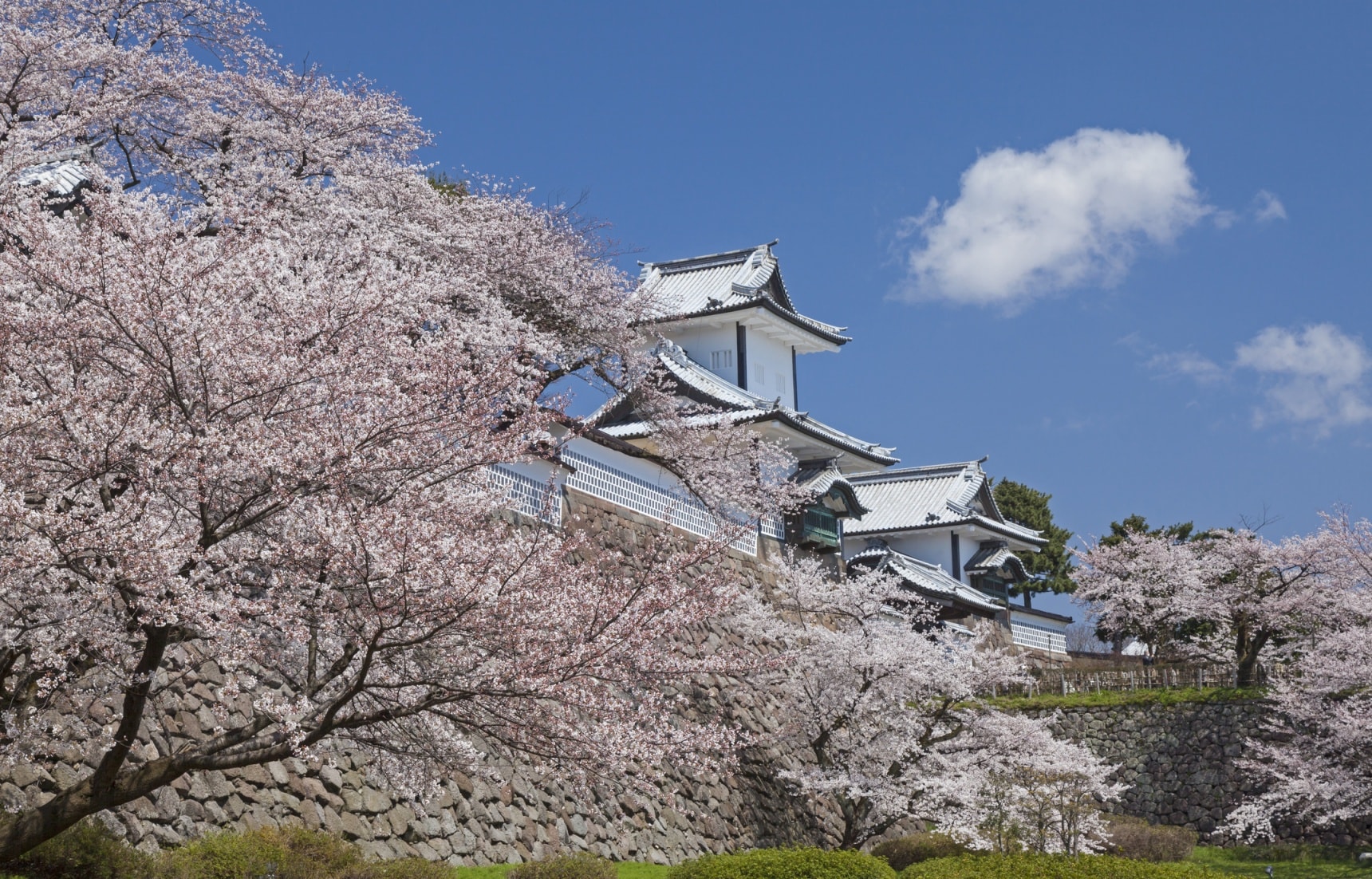 1. Kenrokuen Garden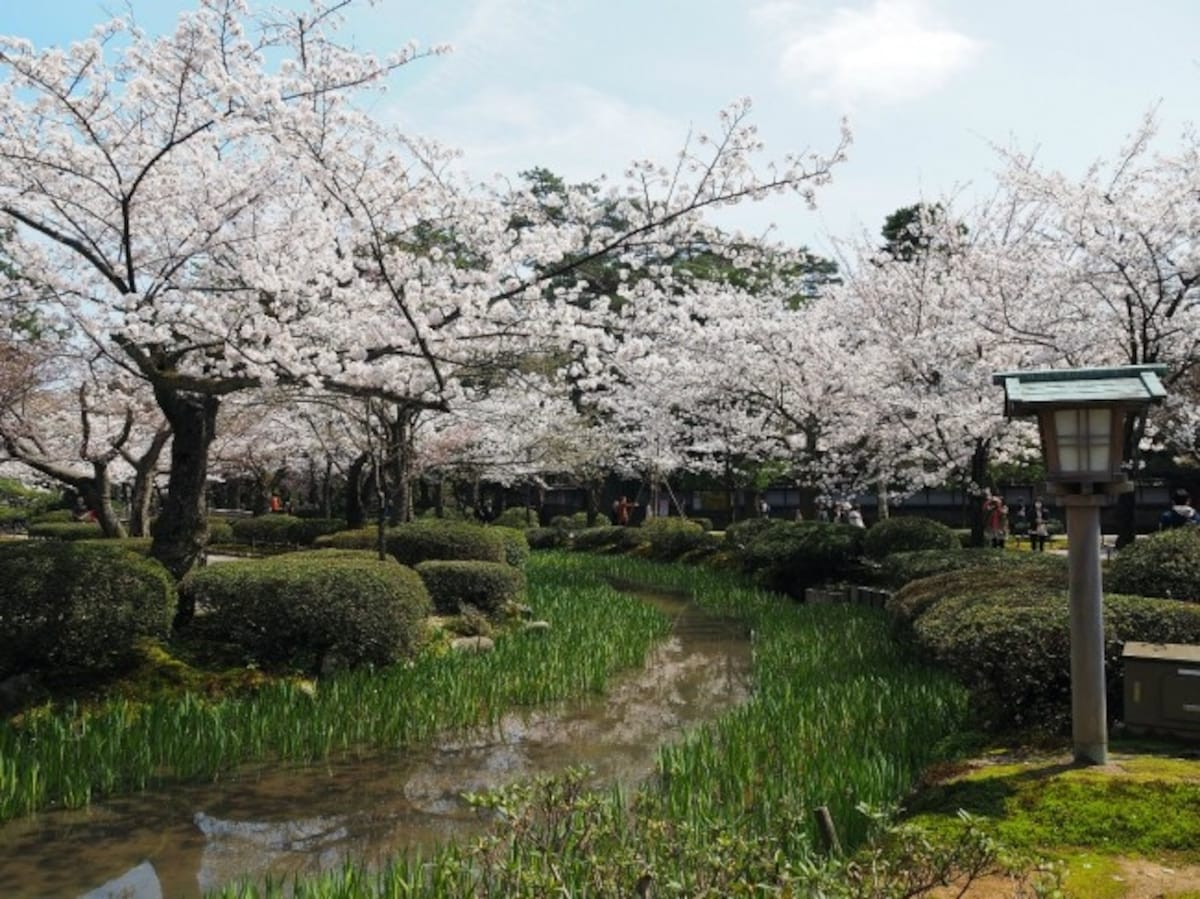 Kenrokuen garden is one of the premier hanami—or cherry blossom viewing—spots of Kanazawa. The garden is also hailed as one of the Three Great Gardens of Japan, and is recognized among the nation's top 100 places to view cherry blossoms.

Formerly the garden of Kanazawa Castle, Kenrokuen boasts some 420 cherry trees, or sakura, ranging from the classic Somei Yoshino to other, lesser-known, but equally beautiful species such as Higan, Shiogama, Fugenzo and Ukon. The 40 different species represented on the grounds include some extremely rare varieties all but exclusive to Kenrokuen, including the Kenrokuen Kiku-zakura and Kenrokuen Kumagai-zakura. When all these trees are in full bloom—generally during the first two weeks of April—visitors can only gasp as they marvel at their beauty.

The garden can be enjoyed free of charge during cherry blossom season (regular admission ¥300). Lit up during this time from 6 p.m. to 9:30 p.m., visitors can also enjoy yozakura, or night sakura. Illuminated by both the soft glow of the moon and gentle artificial lights, the yozakura quickly transport visitors into a fairytale-like setting.
2. Kanazawa Castle
Across the Ishikawa Bridge from Kenrokuen, Kanazawa Castle Park is another popular hanami spot. Over 400 individual trees line the grounds, representing species such as Somei Yoshino, Yama-zakura, Koshino Higan, Oyama-zakura, Kasumi-zakura and Oshimazakura. The diversity highlights the vibrant color of each individual tree, which, combined with the backdrop of the castle, gives off the illusion of stepping back into a vivid, feudal time in Japan's history.

For an unforgettable view, visit Kanazawa Castle's Ishikawamon Gate, recognized by the Japanese government as an Important Cultural Property. The billowing, vibrant pink sakura petals before the immaculate white castle walls will surely take your breath away. The road leading up to the gate is lined with cherry trees, and turning around upon approaching the gate will reveal a path of solid pink.

There are various other hanami spots on the grounds, but the cream of the crop is unarguably along the outer moat. Cherry trees line the area all the way from the Gojikken Nagaya (a restored 90-yard-long warehouse) to the Ninomaru Square in the second bailey. Paired with the castle's beautiful architecture, the sakura cascading over the water form a timeless, classic view beloved by visitors throughout the years.
3. Kazuemachi Chayagai
Another renowned location for hanami in Kanazawa is the Kazuemachi Chayagai, located adjacent to the Asanogawa River. This teahouse-filled neighborhood is a treasure trove of wooden shutters and traditional architecture, featuring small alleyways interspersed with cherry trees. Come nightfall, gas lamps are lit throughout the area, illuminating the sakura with a soft glow, further accentuating their gentle beauty. Visitors couldn't ask for a more picturesque area for a leisurely stroll.