3 Breathtaking Cherry Blossom Spots in Toyama
In the center of the Hokuriku region lies Toyama Prefecture, awaiting you with natural beauty, traditional festivals and delicious cuisine. In spring, blooming sakura (cherry trees) draw visitors from across Japan. We have three fabulous viewing spots to make the best of your cherry blossom viewing season!
1. Funakawa River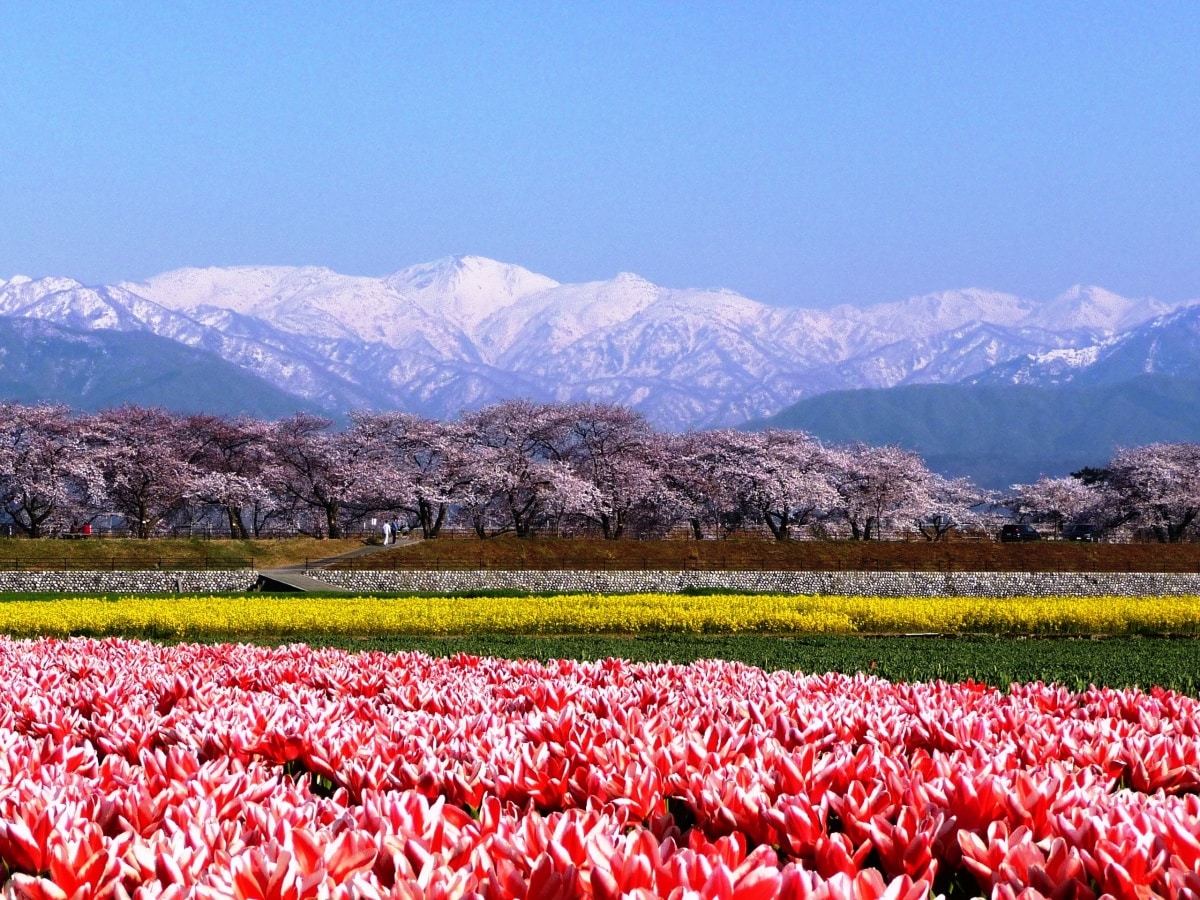 The first sakura viewing spot is along the bank of Funakawa River (舟川) in the town of Asahi, which is located in the eastern part of Toyama.

About 250 cherry trees line the riverbank and create a flowering tunnel you can walk through as you marvel at the splash of spring colors around you. We also recommend viewing them while looking back toward the river; you'll see the landscape transformed into a real-life painting with the snow-covered Northern Japan Alps framing the blooming sakura and tulips near the river.

If you want to see this gorgeous sight, you'll need to head to Tomari Station on the Ainokaze Toyama Railway. From the station, a taxi to the Funakawa River will take about 10 minutes.
2. Matsukawa River
The next hanami, or "flower viewing," spot is the Matsukawa River (松川), which snakes through the central district of Toyama City, the capital of Toyama Prefecture.

Roughly 500 cherry trees burst into bloom every year along the riverbank flanking the north side of Toyama Castle Park. They, along with an outdoor sculpture garden to entertain passersby, have helped earn the Matsukawa River a nod as one of Japan's Top 100 Cherry Blossom Viewing Sites. A few leisure boats also offer river cruises for a relaxing voyage through the sakura.

If you want to experience the beauty of the area, arrive at Toyama Station (we recommend using the Hokuriku Shinkansen), and from there a 10-minute walk takes you to the Matsukawa River.
3. Takaoka Kojo Park
Our last recommendation is for Takaoka Kojo Park (高岡古城公園・Takaoka Kojo Koen), sometimes referred to as Takaoka Castle Park. It's located in the center of Takaoka City, the second largest city of Toyama Prefecture. Maeda Toshinaga, a feudal lord of this region, built a castle in the area in 1609, thus officially founding the city of Takaoka. The castle, however, was decommissioned in 1615, and the former grounds are now a public park that's popular with local families, joggers, and anyone looking for a little entertainment outside.

Approximately 1,800 cherry trees of 18 different varieties await hanami enthusiasts in spring. Throngs of sakura lovers flock to the park in droves; as the park is very large, you needn't worry about arriving early to reserve your space. Takaoka Kojo Park is also designated as one of Japan's Top 100 Cherry Blossom Spots.

To get to the park, use the Ainokaze Toyama Railway to arrive at Takaoka Station. The park is about 15 minutes away on foot.