4 Japanese Wines from The Wonder 500™
4. Koshu Awashi Murasaki: Wine Made from Koshu Grapes (Tokyo)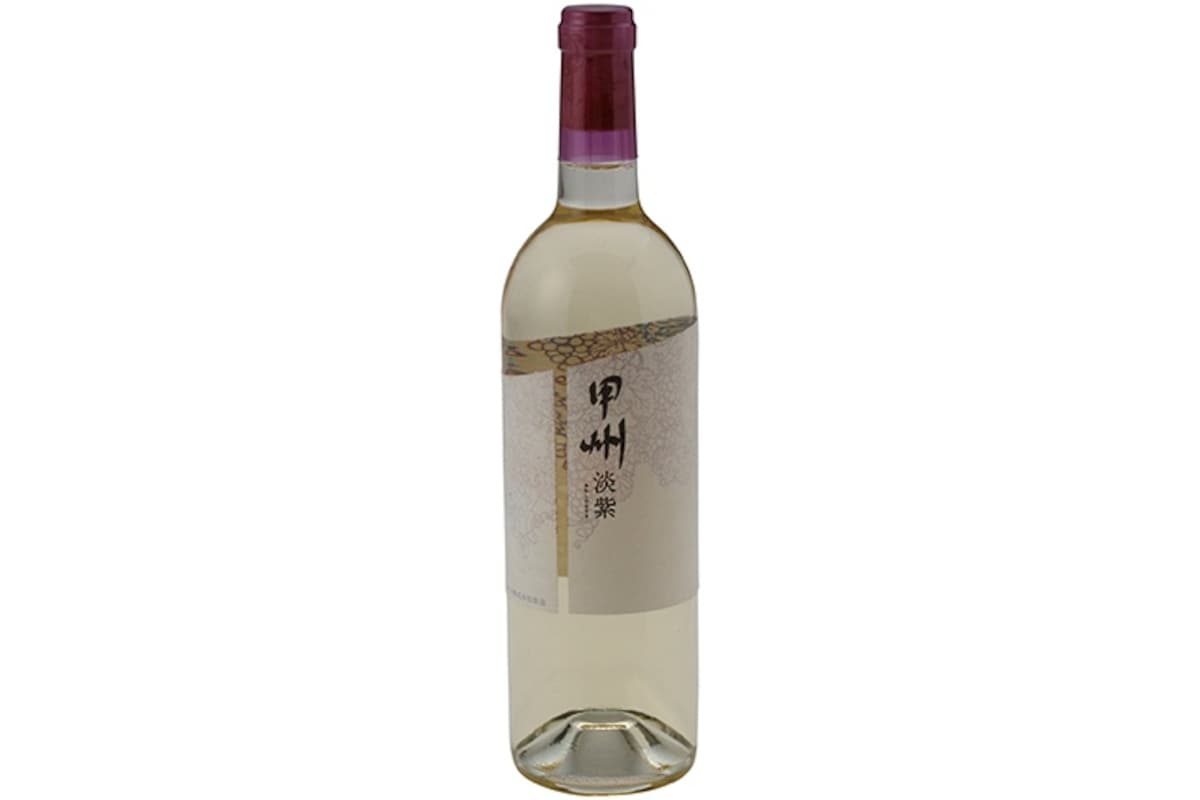 This wine has the refreshing citrus fragrance of Koshu, a unique Japanese white wine grape variety that is said to have been cultivated in Japan for more than 1,000 years, with a deep flavor derived from the fruit's skin. With iris, a noble color that has been cherished from olden times, as the base color, the label is made from Japanese paper and, in an expression of Japanese refinement, shows on the reverse side a faint picture of a turtle swimming in a vineyard. This Japanese wine matches Japanese cuisine in flavor as well as elegance.

Koshu Awashi Murasaki's unique astringency and moderate flavor are important elements of the taste sensibility of Japanese cuisine. They bring out the flavor of the ingredients and nicely complement a Japanese meal. The manufacturer's desire to take Koshu Wine to a world-class level is expressed in the personality of the wine.
3. Wine Venus Sakurazawa Chardonnay (Yamanashi)
The Okunota Budoshu Jozo domaine-style winery in the city of Koshu, Yamanashi Prefecture is a complete operation that cultivates grapes and brews wine. The wine produced with Chardonnay grapes from their own vineyard is complex, woven with a comfortable sourness, a rich, fruity flavor, and a tinge of bitterness. The deep flavor produced by the terroir has world-class personality.

The soil of Yamanashi, a leading producer of Japanese wines, is the very reason that Yamanashi wine will continue to gain in prominence. Now, Yamanashi is working to project its system of support for young winemakers to all regions across the country. With young winemakers being particularly capable of bringing the power of IT to quality management, this is one winery to keep an eye on.
2. Tomi no Oka Koshu: Wine Made from Koshu Grapes (Tokyo)
The late Shinjiro Torii, founder of Suntory, was one of the pioneers who brought the culture of wine to Japan. His first product, launched in the distant 1907, was the Akadama Port Wine. Its sweet flavor tailored to the tastes of Japanese consumers and the fresh and unconventional poster of the product immensely impressed the public.

Tomi Farm, on the other hand, is the forerunner of modern wineries in Japan. Established in 1909, it was eventually taken over by Kotobuki-ya, the predecessor of Suntory. For many years, the Japanese wine industry advanced by cultivating foreign grape varieties and learning from Western wine producers. Tomi No Oka Koshu, however, is made using only Koshu grapes. Tomi No Oka Koshu is an exquisite Japanese wine which boasts a fresh fragrance with a touch of citrus and mild and well-balanced acidity.
1. Takeda Winery Sans Soufre Shiro: Sparkling Wine (Yamagata)
Takeda Winery's in-house farm carries out integrated grape cultivation, harvest, distilling, fermenting, and shipping. In 1989, it succeeded in creating the pioneer champagne in Japan, and in 2007 released Takeda Winery Sans Soufre, a wine made to sparkle inside the bottle without using sulfur dioxide. The sweet refreshing flavor has been praised by many sommeliers.

It was not an easy road however. Takeda Winery has met each hardship with a return to the fundamentals, faithfully and sincerely refining both the flavor of the wine and its distilling technique. This winery takes no shortcuts—it achieved organic soil treatment over a 20-year period without reliance on soil replacement or chemical fertilizers. All grapes are picked by hand and carefully screened for unripe and diseased bunches.