Bathroom Beauty: Soaps & Towels
6. Color Towels (Tokyo)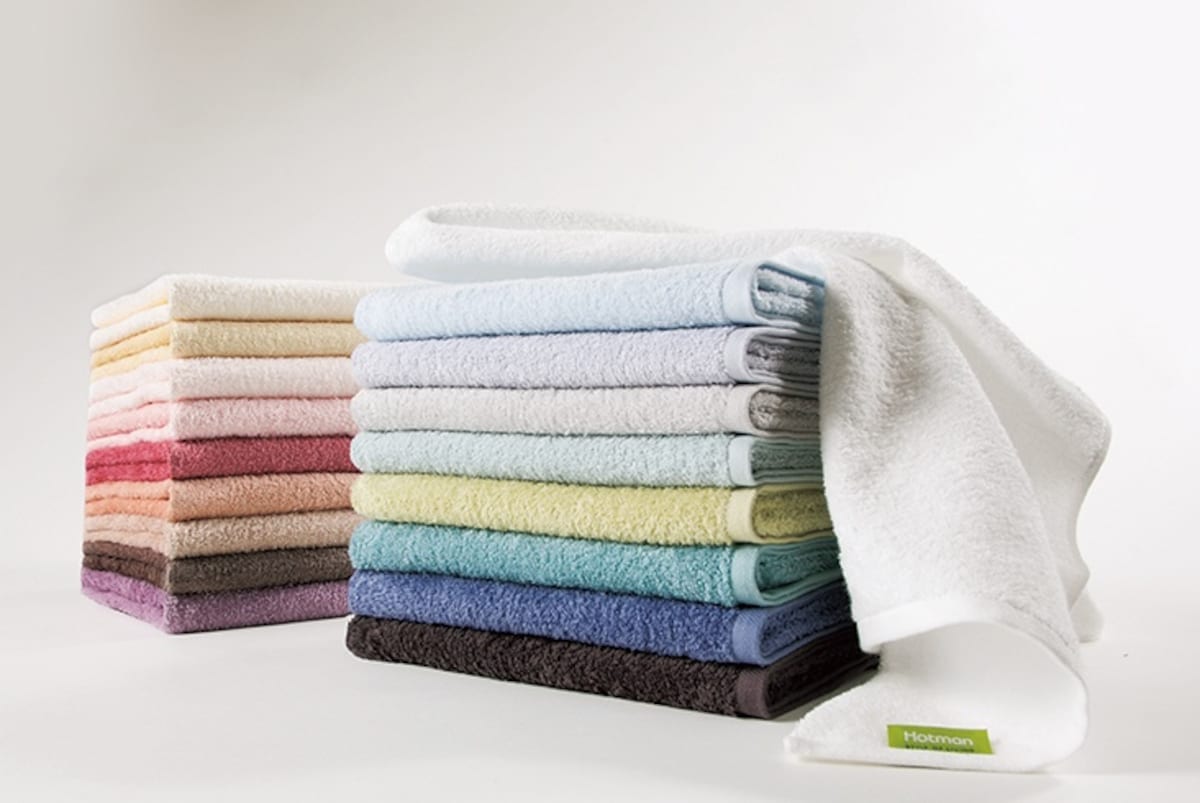 The name Ichibyo Towel means "one second towel," and refers to the fact that it is so absorbent that a 1-centimeter square dropped into water will begin to sink within one second. This astonishing absorbency was achieved by washing the towel in high-quality ground water for as much as four to five hours to thoroughly wash away impurities and oils.

In addition, super-long-staple cotton, the highest grade of cotton, was carefully selected, and original thread used and meticulously woven to achieve the absolute highest quality towel. This outstanding towel is the product of knowledge and techniques passed on since 1868 in the city of Ome, Tokyo—the home of textiles made by the silk products industry for more than 300 years. Be sure to try this comfortable towel, which combines the Western culture of the towel with the delicate sensitivity and techniques of Japan.
5. Isoemon Savon Soaps (Kanagawa)
Yokohama is a city that has produced many "Japan's firsts." It is also the birthplace of Japan's domestic soap production. Isoemon Sekken, Japan's first domestic soap, was produced in Yokohama by Tsutsumi Isoemon. Isoemon Savon is a faithful reproduction of that soap.

Made using the actual metal molds used at the time, which were kept at a museum, the soap package has a label printed off of a soap label owned by a descendent of Isoemon. The face of the soap bears a relief said to be designed by Isoemon himself. The meticulous and beautiful design exudes a truly Japanese sensitivity. While vegetable oil is the predominant ingredient in soap the world over, this product sticks to using traditional domestic beef tallow and is made with care in a large cauldron through a slow chemical reaction.
4. Senshu Select Towels (Osaka)
In Senshu (the old name for southern Osaka), the birthplace of Japanese towels, the ato-zarashi technique of exposing the towel to water after the weaving process is a traditional method that has been handed down from olden times. The manufacturing method makes use of the abundant water sources of the Izumi Mountains. Bleaching, dying, and rinsing the glue and wax added to cotton yarn out of the fabric creates highly water-absorbent towels that have a special feel that's more than just soft.

The Senshu Kodawari Towel Takumi is a high-class towel created by Bankyu Towel, a Senshu towel manufacturer that has been in business 112 years. It realizes the quick absorbency of cotton and has cleared the demanding absorption criteria of the Towel Grade Conference. Containing virtually no chemicals and gentle to a baby's skin, the towels have a wide range of uses and are available in 13 color variations. Light and highly absorbent, they represent the best in Japanese towels.
3. Aizome Sekken: Indigo-Dyed Soaps (Kagawa)
Aizome Sekken is handmade soap that contains natural indigo extract from Tokushima, which has a history of producing indigo for over 400 years. The indigo was cultivated entirely without agrochemicals in the gardens at Aiiro Koubou Co., Ltd. Manufacturing utilizes the traditional cold process, and since the ingredients are not boiled, the components in the plant materials remain intact.

In addition, the soaps are dried naturally over a two-month period in the dry air particular to the Setouchi area. These soaps are free of any chemical substances such as chemical preservatives or synthetic surfactants, and are gentle to the body. They are colored with indigo, a traditional color that has adorned the living environment in Japan and been loved by the Japanese people since prehistoric times.

These beautiful soaps, made with traditional aizome indigo dyeing techniques, repsesent the vast potential of indigo, which goes even beyond the dyeing industry.
2. Konnyaku Facial Cleansing Sponges (Gunma)
Long served on Japanese dinner tables, konnyaku, a jelly-like food made from starch of konnyaku root, is popular as a health food as it's a rich source of dietary fiber. But for over 120 years now, konnyaku sponges have been made by freeze-drying only this fiber content. Konnyaku sponges are ideal for washing babies, as their delicate skin is protected from abrasions by an aqueous layer that forms around the saturated sponge.

Now, Yamamoto Farm is offering a facial cleansing sponge made from konnyaku, the Wa no Chikara Series, which uses as an ingredient powder made from konnyaku root sourced from Gunma Prefecture, Japan's top konnyaku-producing region. Adding extracts from green tea, Japanese mugwort, cherry leaves and other plant-derived ingredients typical of Japan makes for a natural, pastel-colored palette of sponges that can promise to facilitate beautiful skin, prevent skin roughness and provide other benefits.
1. Silk Skin Care Face Towel/Soap Set (Shimane)
Kibiso is the thread that silkworms first produce when spinning a cocoon. It is the outermost part of the cocoon that protects silkworms from enemies and changes in the environment. Kibiso has excellent moisture retention and contains an abundance of sericin, a substance that is hydrating to the skin. The valuable thread comprises only 4 percent of a single cocoon, but was often thrown away because it is rough, unstable, hard to dye, and above all, difficult to weave.

Yasaka Watabun Art Fabric utilizes hand-weaving techniques cultivated over many years to weave the Kibiso Hada Tomodachi bath towel, which contains sericin that gently interacts with the skin. The towel, made from 100 percent safe, natural materials, is created based on the idea that using every last bit of the materials the silkworms produce is the best way to show appreciation for nature's gifts.