6 Beautiful Japanese Glasses
6. Dessert Cup & Glass (Hokkaido)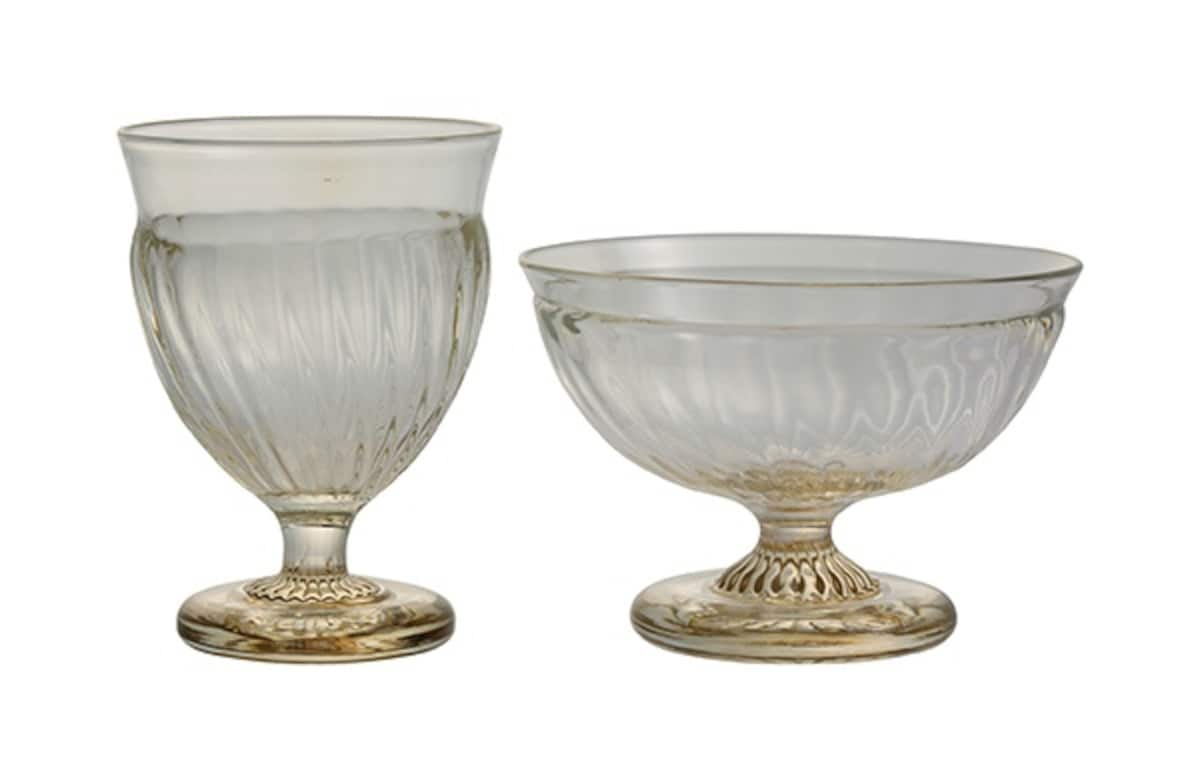 Keiichi Mimata is a third-generation glass-blower, working from the oldest glass workshop in Hokkaido. He creates original blown glass products while still preserving the history of his studio. The delicate and detailed designs give off an aura of romanticism and old-world charm, Mimata's glass works exuding warmth and can be used throughout the seasons.
5. Color Beer Tumblers (Shiga)
These tumblers are crafted by Yukiyasu Azuma, who specializes in traditional Japanese glassblowing methods. Taking a cue from colored gemstones such as tourmaline, gold and topaz, he has created urban pieces that combine chic with ornateness. Each piece is unique, with slight variations in the glass helping give them softness of form, and they have a warmth unique to handcrafted art that cannot be found in industrial products.

That gentle expression is elicited by Azuma's approach to manufacturing that is always mindful of drawing out the character of the glass, and a delicate sensitivity that impresses with nature's transformative quality. The blown glass has a beauty that excites the spirit, turning even the simple act of drinking water into a delightful experience. While simple, the glass tumblers enrich the table setting.
4. The Deformed Polygon Glass (Tokyo)
This original glass piece is blown as thin as an eggshell using a method called Edo Glassing, and was created in 2013 by Yoshinuma Glass Co., Ltd., an Asakusa glass maker established in 1916. Although thin glass making is well known around the world, most of those thin glass products are clear and colorless. This Deformed Polygon Glass has a colored bottom, giving water in the glass the unique appearance of also being tinted.

Also owing to its polygonal asymmetrical shape, its beauty is reminiscent of a natural crystal: delicate but at the same time giving off a sense of warmth and freshness. It comes in a variety of sizes and colors, and in addition to its use as a drinking glass it also makes a great, fashionable item for any interior.
3. Yukihana Glass (Fukuoka)
Yukihana Glass is composed of three layers of a glass—one layer of soft glass sandwiched between two layers of heat-resistant hard glass. Due to temperature changes on the outside, over a period of one to 10 years, the inner soft glass takes on fine cracks, developing a pattern akin to scattered snowflakes. Rocks glasses made from Yukihana Glass are not only beautiful, but also have slippery lips hand-made by uncompromising craftspeople. Yukihana Glass is also used in the sleeper cruise train Seven Stars in Kyushu.
2. Kikatsu Series Glass (Tokyo)
Kimura Glass Co., Ltd. is a venerable glass manufactur er established 105 years ago. It develops glass items for professional applications. Its Kikatsu Series embodies Japan's proud traditions in glass technology, further refined and enriched by modern designs. It features ultrathin glasses with exquisite forms and delicate patterns cut in a manner that brings out the natural beauty of glass. Extremely popular and internationally recognized, the Kikatsu Series includes more than 100 hit products. The cutting design does not blindly copy the traditional patterns, but appeals with a playful spirit.
1. Urushito Glass (Iwate)
Urushito Glass is made of a combination of two materials that can only be found in their respective regions—Joboji urushi (lacquer) from Iwate Prefecture and Hagi glass from Yamaguchi Prefecture—and brings out a completely new allure. Joboji is Japan's greatest producer of lacquer. This extremely rare Japanese lacquer is carefully extracted drop by drop and repeatedly applied countless times by the specialist's hand. A simple design that does away with ornamentation, it conveys the warmth of quality lacquer. Hagi glass is pure Japanese glass, from the raw ore to the finished product.

The pale green hue is obtained from melting Hagi quartz basalt, and the workshop's unique uchi-kannyu glass is formed by infusing cracks in the inside, gives an impression of coolness. Since the patterns change over time, lacquer and uchi-kannyu glasses can be enjoyed more deeply the more they're used. These receptacles add enrichment to otherwise casual daily life.