Enjoy these 5 Onsen for ¥100 Or Less
There's nothing more relaxing than taking a long soak in an onsen while basking in the breathtakingly natural beauty around you—which is why outdoor baths, or rotenburo, are simply a must in Japan. Fortunately, you don't have to break your bank for these sublime experiences. But you may have to break out your traveling shoes!
5. Jinata Onsen (Tokyo Islands)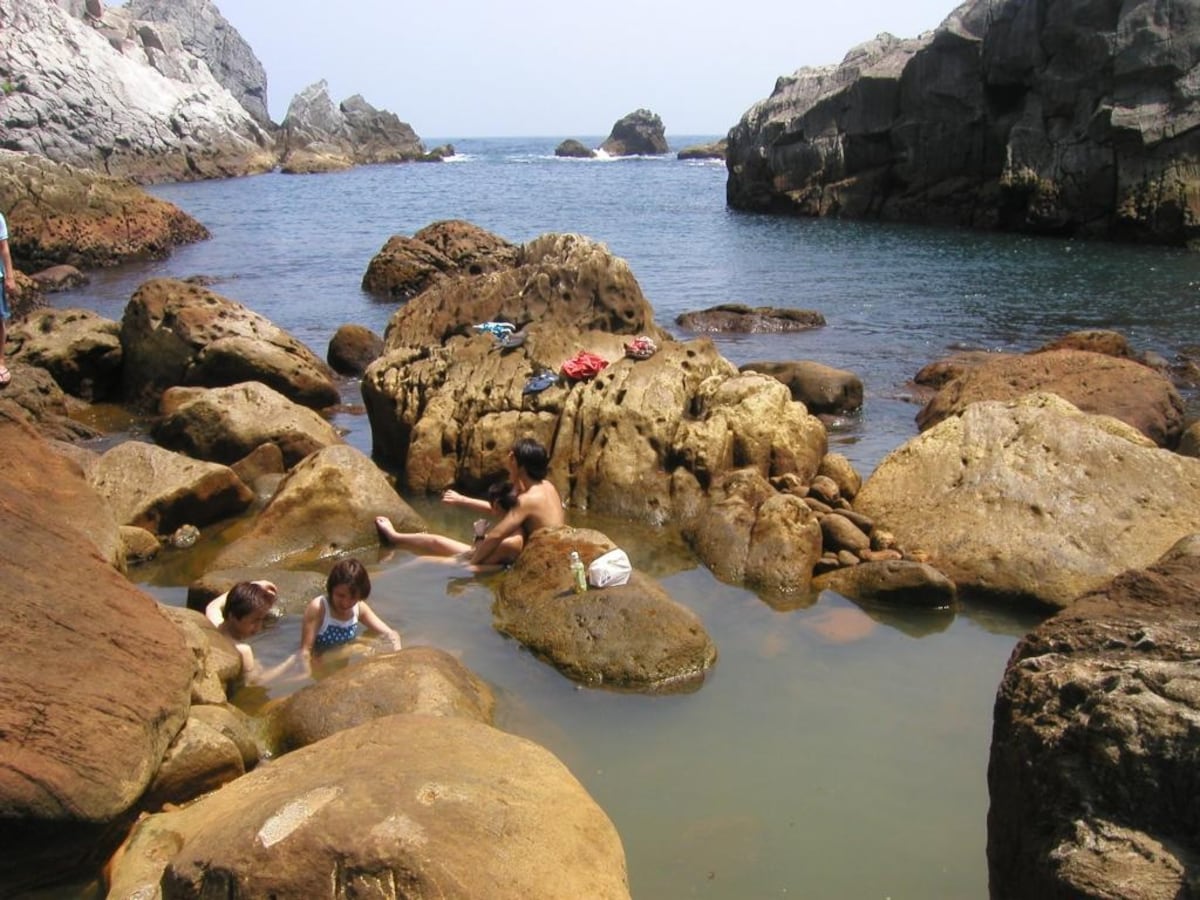 Located roughly 160 kilometers (100 miles) south of Tokyo on the island of Shikine-jima—sister island to the ever-popular Niijima—Jinata Onsen overlooks the sea on one side with a cliff rising above the other. The water in this mixed-gender bath appears a lovely red due to the presence of iron. The extra-hot pool is widely regarded for its supposed healing properties, helping with muscle aches, poor circulation and other physical ailments. Bring your swimsuit and prepare to be rustic—this free natural tub only emerges at low tide.
4. Kuma-no-Yu (Hokkaido)
Kuma-no-Yu is found in the town of Raus, a chilly spot on Hokkaido's Shiretoko Peninsula, recognized by UNESCO as the southernmost point where sea ice forms in the Northern Hemisphere. So a hot spring seems very much in order, and with a name meaning "hot spring for bears," it's not surprising the animals themselves can be seen wandering the surrounding forest from time to time. Kuma-no-Yu's two free onsen are, naturally, entered bare, though the women's bath is surrounded by a wooden fence for modesty purposes. Men apparently don't warrant modesty—and women are even free to join the men's bath if they choose.
3. Kiamonji Hot Spring (Oita)
Located on the east coast of Oita Prefecture on the southern island of Kyushu, a huge volume of hot spring water flows through Beppu City. While the most exciting water can be found in the city's infamous eight "hells," or geothermal hot spots, a little heat is spared for Kaimonji Hot Spring, a simple affair attached to Kaimonji Park. Located just five minutes' walk from Beppu Station, entrance is a mere ¥100—but since you have to pay for everything else, it's a good idea to bring your own soap and towels.
2. Kotan Onsen (Hokkaido)
Located in the town of Teshikaga deep in northeastern Hokkaido, Kotan Onsen sits quietly off the coast of Lake Kussharo, separated from the lake by a rock partition. It's free of charge, and offers mixed-gender bathing (Swimsuit required. Sorry nudists!). Unlike most baths, you don't have to shower before entering, and the feeling of immersing yourself in the extra hot bath contrasts beautifully with the cool lake and surrounding mountains.
1. Hirauchi Kaichu Onsen (Kagoshima)
Called the "underwater hot spring" due to the fact that the baths are only accessible twice daily when the tide is low enough to enter, this mixed-gender onsen rests on the southern face of Yakushima, the beautiful UNESCO-registered island 50 kilometers (31 miles) off the southern tip of Kyushu. The water at Hirauchi Kaiuchi runs a little cooler, and because it mixes so regularly with the ocean, is a bit saltier than other entries on the list—though it heats up the longer you wait after low tide. Don't let the video fool you: this picturesque onsen is normally all-clothes-off, with the ¥100 entry fee dropped in a box on the way in.