8 Things You Don't Know about KIT KAT in Japan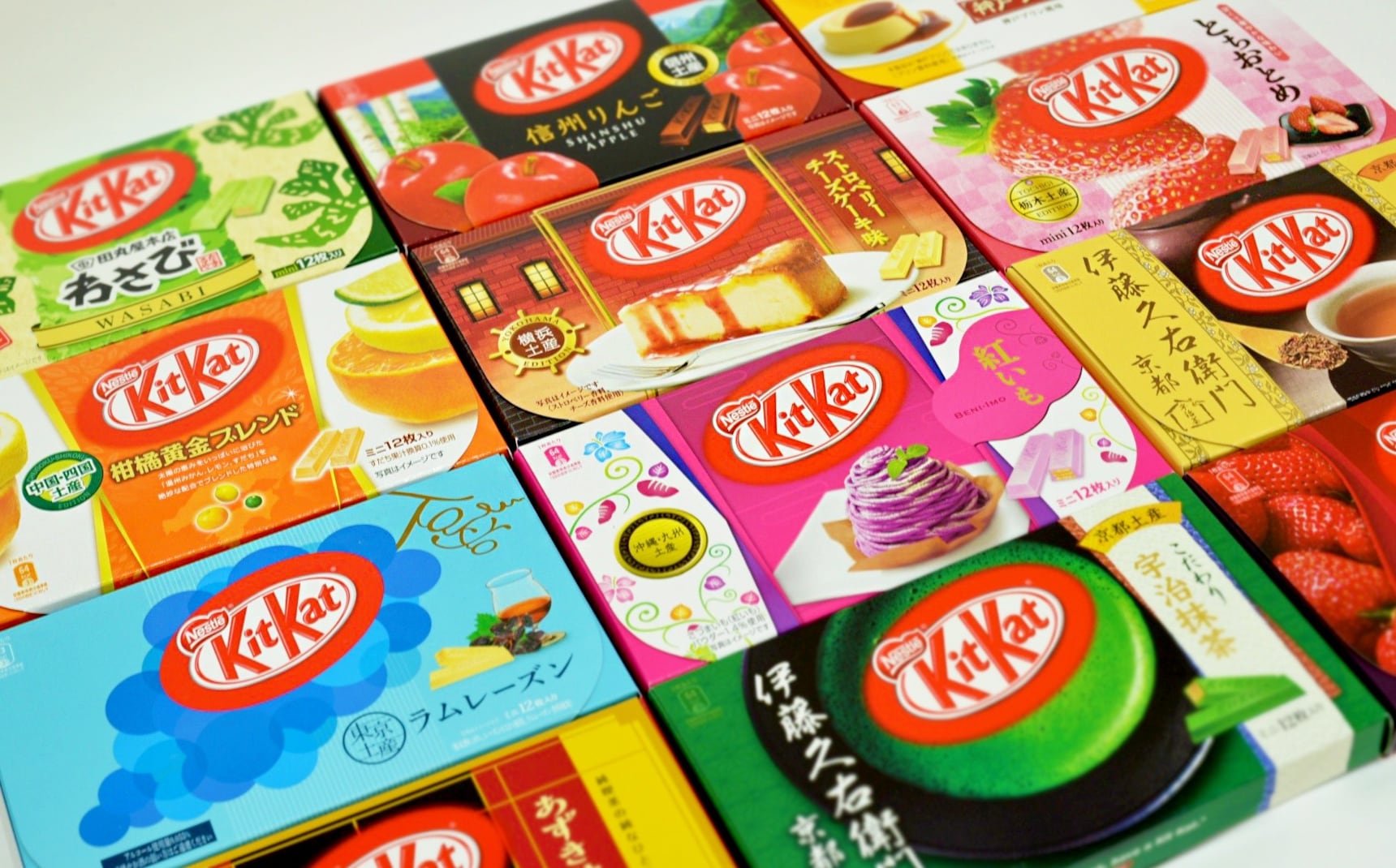 The image of Nestlé's KIT KAT is anchored around that red package shared around the world. But while the KIT KAT is sold worldwide, did you know that it has different flavors in each country? Japan in particular is known for its unique KIT KAT innovations. If you see these, you'll definitely want to try one out!
1. There have been more than 300 varieties of KIT KAT in Japan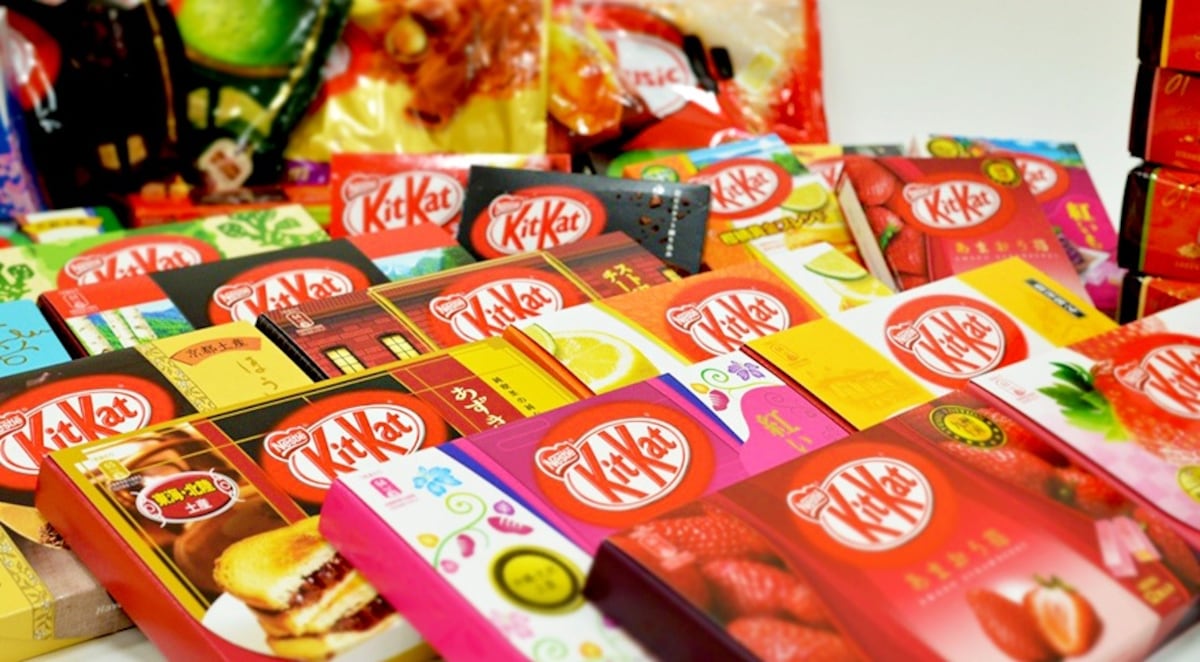 With sales of KIT KAT only starting in 1973, Japan was not especially quick to introduce the confection compared to the rest of the world. However, right now Japan is second only to England, the home of KIT KAT, in worldwide consumption! Do you know how many varieties of KIT KAT there have been in Japan? To date, the varieties of KIT KAT developed in Japan number more than 300!
2. Japan has luxury KIT KAT boutiques
The KIT KAT brand has expanded to over 100 countries and regions, but the world's first KIT KAT Chocolatory shops are to be found in Japanese department stores. These shops are lined with limited-edition products that can only be purchased at these stores and premium KIT KAT products, including reissues. All aspects of these KIT KAT boutique stores were supervised by the owner-chef of Tokyo's Le Patissier Takagi, Mr. Yasumasa Takagi. Mr. Takagi has been involved in the development of KIT KAT in Japan since 2003, and has uncovered a new fascination for the confection through a wide variety of products developed under his supervision. Can't make it to a boutique? KIT KAT Chocolatory products will be available for purchase online starting in 2016!
3. New stores & products aimed at overseas customers
In response to interest from customers overseas, a product combining KIT KAT with sake will be on sale from February 1, 2016—yet another flavor unique to Japan! This unprecedented coupling of chocolate and sake is a first for Nestlé. After taste-testing by a large number of overseas consumers, including Nestlé employees, it seems they've succeeded in making an incredible new flavor!

Also, limited to the three-month period from February 3 to May 9, a gift shop will be open in the area neighboring Narita Airport at Shisui Premium Outlets in Chiba Prefecture. Why not stop by?
4. You can enjoy all of the flavors of Japan with region-specific KIT KATs
The region-specific "Gotochi" KIT KATs recreate the flavors of specialties from all over Japan. Due to the fact that they can only be obtained at gift shops in each of the regions around the country, they're also popular among overseas visitors as presents or souvenirs when traveling. Gotochi KIT KATs not only use the flavors of the region's famous produce, but also have packages decorated with illustrations or photographs representative of the region as well. These cutely packaged KIT KATs make ideal travel mementos!

For example, the flavor for the Nagano (formerly Shinshu) region is that of the Shinshu Apple, grown in the pure water and under the clear skies of Nagano. In Shizuoka, the Izu specialty of wasabi is used for a wasabi flavor! In Kyoto, you can enjoy the Kyoto-exclusive matcha and flavor-filled hojicha KIT KATs through a collaboration with the longstanding Uji tea boutique Itohkyuemon. These combinations with flavors from regions throughout the country are a must-try!
5. Japan has an original delight with a small twist
In Japan, you can also buy a KIT KAT that can be toasted. By just baking the Yaki KIT KAT in a toaster oven, you can enjoy a special flavor that's different from any other KIT KAT. When you bake it, you can enjoy a crunchy texture while still retaining the smoothness of the chocolate. The taste and texture of the KIT KAT change when eaten after a thorough or light toasting. It's highly recommend it for people who like the type of sweets where the enjoyment is in the texture!
6. You can make your own original KIT KAT in Japan!
The KIT KAT has been well-liked since it first went on sale in Japan in 1973, and Chocollabo KIT KAT is a service that allows you to put your own original print on the KIT KAT package that we all know. You can even send a message to someone close to you together with the finished KIT KAT bar! It's sure to bring a smile to their face! So why not try a Chocollabo KIT KAT, made as a collaboration between you and KIT KAT?
7. KIT KATs can be good-luck charms at exam time
Because the Japanese pronunciation of KIT KAT sounds like kitto katsu yo ("I'll surely win!"), their use as a good-luck charm started to catch on among students preparing for examinations, particularly centered on the Kyushu region. The idea began to spread organically through word of mouth from around 2002.

Today, we see KIT KATs being taken by students to examination halls, and they're also given to them by their supporting teachers, family and friends as a message of encouragement. In addition, KIT KATs are well-liked as a kind of emotional support or as a communication tool for sending feelings of gratitude or support to someone important in scenes such as sports and love, not just when sitting examinations!
8. A Japanese comedian revealed a special KIT KAT secret on Thai TV!
Japanese comedian Yasuhito Wakita—better known as Wakkii (above left)—dove into a KIT KAT factory to reveal a tantalizing KIT KAT secret on Saturday, February 6, 2016. Appearing on Originaru Japan, which airs on Thailand's Amarin TV HD network on Saturdays from 3:30 to 4 p.m., you can see the result below!
Don't speak Thai? Don't worry! Just enjoy seeing how KIT KATs are made!