All About Japan's Top Five Tea-Producing Regions
Outside the country, Japanese tea is often merely labeled as sencha or matcha. In fact, each of the main tea-harvesting prefectures produce unique green teas with varying levels of sweetness and astringency based on the climate conditions and production methods. Elizabeth Sok shares the basics of tea production.
Shizuoka Prefecture: Producers of 40 Percent of Japan's Tea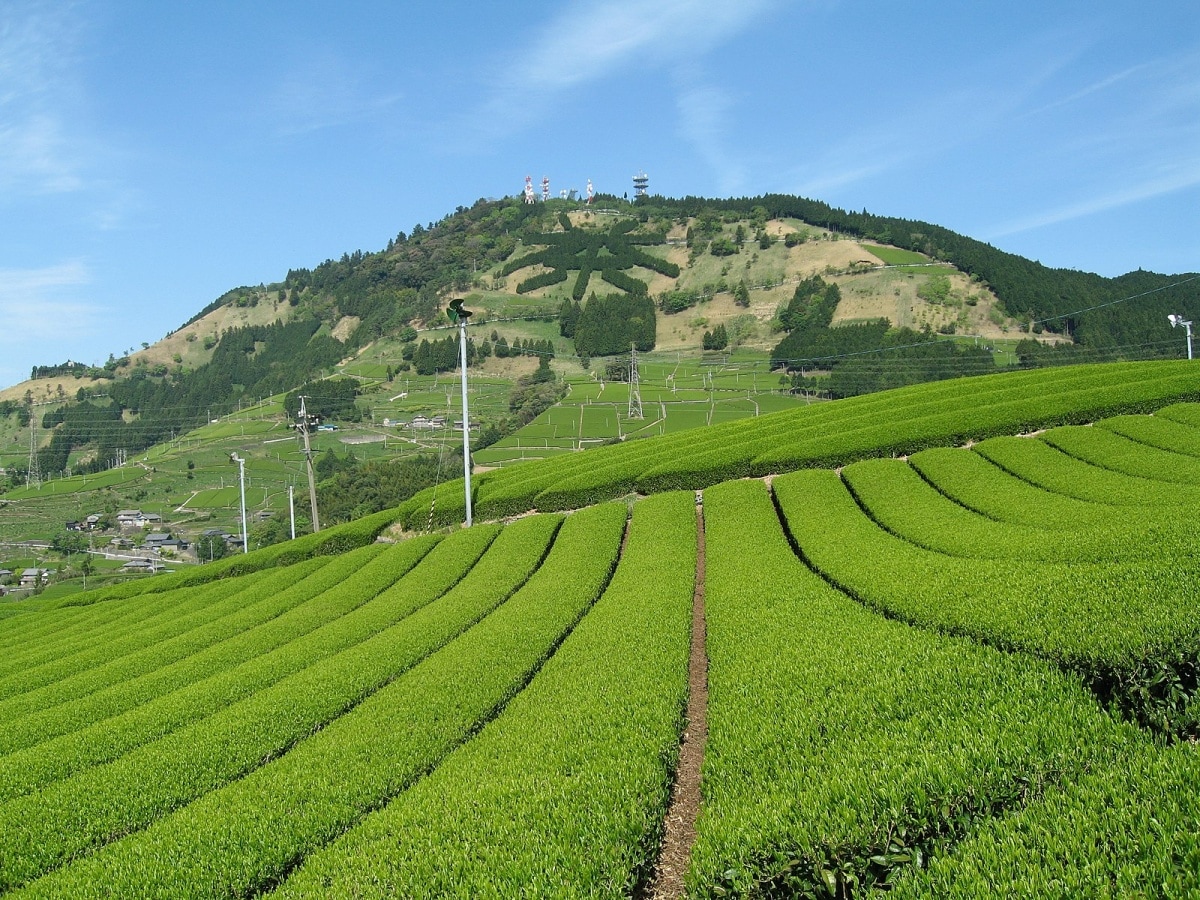 The history of tea here in Japan's top producing region began with the Buddhist monk Enni. On a return trip from China, he brought back seeds that would ultimately make Shizuoka prefecture the producer of nearly 40 percent of the nation's tea. The transition from the Edo period to the Meiji period in the mid-19th century was an important time for tea production in this prefecture. As high-ranking officials scrambled to find new roles in a changing Japan, some chose to team up with local labor to transform land in the prefecture, such as the Makinohara Plateau, into Japan's largest tea cultivating area, complete with its own sub-regions.

Of course, the fertile natural environment in the prefecture also contributed. Situated in the shadow of Mount Fuji, an active volcano, Shizuoka's tea fields also benefit from the mineral rich soil and various microclimates that impact both the growing cycles and taste of tea.
"One of the main teas, called Honyama-cha, is said to have been the favorite of the shogun Tokugawa Ieyasu"
It is hard to select a particular tea as representing Shizuoka's flavor, given the variety produced. However, over 90 percent of the tea from this prefecture (and 80 percent of teas in the country as a whole) is from Yabukita, a single tea tree cultivar that was first found here. Using this cultivar, the different sub-regions use the effects of their microclimates to produce different styles of green tea.

One of the main teas of a sub-region, called Honyama-cha, is said to have been the favorite of the shogun Tokugawa Ieyasu. Honyama-cha is characterized by its bright green color and smooth umami flavor with refreshing notes. Another important tea from this area is Kawane-cha, known for being especially high grade and thus often presented as a gift. Its taste is light and refined with a mellow sweetness.
A Tea-Picking Tour at the Tea Museum
To expand your knowledge of green teas while sampling some of the finest of the region, head over to the Shizuoka Tea Museum located in the famed Makinohara area for a history of tea through the five senses. Some hands-on experience is possible through the museum's unique tea picking tour. Not only will you be able to harvest the leaves, you'll be able to take them back to enjoy in the comfort of your own home. Many of the museum's attractions have English translations!

Shizuoka Tea Museum
Address: 3053-2 Kanayafujimi-cho, Shimada-shi, Shizuoka 428-0034
Website
Kyoto: Tea and the Imperial Court
The Buddhist monk Eisai played a remarkable role in Japanese history. He was the first Japanese-born Zen Buddhist monk ordained in China, the founder of the country's first Zen Buddhist temple, and planter of the first tea plant seeds from China. While some of his original seeds were planted on Mount Sefuri, which is nestled in the borderlands of Fukuoka and Saga prefectures, others were gifted to Myoe Shonin, a Buddhist monk stationed at Kozan-ji Temple in Kyoto. It was on the grounds of this temple that Japan's first tea field was created, long viewed as the home of "true tea" (本茶). From there, tea production spread to other areas around Kyoto, most notably Uji, a leading producer of three green tea powerhouses: sencha, gyokuro (sometimes translated as "jade dew" and known as the highest grade of tea that Japan produces), and matcha.

The nearby imperial court and the area's climate both played key parts in Kyoto's development as one of Japan's most important tea regions. Upper-class members of society enjoyed drinking green tea and developed an elite culture with tea at its center, so access to quality native-grown green tea was essential. Kyoto is also blessed with a microclimate well-suited to tea production: there is a sharp contrast between warmer daytime temperatures and cooler nighttime ones.
The "Home" of Japanese Tea
Uji is a small city in the Yamashiro region, just to the south of Kyoto. It is considered by many to be the home of Japanese tea. Uji matcha, for example, became the tea at the heart of the Japanese tea ceremony, a practice with deep roots in Zen Buddhism and formalized in the 16th century. Uji sencha is also deemed particularly smooth and easy to drink. Although sencha often retains astringency, Uji's product tastes very mild and sweet with a refreshing green scent. Unlike many of the teas on this list, the tea from Uji is also often steamed for only a short period of time and thus is a lighter, more yellow-ish color.
Shop and Study How Tea is Made
If you're looking for a tea experience in Uji, look no further than the main branch of Mitsuboshien Kanbayashi Sannyu (三星園上林三入本店) located not too far from Byodo-in Temple. With a history stretching back over 400 years, this shop has a tea room where customers can choose from a selection of green teas to enjoy alongside some shaved ice and other Japanese sweets. Fans of matcha can also reserve a seat in a class about making the powdered green tea. Of course, be sure to pick up some tea from the shop itself as many of its offerings aren't sold anywhere else.

Mitsuboshien Kanbayashi Sannyu
Address: 27-2 Ujirenge, Uji City, Kyoto
Website
Mie Prefecture: From These Tea Fields to the World
Myoe Shonin, the Buddhist monk credited with creating the first tea field at Kyoto's Kozan-ji Temple, makes another appearance in Japan's tea history, this time in Mie prefecture. The development of Ise tea, named after the region where tea is primarily cultivated here, began to hit its stride with the opening of Japan at the beginning of the Meiji period (1868-1912). As contact between Japan and other countries increased, so too did demand for green tea. Since Mie was well situated for the export industry, it became the largest producer of tea by the end of the 19th century.
"Kabusecha retains some of the bitterness that can characterize sencha, but is balanced by umami"
While Mie produces a variety of teas including bocha, sencha, and bancha, it is best known for being the highest producer of kabusecha (a light green tea produced by protecting leaves from sunlight before picking). A relatively expensive tea, kabusecha lies somewhere between sencha and gyokuro in terms of its growing process and taste. As a result, it retains some of the bitterness that can characterize sencha, but is balanced by umami. Much of Mie's tea is sent to other prefectures and blended with other versions, or used in desserts, so the uniqueness of its tea is not as well known as other regions. However, a cup of pure Ise tea has a strong and rich flavor with a vibrant green color to match.
Relax With a Cup in an Old Home
Kabusecha Cafe (かぶせ茶カフェ) sits at the foot of Mount Suzuka in Yokkaichi City, and is a must-visit for those seeking some Japanese nostalgia and delicious local tea. In this renovated 70-year-old home, patrons can savor about a dozen varieties of local, single origin Ise-cha as well as some Japanese sweets.

Kabusecha Cafe
Address: 998 Suizawacho, Yokkaichi, Mie 512-1105
Website
Fukuoka Prefecture: An Ideal Climate and Generations of Farmers
Tea production in Fukuoka's southern Yame region traces its history back 600 years to 1423, when Buddhist monk Shuzui brought tea seeds back from his travels in China to plant at a temple in Yame City. From that time on, almost all of Fukuoka prefecture's tea production has been centered in this lush microclimate between two river basins and mountains.

Several characteristics of the climate of southern Fukuoka make this ideal for tea production. There is ample mist and fog to block the tea from sunlight, hot temperatures during the day and cooler temperatures at night, and high annual rainfall. Thanks to these conditions and the tireless work of the region's farmers (many of whom come from many generations of tea cultivators), Yame-cha regularly wins prestigious awards for its green tea and its highly-prized gyokuro (see below) despite producing the lowest volume of tea (around 3 percent) of any prefecture on this list.
"For ten years straight, Yame's Dento hon gyokuro has won the top national honors"
Shin-cha (the first picked tea of the year) from Yame is ready by mid-April to mid-May. The region's fertile grounds produce many types of Japanese tea, from kabusecha to matcha and black tea. Yame-cha is known for its extraordinarily mellow and sweet green teas, with low astringency and high umami. For ten years straight, Yame's Dento hon gyokuro has won the top national honors. It is grown using a historically unique method whereby the tea leaves are shaded using rice straw covers to lower the amount of bitter-tasting tannins. The resulting buttery sweet and intense flavor is worth a try!
Hike Tea Fields and Sample Tea-Based Desserts
The Yame Central Tea Garden (八女中央大茶園) is just a one-hour drive from Fukuoka city. In addition to the vast 70 hectares of tea fields are a variety of walking paths crisscrossing the plantation including an 11 km walk that will take beginners about 3 or 4 hours to complete. To sample a taste of the finished product, check out one of the local cafes serving up the region's finest teas and desserts. Yamecha Sweets Natsume offers up a variety of Japanese and Western desserts that use Yame teas in their ingredients, while Leaf Heart Cafe, which is a little further out, boasts a menu filled with delicious looking parfaits, Japanese desserts, and, of course, tea.

Yame Central Tea Garden
Address: Hon, Yame, Fukuoka
Website

Yamecha Sweets Natsume
Address: Enokimachi-1032-2 Motomura, Yame, Fukuoka
Website

Leaf Heart Cafe
Address: 180-6 Tokuhisa, Chikugo, Fukuoka
Website
Kagoshima Prefecture: Volcanoes in the Mist
The Chiran region in Kagoshima harvests its eponymous tea early in the season due to its southern location. Minamikyushu has the largest tea harvest in the country for a single city while Kagoshima itself is second nationwide in its tea production. As with the other regions on this list, Chiran's tea fields also benefit from its natural surroundings: the contrast between day and nighttime temperatures as well as the all-important mists that protect plants from early morning frost. Kagoshima tea growers also take advantage of soil long fertilized by the volcanic ash from nearby volcanoes, including Sakurajima.

While green tea cultivation had been introduced to Kagoshima centuries earlier via Kyoto, its reputation as an important tea region only solidified in the latter 20th century. In the post WWII period, several tea growers from Kagoshima travelled to Shizuoka to learn advanced cultivation techniques. Using that knowledge, Chiran began to develop into the tea growing powerhouse it is today.
"Chiran-cha is known for its deep, rich, and sweet flavor and lack of astringency"
Chiran-cha, the tea cultivated in Kagoshima, is mostly fukamushi-cha, or deeply-steamed green tea. While tea leaves are usually steamed for 30-40 seconds for sencha, the fukamushi variety is steamed for 60-80 seconds which reduces astringency and results in a richer and less bitter cup. Kagoshima farmers also usually cover the tea leaves to produce kabusecha tea (as in Mie prefecture) to further enhance umami and reduce bitterness. Chiran-cha is known for its deep, rich, and sweet flavor and lack of astringency. These characteristics also make it a great choice for a cold-brew tea in the summer months.
A Study of Tea Experience
To learn more about Chiran-cha as well as some of the other teas produced in Kagoshima Prefecture, visit Ocha no Birouen's main shop (お茶の美老園 本店) in Kagoshima City, an establishment with a 130-year history. Visitors can sign up for a 1-hour class with a tea expert who will walk participants through the prefecture's teas. An English guide can also be made available upon request!

Ocha no Birouen
Address: 5-2 Nakamachi, Kagoshima City, Kagoshima
Website