Englishwoman, Buddhist Priest, Country Mom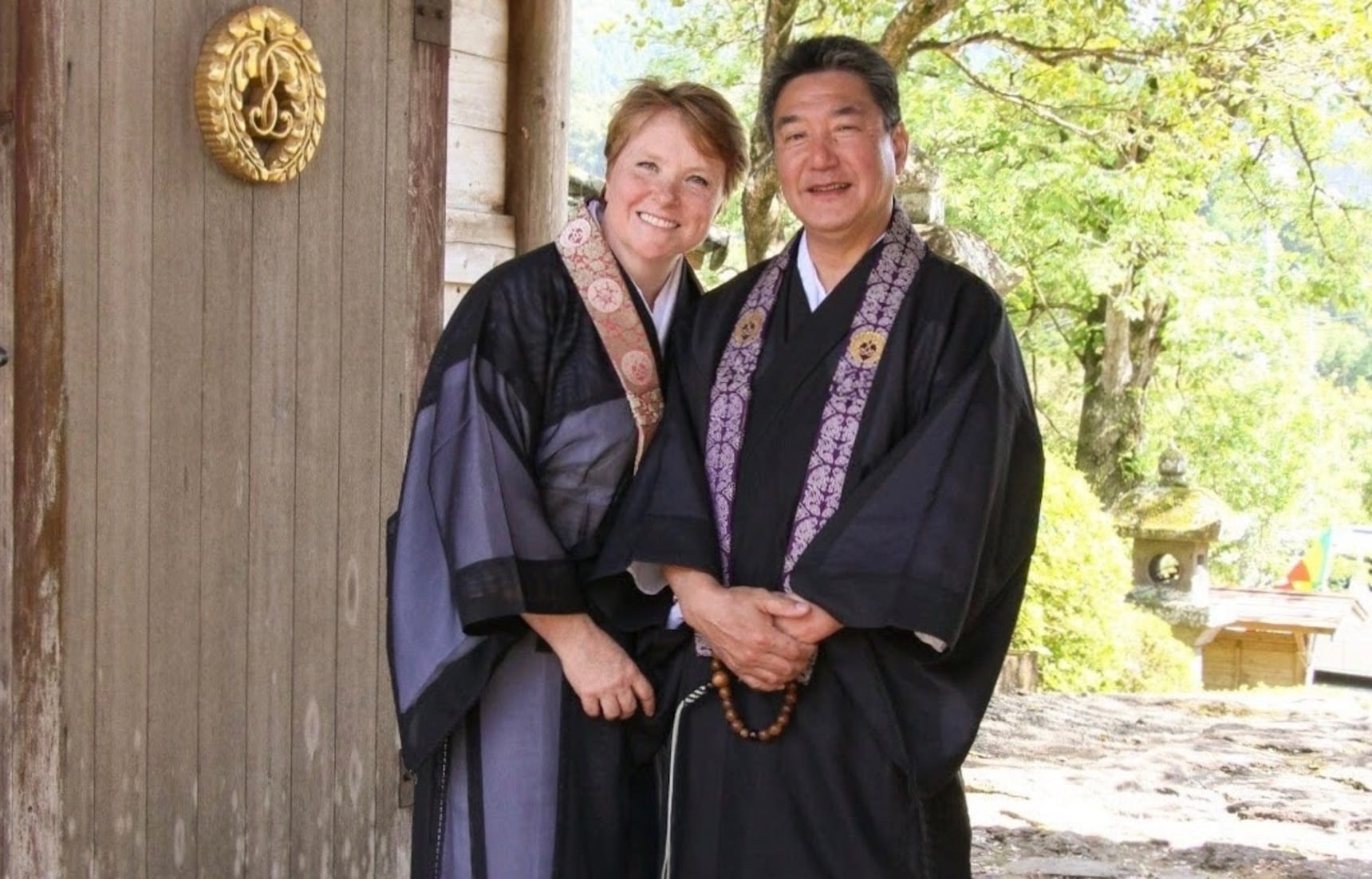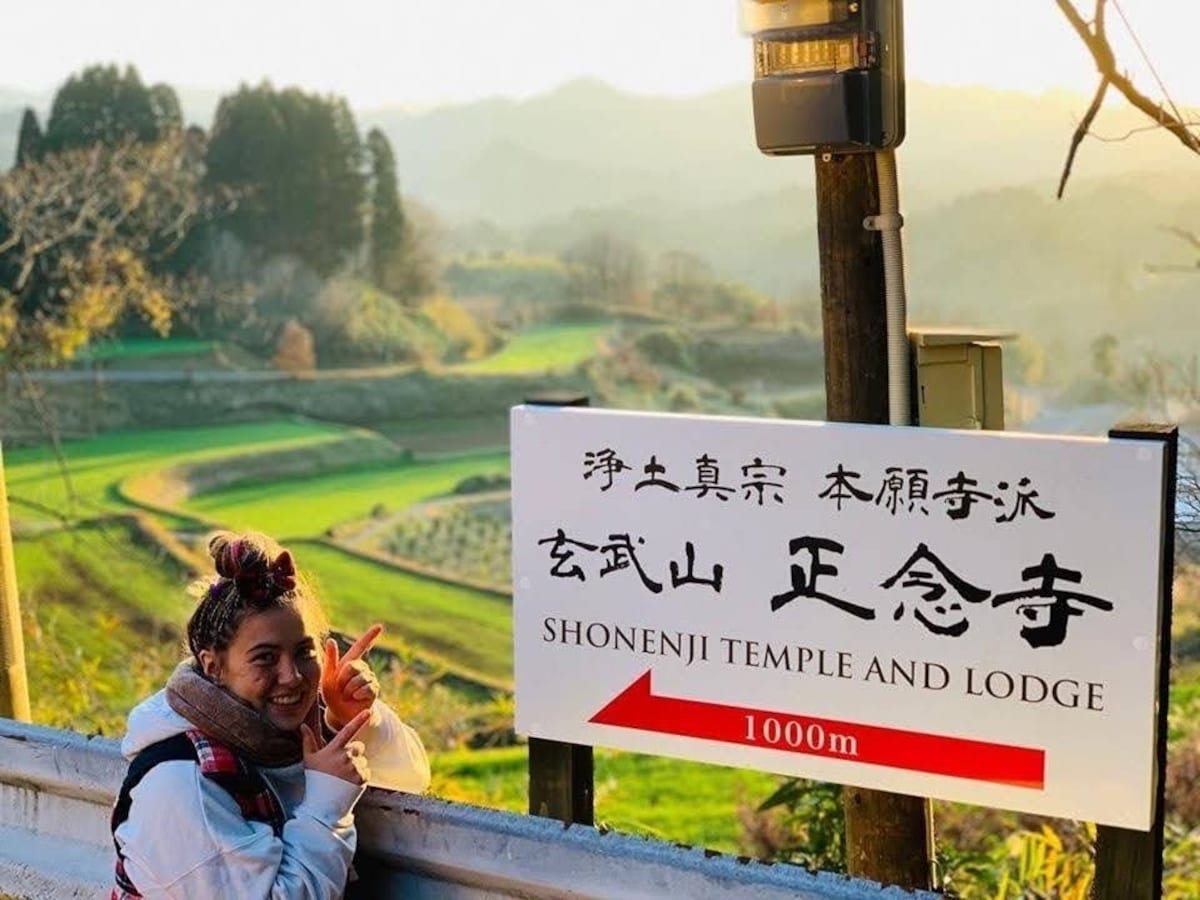 All photos provided by Victoria Yoshimura.

Victoria answered a few questions for us about life at Shonenji, her family's 450-year-old Pure Land Buddhist temple, and Shonenji Lodge, her temple-adjacent accommodation facility.

You came to a place deep in the Japanese countryside on a teaching exchange program. What was your initial impression of life in rural Japan?
Takachiho is miles and miles away from the big city of Miyazaki, and it took over three hours to get here back in the day. I thought that time had stopped, that I'd stepped back into the 1960s, with the buildings, the interiors of the shops, the hotel where I stayed my first night with its polyester frilled bed cover and pleated cloth lamp. There were no convenience stores, no home improvement stores, no clothing shops or anything within an hour's drive.

What is the best part of living in the Japanese countryside now?
Feeling that I belong. When people say okaerinasai (welcome home) when they see me after I've been away to the UK—and I don't even know who they are! The scenery where I live is unbelievably beautiful, and I like the friendly neighbors, the community, how they help each other out.

The worst?
The Kyushu danji [male]. Men dominate everything and don't often do any work. They think women are incapable of taking on senior positions, but it is, in fact, the women in rural communities who do the majority of the work.

You married a Buddhist priest, into a family that is responsible for the local temple. What inspired you to also pursue ordination?
After giving the temple "an heir and a spare," I felt I was expected to stick to the sidelines, shut up, and serve tea. I wanted to understand more about the temple and Jodo, Pure Land Buddhism teachings. But there seemed to be discrepancies between my Kyushu reality and the true Buddhist path. I felt it was more inclusive and inspiring than what I was experiencing in my daily life. It was.

So how did you go about it?
I approached the head temple in Kyoto and explained my situation: I could speak Japanese, but was illiterate. I asked if it was possible to overcome this and become a priest. The head temple was very supportive. I studied in English with material they sent me but took the exams all in Japanese, the questions read to me so I could fill out the answers in romaji and English.
"I had to do three memorial services, breastfeeding in between. I will have you know that priest's robes aren't made for breastfeeding!"
What was the most difficult thing you had to go through in the process?
My sons were 3 years old and 6 months old when I first started studying. I had to learn all the rituals, all the history, et cetera, while raising my kids and looking after the temple. I also had to leave them both at home when I went to Kyoto to do the ordination seclusion and ceremony.

Taking the first level of priesthood exams was uplifting and I got positive reactions from the temple congregation, family, and other priests. There was a different reaction when I went to get my senior priest qualifications: I was treated with suspicion. Some local priests and their families went as far as to say that I'd been put on an easy course just for foreigners, which was not the case.

How did life change after becoming a priest?
I became inspired. I felt I could really be an active part of the temple. I was able to do house visits and chanting rituals, and my husband and I became more equal partners as we raised our family and looked after the temple.
Is it difficult to combine life as a priest, mother, wife, English teacher?
Yes. The most difficult time was when my husband was hospitalized with cancer. My sons were 7 and 4, and my daughter was 2 weeks old. I suddenly had to take on many more chanting duties. One weekend, I had to do three memorial services, breastfeeding in between. I will have you know that priest's robes aren't made for breastfeeding!

Give us an example of your typical day.
Temple work is mostly weekends and I work most weekdays at schools. I also have my own English school from 3:30 p.m. every day, and I now have the lodge to manage. I sometimes have to teach nursery in my robes—the children don't bat an eye! I've also performed funerals during my lunchtime, changing into my robes in the school washrooms.

Do you have a favorite part of being a priest?
I love going to people's houses, chatting with them, learning about their lives. I also love the chanting. I get complimented on my chanting.

Priest's robes: Comfortable or constraining?
Very comfortable! You can eat loads when wearing robes.

Do you ever wake up and find yourself stunned to be in your present situation?
Not when I wake up, but sometimes when I'm showing a family how to dress and arrange a deceased relative, for example. I see them listening and watching attentively, and I think, "This is weird that I'm telling them how to do traditional Japanese stuff." Another example is when I find myself chanting in a forest before the digging up of ancient grave sites. Or when I let myself in to someone's house to chant, and I'm sitting there alone, chanting, while photos of soldiers killed in WWII stare down at me. Or when I'm performing a funeral and some gung-ho paparazzi relative of the deceased is taking snapshots of me from the side.
"There was an unwritten rule that female priests didn't do funerals. I was the first one ever to have chanted there. And a foreign one to boot!"
It sounds like you are breaking a lot of new ground.
A funny thing happened just recently when I performed a funeral in a city on the coast. When I arrived at the crematorium, escorting the deceased, one of the workers got a fit of the giggles when he saw me. The novelty of a foreign woman priest was too much for him. I later learned that it was an unwritten rule there that female priests didn't do funerals. I was the first female priest ever to have chanted there! And a foreign one to boot!

Why did you decide to establish your temple's lodging facility?
My husband and I love hosting people. It is in the true tradition and spirit of a temple to welcome guests. We have so many wonderful books and artworks to share with people, and we want as many people as possible to visit our temple and the beautiful area of Takachiho. Also, the population and congregation are shrinking. My son and his wife and family are living here, and I wanted something to give life, income, and continuation to them. Running the lodge is something my daughter-in-law and I can do together. We started it in 2018.

What's your favorite thing about the lodge?
It's a brand-new building designed and decorated by me. We used to have an old hall in the same place, and we hosted guests there, but Shonenji Lodge is a totally new build and concept. Our theme is luxury but cozy relaxation. I love the floor the best. It is over 100 years old and was taken from the old hall that used to be there. It's gorgeous.

Favorite temple event?
Summer school. Overnight summer camp for children. But I also love the visits we make in the summer for hatsubon—a memorial service held the first Obon after a person has passed away.

Favorite family/temple tradition?
Dinner parties! We love having guests over for dinner. My husband and I both love to cook, and we love to get interesting groups of people together and chat long into the night.

Must-visit nearby attraction?
The open-top train, the Amaterasu Supercart! Also, Mitate Valley, for great river swimming.

Must-try local food?
Jidori chicken at Tentsukuten, the best restaurant/izakaya in town. The master of this place is also the train driver for the Supercart.

Greatest challenge living in Japan?
Gender inequality.

Greatest joy living in Japan?
Onsen.