A Cherry Blossom Light-up at Kenrokuen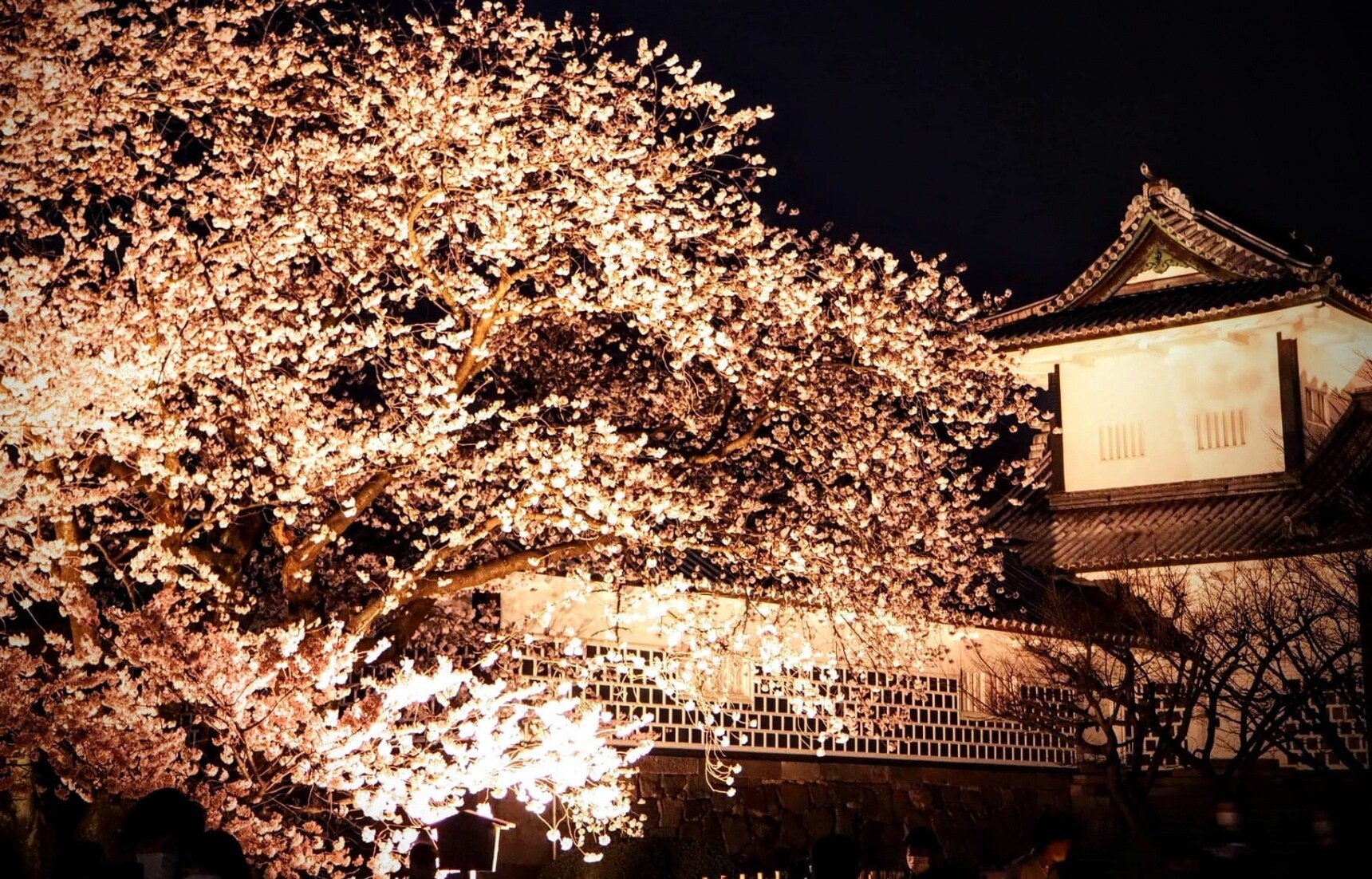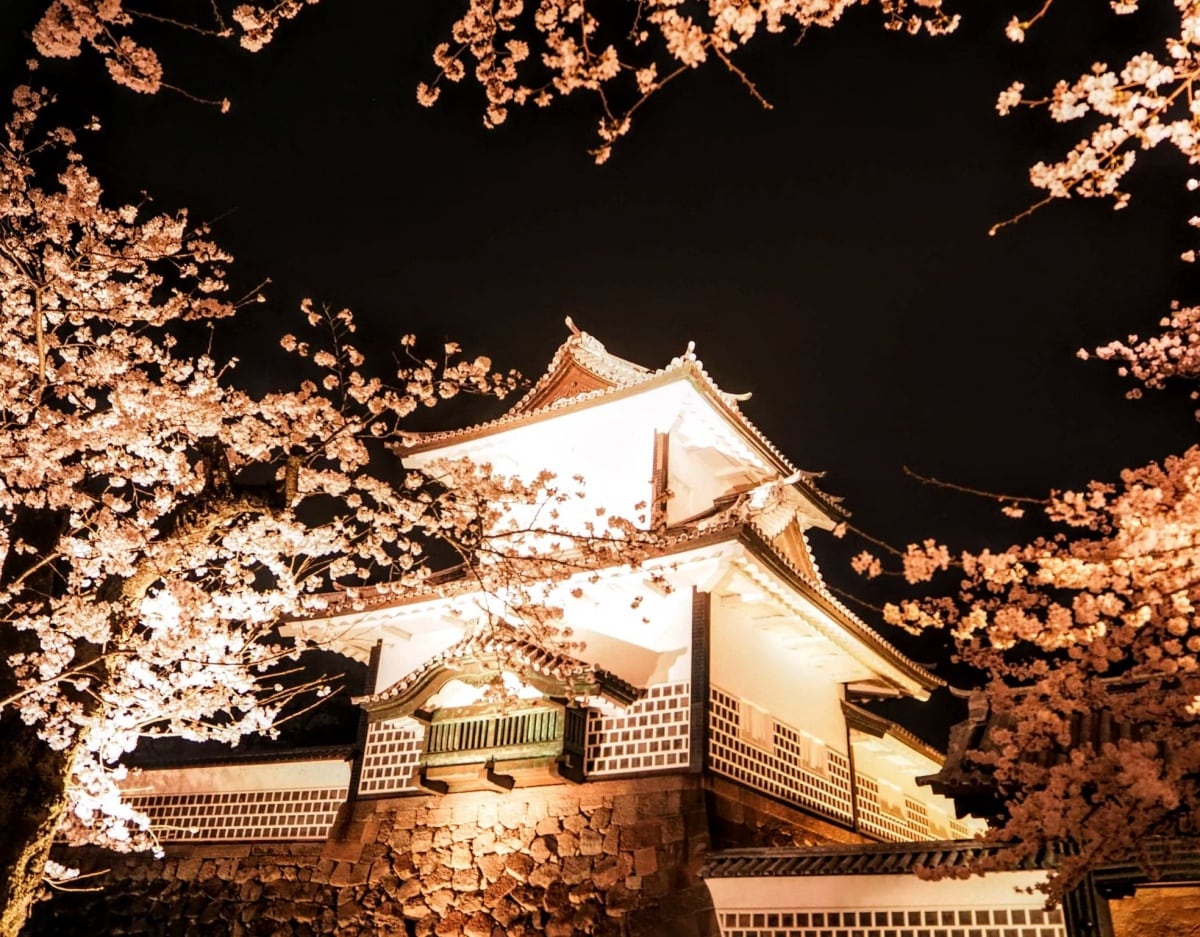 The Kenrokuen Sakura Light-up is held from late March to early April. Best of all, unlike the regular daylight opening hours, entry after dark is free! The light-up begins at sundown and continues until 9:30pm, giving sightseers plenty of time to take it all in. Confirm the dates online before visiting.
The best place to start your journey is from Oyama Shrine, a Shinto shrine north-east of Kenrokuen known for its distinctive gate blending western and Asian architecture. The shrine was originally constructed in 1599 before being moved to its current location.
After wandering the intricate shrine grounds, cross the Nezumitamon Bridge to Gyokusen'inmaru Garden, which leads into Kanazawa Castle.
Gyokusen'inmaru Garden was established in 1634 by Toshitsune Maeda, the third lord of the Kaga Domain. After being abandoned during the Meiji period, work to restore the park to its former glory was completed in 2015, becoming the crowning jewel of the Kanazawa Castle grounds. The garden is elegant and sophisticated, with a large network of ponds and majestic pine trees carefully spaced between patches of well-tended grass. There are also seasonal light and sound shows held throughout the year, with the springtime Haru no Maki currently being performed between March and May.
Ascending the hillside path up the opposite side of the garden will take you to Kanazawa Castle, which comes alive at night in an equally stunning illumination during seasonal events.

Kanazawa Castle has a volatile history, being burned down several times before its almost-total annihilation in 1881. Since the early 1990s, efforts have been underway to reconstruct the castle, with many of the buildings and parks looking noticeably fresh and new.
The cherry blossoms at Ishikawamon Gate are particularly breathtaking. If you're looking to get a shot of a Japanese castle adorned by cherry blossoms, this is your chance!

Cross the bridge at Ishikawamon Gate to enter Kenrokuen Park. While the park usually closes between 5:00pm to 6:00pm (depending upon the season), visitors to this special event are free to wander until 9:30pm. The 320 yen (adult) entrance fee is also completely waived!
Inside the park are dozens of tantalizing treasures to discover, including the park's iconic Kotoji Lantern, the vast Kasumigaike Pond, and the enormous Neagari no Matsu pine tree, which was planted by the 13th lord of the Maeda clan.
One of Kenrokuen's best cherry blossom displays can be found on the east side of the park at Hisago Pond. Flawlessly projected onto the mirror-like pond water, the untainted beauty of this fleeting seasonal spectacle is perfectly exhibited in its most natural state.
After leaving Kenrokuen from the Mayumi Sakaguchi exit, cross the street into Hirosaka to find a steep path lined by toori gates leading to Ishiura Shine, the oldest shine in Kanazawa.
Not Just Night-time! Higashi Chaya
Of course, for a truly complete experience, daytime viewing is essential! Kanazawa City is full of cherry blossom hotspots, with a daylight tour of Kenrokuen a great place to start.
If you're wanting new scenery, head to Higashi Chaya and the neighboring Asano River, a 15-minute walk from Kenrokuen. This extraordinarily well-preserved collection of historical streets feels like an entirely separate world trapped in the Edo period. Grab a treat from one of the numerous cafes, park yourself down by the river, and bask in the energy of spring as this once-frozen wintery region bounces back into life.
A City of Food
If you're feeling hungry, Kanazawa's irresistible cuisine culture will be sure to satisfy. From gold-covered ice-cream in Higashi Chaya, seafood bowls at Omicho Market, and hole-in-the-wall eateries in Katamachi, you're bound to discover a new favorite!
If you're lucky enough to be in Japan during the wonderful cherry blossom season, be sure to add Kanazawa to your hanami flower-viewing itinerary!

All photos by Steve Csorgo