Experience the Great Outdoors in Gunma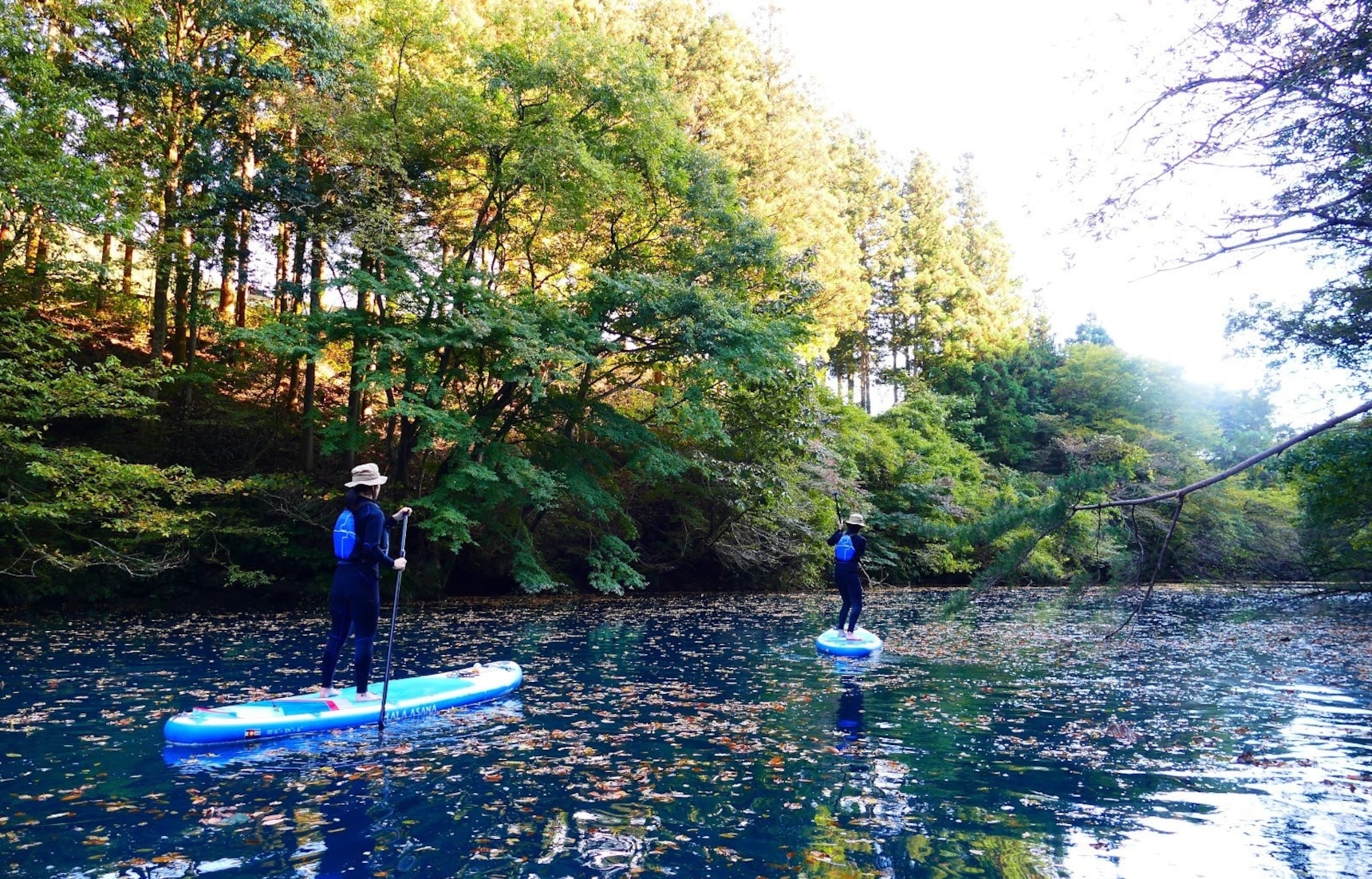 Located in the very center of Japan, Gunma boasts crystal blue lakes, densely forested valleys, and several steep mountains. In essence, it has all the ingredients that make it a great place to get outdoors and fully enjoy its spectacular natural scenery, whether that's a casual day hike in the summer or a few days hitting the ski slopes in winter.
Connected to Tokyo via several train lines, including the Joetsu and Hokuriku shinkansen bullet train lines, the region makes an easy day trip or weekend getaway.
How to Get There
Hop over the JR EAST Travel Service Center in Tokyo Station and get yourself the JR TOKYO Wide Pass available exclusively to foreign passport holders. For a bargain price of ¥10,180, you get three consecutive days of unlimited travel on JR lines within the pass network, which covers most of Gunma, as well as the Hokuriku, Joetsu, and Tohoku shinkansen lines.
Stand Up & Board
Making quite a splash in recent years is stand up paddle boarding, or SUP. Light and surprisingly sturdy, SUP is exactly the experience you want it to be—whether that's daring jumping and yoga maneuvers or calmly standing steady and floating serenely through the beautiful surroundings. R-Labo offers a variety of packages from half-day to full-day courses for ages 4 and up, and best of all, you get to pick the setting! Head to Lake Akaya for its stunning red autumn scenery or soak up the sparkling blue of Lake Shima. For those looking for some fast-paced action, they also offer river courses, where you can raft your way through winding rapids!
Booking and instruction are in Japanese, but everyone is welcome to join as long as one member of your party can interpret! Staff also provide pick-up to-and-from the station, so all you have to think about is exactly how adventurous on the water you want to be.

Lake Akaya can be accessed on public transportation with a combination of train and bus. Take the shinkansen bullet train to JR Jomo-Kogen Station. From there, a 30-minute bus will get you to Lake Akaya.

Lake Shima can similarly be accessed by combination of train and bus. Take a train to JR Nakanojo Station. From there, a 15-minute bus will get you to Lake Shima.
Soak in the Scenery
Kusatsu Onsen is undoubtedly one of the biggest attractions of Gunma, and it's easy to see why: rolling steam pours off the central Yubatake (literally, "hot water field) surrounded by quaint old inns and stores. There are said to be over 100 hot springs in the town alone! Yet for those who need a bit more action in order to earn that relaxing soak, or for families with energetic kids, there is plenty to keep you entertained.
One great option is the resort Kusatsu Hotel Village. As the name suggests, there is a hotel where you can stay fully catered but, for those who want to feel a bit closer to nature, there are log cabins, replete with cozy armchairs around wood fires and both Japanese and Western-style bedrooms.
The vast grounds offer activities of all kinds, from tennis and golf to fishing and archery. For the thrill-seekers, try out Kusatsu Forest Stage, a 42-stage high-ropes activity course among the trees, which includes a 100-meter-long zipline! In winter, take advantage of the resort's private ski slope, or head out for some snow-shoeing or sledding.
Not forgetting the onsen culture of the region, Kusatsu Hotel Village draws water from three source springs—Yubatake, Bandaiko and Watanoyu—that are believed to have healing effects. Something truly unique is that the facility allows you to try out a tradition that has taken place since the Edo period (1603 - 1867). Yumomi—which literally means "kneading the hot spring"—is a technique of using wooden panels to disperse the heat and cool the scalding hot water. Instruction is only in Japanese but it's fairly easy to follow—and chant—along, and there are smaller wooden boards so even younger ones can take part. Be prepared to bend your knees and get splashed!

To get there, take a train from Tokyo to Naganohara-Kusatsuguchi Station (about two hours, change at Takasaki), then a JR bus to Kusatsu Onsen (30 minutes). Hotel Village staff will pick you and take you to the resort, which is only five minutes away. Hungry for more? Get a taste of what else Gunma has to offer here!

For more information, check out the Visit Gunma website, and stay up to date on goings on in Gunma at the Visit Gunma Facebook page.