Tokyo Midtown Yaesu: The City's Trendy New Dining/Shopping Spot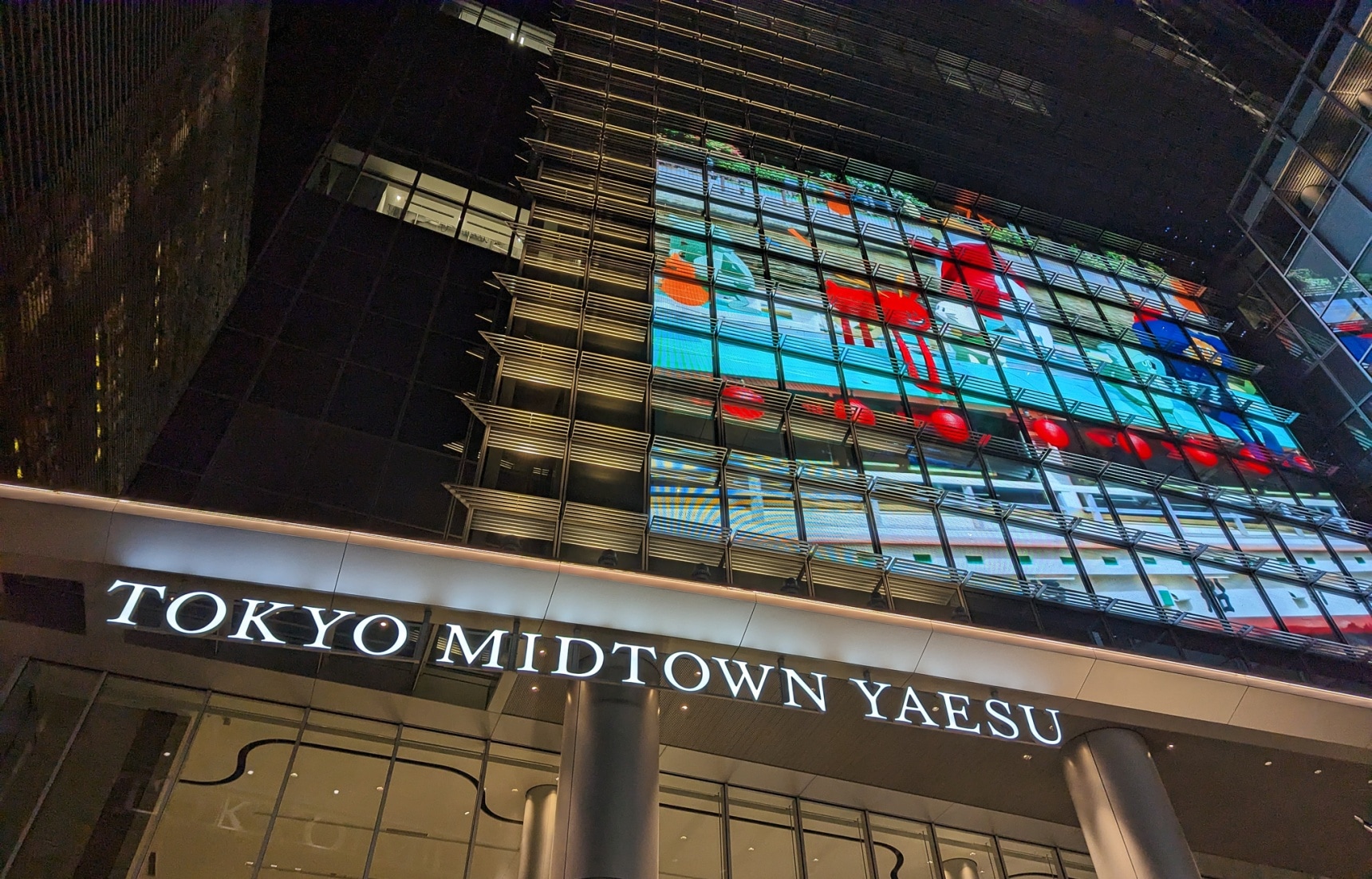 Situated adjacent to Tokyo Station, the strikingly sleek Tokyo Midtown Yaesu marks the third "Midtown" development from Mitsui Fusodan, opening on March 10th, 2023. A staggering 45-stories, the new complex boasts high-end shops, prime office space and the first Japan outpost of Bulgari Hotel. Phoebe Amoroso reports on her recent visit.
"This is a public space where people can simply hang out, a welcome rarity in the hyper-regulated city."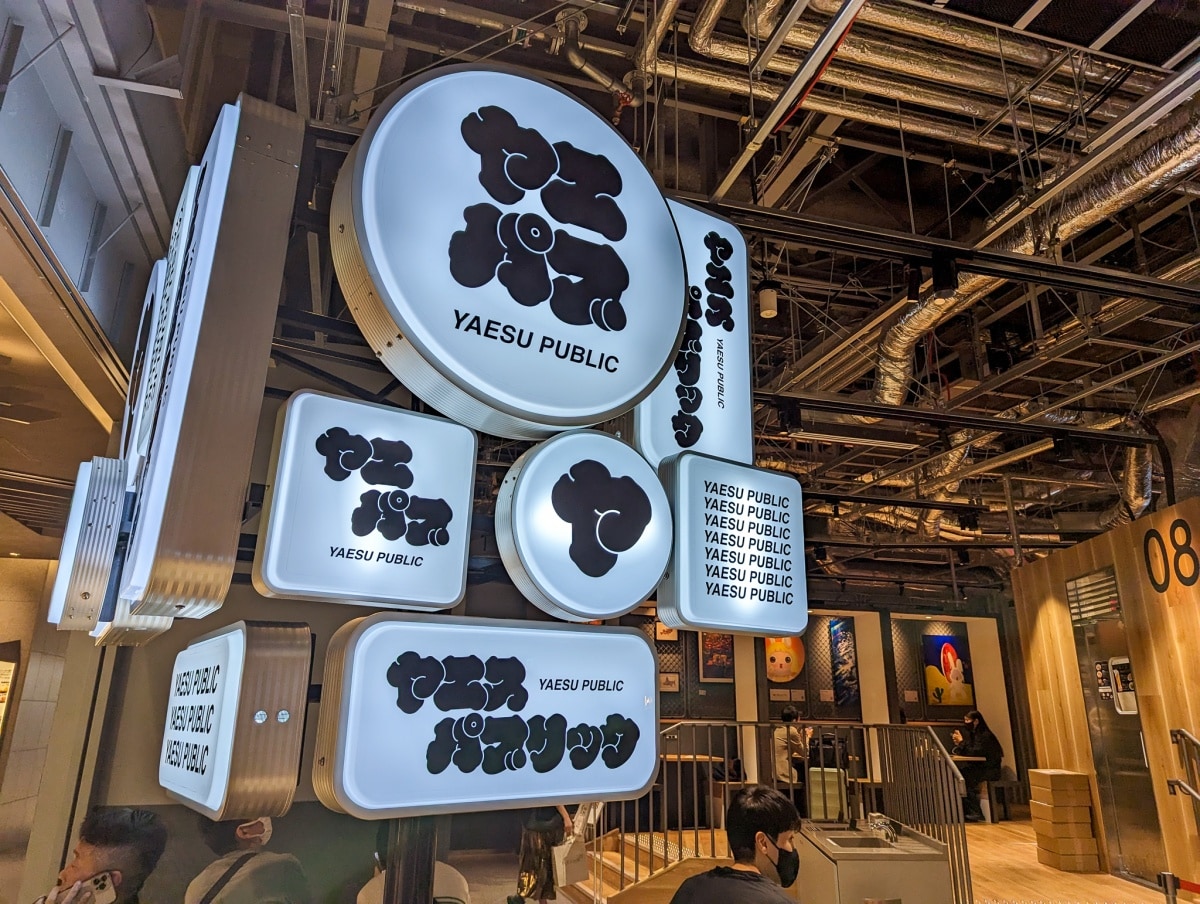 Whereas the Tokyo Midtown complex in Roppongi was poised as a high-end competitor to Roppongi Hills and Tokyo Midtown Hibiya offers a slightly more accessible space plus a terrace with a great view of the Imperial Palace Garden, Tokyo Midtown Yaesu stands out in providing and promoting public space where people can simply hang out, marking a welcome rarity in Japan's hyper-regulated capital. What's more, with striking contemporary artworks such as the 10m-tall metallic-spiked "Star" by Tokujin Yoshioka, it sets the tone of a development that's self-assuredly trendy and perhaps even a little bit cool (if using the term doesn't ironically undermine its credibility).

Nowhere is this more evident than in the vast and varying gastronomic offerings. From pop-up ramen and kakigori shops, outposts of popular sushi and wagyu brands, and craft beer and sake aplenty, Tokyo Midtown Yaesu caters to all tastebuds and wallets.

Here's a brief gastronomic tour introduced floor-by-floor.
Quick Bites on the Basement Floor
This is the land of quick eats with some quality offerings on board. Along just one stretch of the basement floor, Tex-Mex fans can get their fill at Frijoles; Potamo offers a taste of Okinawa with its pork tamago (egg) onigiri; spice lovers can get a fiery bowl of noodles at Chiiran Tantanmen, an offshoot of the popular Kagurazaka-based Sichuan restaurant; or for some Japanese comfort food, Torigai Sohonke serves up a popular oyakodon (chicken and egg on rice).

Perhaps most in demand is the first standing branch of Nemuro Hanamaru Sushi, which hails from Hokkaido. It's easily spotted by the queues of suited office workers awaiting their turn to stand at the counter where chefs craft supremely fresh nigiri.

In the bakeries and deli department. there's an outpost of City Bakery—we always appreciate the choice of NY-size or Japan-size peanut butter cookies—or Pariya, a delicious and healthy delicatessen where you can customize your bento box, and pick up a perfect dessert-sized cake for a sweet treat.
Fresh From the Oven on the First Floor
There are only two restaurants on this floor, and they are all about the ovens. Popular Marunouchi bakery and French bistro Pointe et Ligne has opened its third store, which offers a lunch menu featuring wood-fire oven roasted meat or vegetables accompanied by an all-you-can-eat bread. Also available is a simpler (and cheaper) option of a tartine set with soup and salad. Breads can be bought to eat-in or take-away, so there's no obligation to stay for a full meal.

Also on this floor, En Vedette Luxe, a popular patisserie in the trendy Kiyosumi-Shirakawa neighborhood, has launched its first eat-in cafe, serving picture-perfect parfaits and Allpress coffee. Their expertly crafted cakes can be bought as gifts for others or yourself. No judgment here.
Funky Lighting and Neon Signage: Public Space on the Second Floor
This is where Tokyo Midtown Yaesu truly stands out by bringing something new to the city's dining scene. Perhaps inspired by the Showa era nostalgia that is fuelling albeit manufactured yokocho (alleyway)-filled venues where people casually hop between bars, Yaesu Public does exactly what its name says—provides public space.

Illuminated by funky lighting and neon signage, there are various seating areas from wooden benches, counter stalls, window views, seats tucked away behind walls of greenery, multicoloured cushions and beanbags. With plenty of options and electrical outlets, the space is designed for remote work as much as taking a break from the surrounding shops.

Importantly, the spaces are all food and drink friendly, so you can even bring your own bento if you like.
It's not like culinary options are in short supply, though. In a stroke of genius to ensure customers never get bored, there's Popup Ramen and Kakigori Collection Baton which host specialists from all over Japan from up to one month. Blue Tokai Coffee is currently dolling out caffeine hits with single-origin beans from farms in India, but from September, a different coffee store will take up the mantle.

The main food focus in Public Space, however, is the fun Allstands area. Here, several restaurants offer standing room at counters, encouraging customers to hop between stores and stroll to wherever their stomach takes them. Those who grab a seat at the communal tables shared between all establishments are given a QR code to order from any or all of the stores through their smartphone, cutting out any awkward compromises and ensuring that everyone dining in a group gets exactly what they want.
"The main food focus is the fun Allstands area, which encourages diners to hop between stores"
Highlights are many. Stand Buchi offers a wide variety of sake, including one-cups, and Japanese natural wine, alongside light plates, such as potato salad, fresh oysters and serano ham. There's the ever-popular Also that offers Taiwanese cuisine and craft beer—the pork wonton are particularly succulent and, in a fun twist, the fried chicken is served in a paper bag. If you're craving some Western dishes, fill up on Italian fare at a branch of the Ebisu-based Ta.bacco, which plates up several antipasti and more pastas, best accompanied, of course, by robust Italian wines. Craft beer fans should swing by Cataratas Yaesu for a flight of four beers served in a spectacular arched holder that's almost an artwork in its own right.
Formal Dining on the Third Floor
Lest all the dining seem a little too hip or a little too hurried, the third floor is designed for a more formal experience. Options ranges from robata dining and sushi to creative Chinese cuisine, Italian and even more craft beer (why not?).

Hailing from Nagoya, Sumiyaki Unafuji is a popular charcoal-grilled unagi (freshwater eel) restaurant, which boasts about using only extra large blue eels for the best flavor. This second Tokyo outpost serves up the classics of grilled eel on rice, including the Nagoya dish of hitsumabushi that lets you turn your meal intro ochazuke at the end by pouring hot broth onto the remainder of your rice. The window onto the live eel preparation station is not for the faint-hearted, but lets you know that the eels are, indeed, very fresh.
For a touch of decadence, renowned Yamagata beef speciality store Kato Gyunikuten has teamed up with the Hokkaido-based Ogawa Uni sea urchins to offer luxurious meat and seafood combinations. Or heading south, Yamauchi Farm serves up a variety of dishes featuring Kyushu's famed chargrilled chicken.

For sake lovers, Moto Tokyo has you covered. Slide in at the standing counter, describe what kind of sake you like, and let the pouring begin. There are several small plates and otsumami, but for a more formal sit-down meal, head into the hidden restaurant area to enjoy a course meal with select seasonal ingredients. Of course, the staff will recommend you the perfect sake pairings.
Getting There
Tokyo Midtown Yaesu is just outside the Yaesu South Exit of Tokyo Station.

Midtown Yaesu Website