2020 Fall Foliage Forecast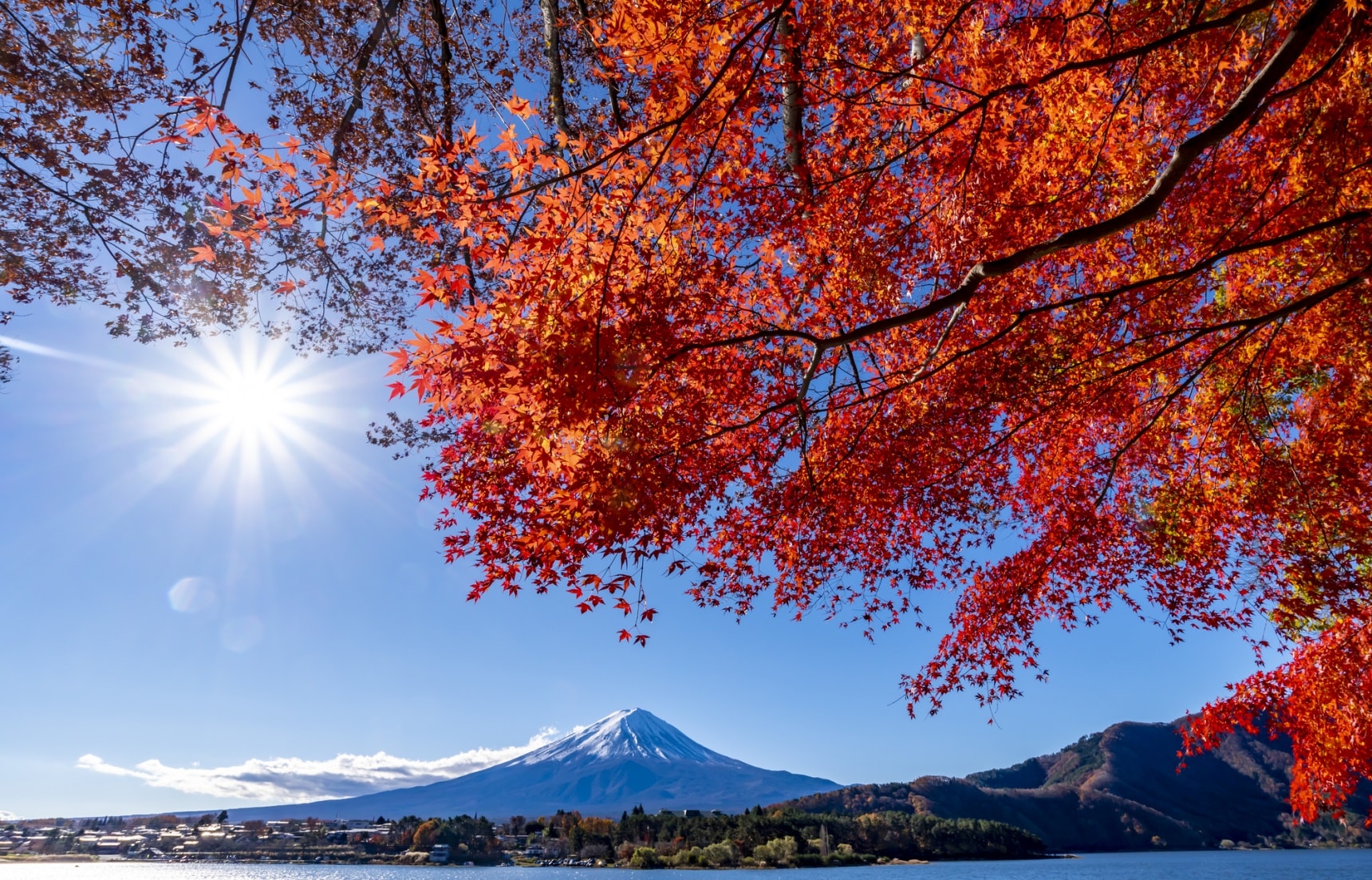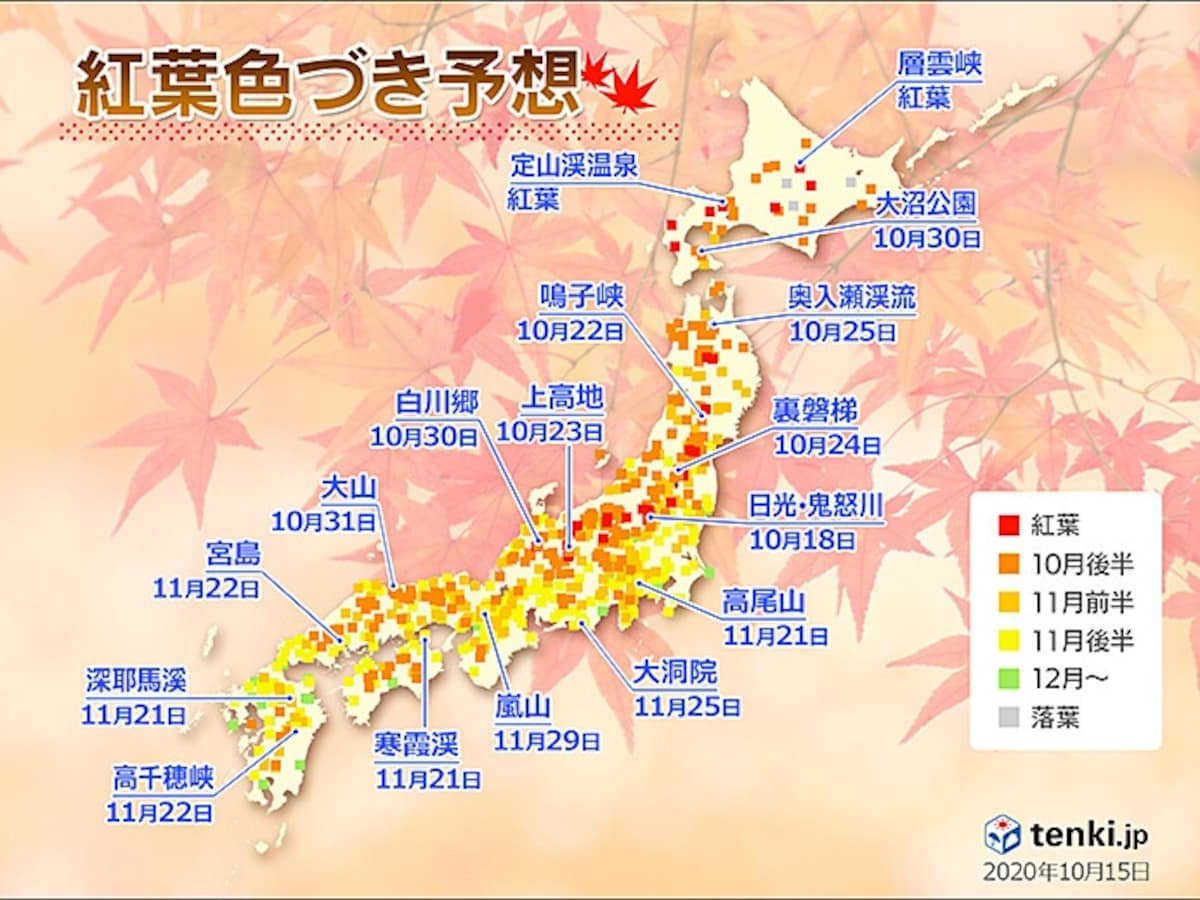 In general, koyo season (紅葉 in Japanese) starts in late September and lasts until early December, but Mother Nature varies from year to year. The leaves begin to change in the north, and from higher elevations to lower ones, moving southbound. That means Hokkaido will see peak colors in early October, central Japan in the latter part of the month, and southern Japan sometime in November. The first official announcement from Tenki.jp says this years forecast will hover somewhere between normal and late. That just means a little more time to plan for a trip!
Hokkaido
Hokkaido is the northernmost prefecture and has a different climate than the rest of Japan. That means the foliage begins to change here first. Traditionally, the leaves change as early as September but it seems the recent trend has been in early October. According to Tenki, that will be the case this year as well.
Tohoku
Tohoku has no shortage of great spots to view the beautiful leaves. Tohoku often follows a similar change schedule to Hokkaido. This year peak season is expected to last until late October. Keep in mind that mountains or other places with high altitudes lean towards the early side.
Chubu
Chubu, which includes most of central Japan and Mount Fuji, is expected to peak in the one month period between mid-October and mid-November. Remember that elevation matters when it comes to foliage, so mountainous areas will look quite different than some of the flatter, open areas of Chubu. Lake Kawaguchi offers stunning views of Mount Fuji framed in red, crimson, and gold.
Kanto
Mid-October to late November will be the best times for viewing in the capital area. You don't have to climb mountains to enjoy the leaves; Tokyo has no shortage of gardens and parks, like Yoyogi Park, Shinjuku Gyoen, and Meiji Jingu Gaien. If you're leaving Tokyo, Nikko and Hakone are popular spots for viewing. Hitachi Seaside Park in Ibaraki also has a spectacular autumn bloom of kochia (mid-October being the recommended viewing time).
Kansai
Kansai, including classic foliage spots Kyoto and Nara, will see peak colors in mid-to-late November. There's nothing quite like the mix of ancient Japanese temples, refreshing autumn air, and bright red leaves. Don't sleep on some of Kansai's lesser known areas like Shiga! Takashima has recently earned some attention for its foliage. If you're lucky, the leaves may stay colorful through early December.
Chugoku
As we move farther west and south, the peak times get further on in the year. Chugoku, which includes Hiroshima, Okayama, Shimane, Tottori, and Yamaguchi, will see the leaves change from mid-November to early December. Chugoku is home to Momijidani (Valley of Momiji), one of the best known areas for momiji trees in Japan. These trees turn a stunning bright red at their peak.
Shikoku
The island located to the south of the Chubu region will see the foliage peak times in mid-November and early December as well. Shikoku is less traveled than some of the other mentioned regions, which provides opportunities for getting off the beaten track and away from the crowds. Mount Ishizuchi in Ehime Prefecture is the highest mountain in the western part of Japan and at the right time, you can see the leaves actually change from top to bottom, a real treat.
Kyushu
Residents and visitors to Kyushu have to wait a little longer than the rest of the country. This year, late November to early December will be the estimated peak time. Fukuoka will see the colors first, followed by the rest of the prefecture, with Kagoshima being among the last in the country.

Remember that forecasts are just that, forecasts! Conditions can change dependant on several factors. Call tourist and information centers ahead of time, and utilize live cams to really ensure spots are in peak foliage. If you're looking for good viewing places, or a nice social distancing-friendly hike, check out All About Japan's other articles.