Top 5 Sights in Izu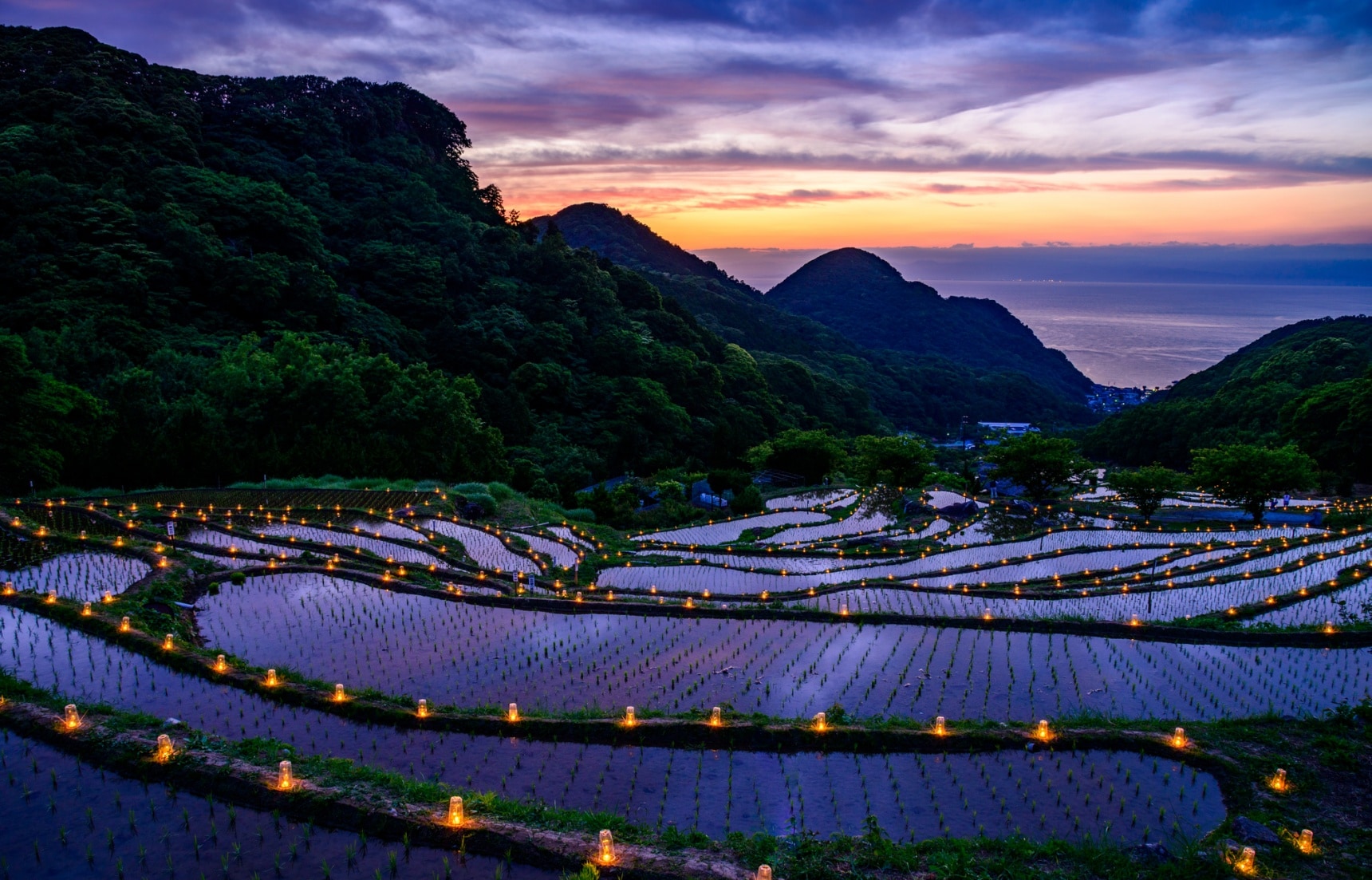 The Izu peninsula is easily accessible from Tokyo, and despite its relatively small size it boasts a surprisingly diverse array of sights. The unique volcanic geology gives Izu a tropical feel, and the sparkling Pacific is never far away. Plus, while there are seasonal highlights, the area is gorgeous all year-round!
Shuzenji Onsen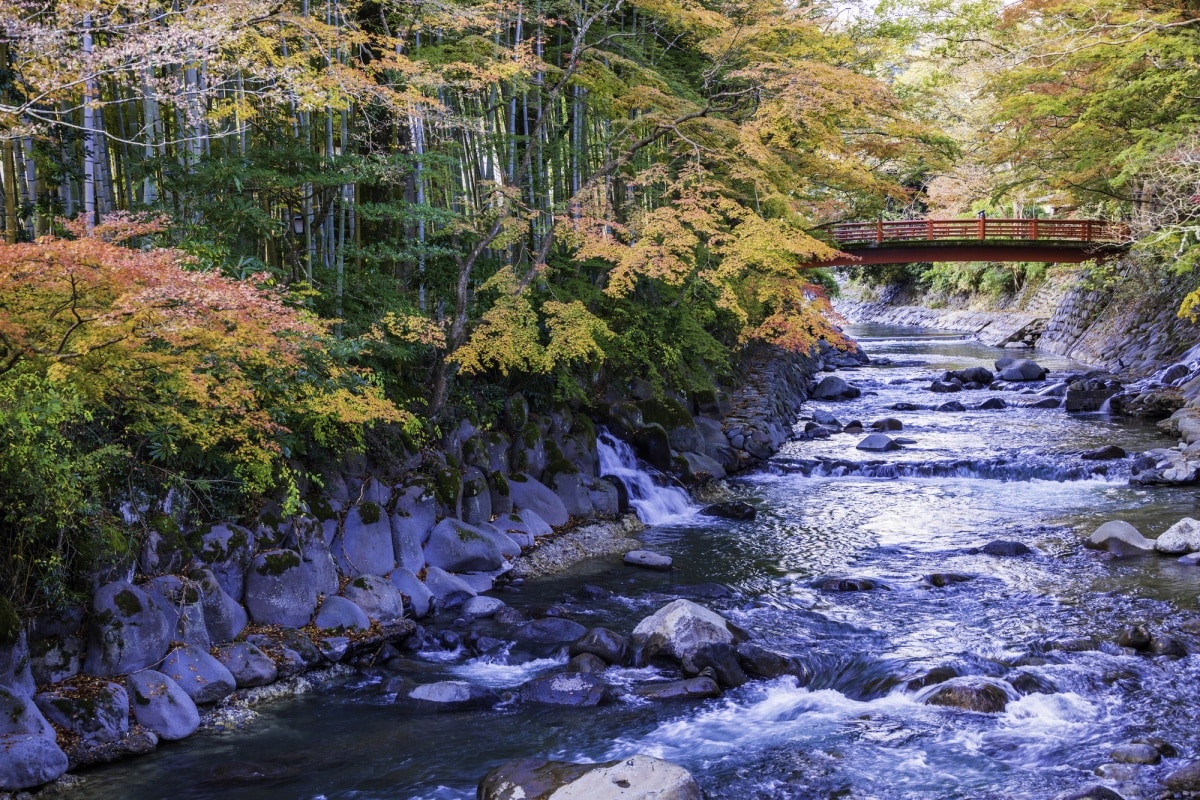 Sitting snugly up at the northern end of the Izu peninsula, visitors come to Shuzenji Onsen for its centuries-old hot springs. The hot spring resort is a little distance from the train station, but this means the area has a calm, relaxed feel. There's plenty of options for taking a dip; you can try the public bathhouse, many of the ryokan allow day trippers to use their spa facilities, and for the truly parsimonious there's a free footbath down by the river. If you do decide to stay overnight in one of the town's ryokan, you're following in good footsteps! Shuzenji has been a popular destination for Japanese literati, including Natsume Soseki and Kawabata Yasunari. Particularly recommended is strolling through the town's bamboo forest at dusk, when it's lit up!
Izu Kogen & Surroundings
The town of Izu Kogen is about halfway down the east side of the peninsula, easily accessible by train. Geologists will want to see the nearby extinct volcano Mt Omuro; it has a pleasingly conical shape, and lovely views of the Pacific from its grass-topped summit. At its foot is Izu Shaboten Koen, a zoo and botanical garden. The zoo's most famous inhabitants are its capybaras, and their pens are invariably surrounded by visitors. You can walk in among the capybara in one area, and watch them bathing in a hot spring in another. Down by the coast, the Jogasaki Cliffs and their volcanic rock formations are reminiscent of Ireland's Giants Causeway, and a cliffside path lets you view them up close.
Shimoda
Shimoda, located down at the southern end of the Izu peninsula, is a quiet seaside town with a relaxed air. It wasn't always like that, though. In the mid 1850s, Shimoda was chosen as one of the treaty ports that were to be opened to foreign trade. Although it was superseded a few years later by the new port of Yokohama, Shimoda today is very proud of its history and there's numerous reminders of the past around the town. Perry Road in particular is a lovely spot to relax; a tree-lined canal with numerous small cafes and shops to browse. Gyokusenji Temple, the site of the first US consulate in Japan, has a fine museum putting all the history into context. If you're more the sporty type, the 800-meter long Shirahama beach is just outside town. Don't forget to pack your swimwear!
Kawazu Falls
The falls of Kawazu are a set of seven falls in the central part of the peninsula. Literary enthusiasts come to see the setting of "The Izu Dancer," a short story by Kawabata Yasunari, but the natural beauty of the series of waterfalls alone makes the trip worth it. The waterfalls are connected with a hiking trail that leads you uphill through dense forest. For the intrepid, we recommend the canyoning activity available between June and October. You don a wetsuit and a guide leads you safely down several of the waterfalls in succession, scrambling over rocks and immersing yourself in cool water. Perfect in the heat of summer! The nearby town of Kawazu, like Shuzenji, is a popular onsen resort with a long history, and has over 30 ryokan to choose from if you're looking to stay nearby.
Dogashima
As you've doubtless gathered by now, Izu has many fine beaches and coastlines, and it's hard to pick just one for the top spot. The stretch of coastline either side of the small village of Dogashima is a good candidate, though—it packs a lot into a small space! The inlet-riven coast is best viewed from the sea, and handily there's a short boat tour that lets you do so, passing through a natural arch in the rock on its route. There's also a beach for swimming, a dramatic causeway to an island that's only accessible at low tide, a cliff-top private outside bath, and plenty of seaside restaurants to grab a bite when you're not exploring. If you're tempted to stay for longer, there's a good range of accommodation from tiny seaside B&Bs to large luxury hotels.